Daily post &Photos 27 Feb 2011 09:23 am
- You know how there are days that just start off one way and make some kind of turn afterward; or, maybe, they don't turn and the mixed emotions of the start linger. Some days you walk onto that subway platform and the train just shows up, and that's the way it is all day. I call it "A good subway day."
This past week started off with the idea that I'd take a picture each morning to encapsulate an overriding feeling that starts with the new day. So here's the "diary" (for lack of any other word) of this past week.
Monday
.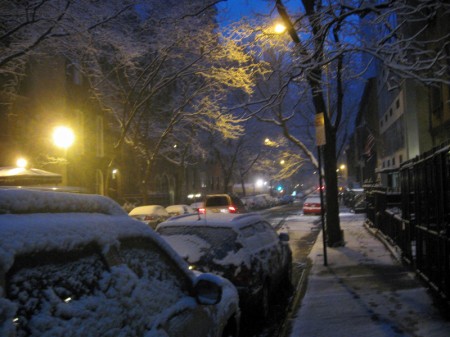 1
It's a holiday, President's Day. It's snowing in NY after a weekend
of the temperature rising into the 40s & 50s. A light, almost refreshing
snow. This is my block, the first exterior site I see of any day.
.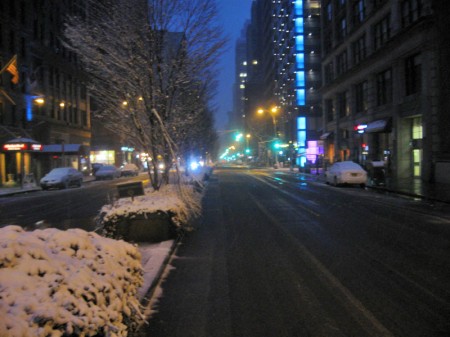 2
Here's Park Ave looking downtown from 30th St. It's 6am.
.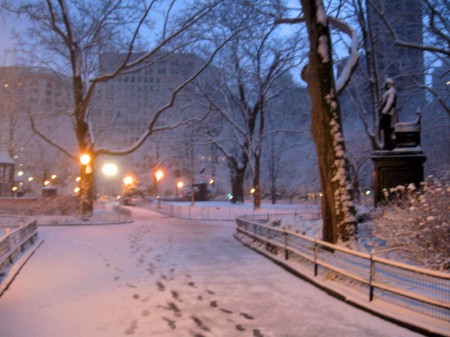 3
The subway going downtown has been closed all weekend for repairs.
That means I walk about ½ a mile to the 23rd Street station at Sixth Ave.
Here I enter Madison Square Park, which looks lovely with the virgin snow falling.
.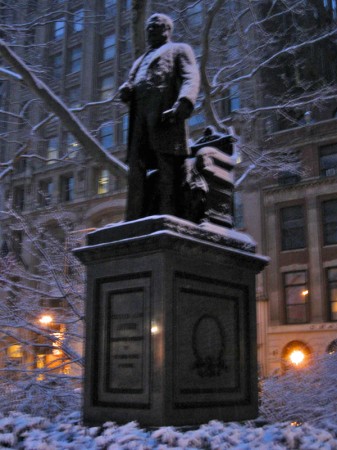 4
Charles K. Arthur doesn't look like he's
properly dressed for the weather.
.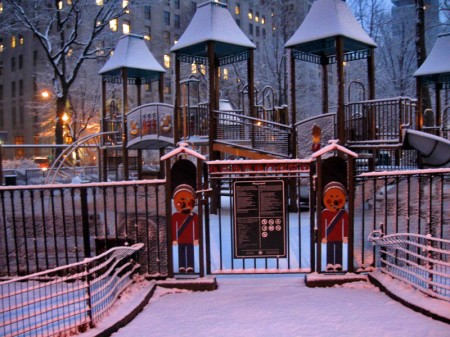 5
Here's the children's playground. I think of Laurel & Hardy's
Babes In Toyland when I look at this entrance.
.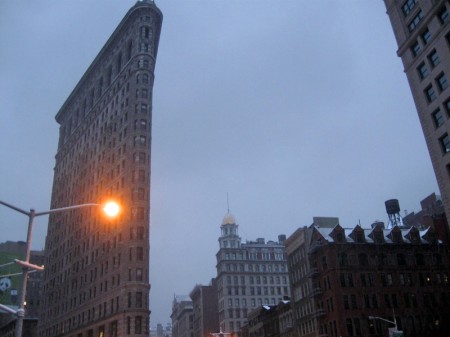 6
It's still snowing though it doesn't show in the photograph.
.
At the studio I cleaned up a lot of the work done last week for a short pilot I produced/animated. Maybe it'll come to something, but it's one of those jobs where the client doesn't talk to you once you've sent in the final. Don't they realize you'd like some feedback, even if it is positive.
Tuesday
.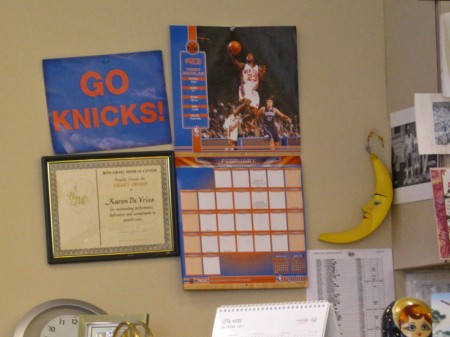 7
The doctor's office
Went to the doctor's this morning. The nurse there is an avid Knicks fan. I'm not much into basketball, but I can always carry a small bit of conversation about the subject. Today Carmelo Anthony has been traded to the Knicks and it's a big deal in NY. The avid fan is over the top about it, though she realistically addresses the defensive problems left by the trade.
Wednesday
.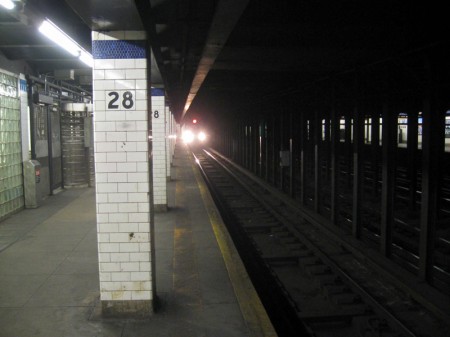 8
Wednesday started off on the wrong foot.
There's a lit sign when you enter the subways, these days. It tells you how long you'll have to wait for the next train. I entered having 10 minutes before my ride would show up. I read and I read as the clock kept going from 10 mins to 22 mins; then to 9 mins to 21 mins. It couldn't make up its mind, and the train arrived after about a 15 minute wait. I got grumpy when a sleeping homeless guy had taken over half the car with his scent.
All this at 6 in the morning.
Thursday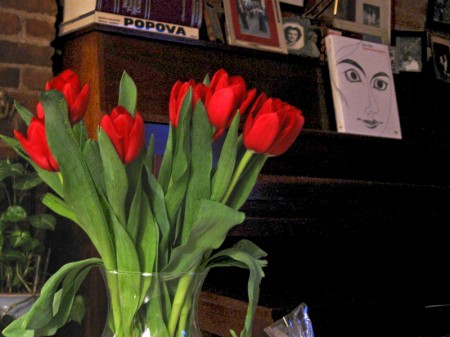 9
Klee and flowers
This is our apartment. Looking from the coffee table, with tulips, to the piano, holding a book on Paul Klee's love of the Theater and the theatrical drawings and paintings he did. It's a beautiful book full of great illustrations. Heidi gave it to me on Valentine's Day. I love Klee, and she knows it.
Many of those pictures will make it to the blog in the not-too-distant future.
Friday
.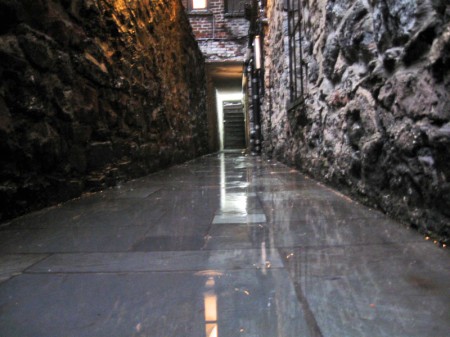 10
Friday, and it's raining.
The weatherman said it we'd get a "soaking".
It's just a steadily persistent, normal rainfall. Rain is always an eyeopener for me in a basement studio. We've had floods several times, losing computers, books and artwork in the process. That hasn't been for a couple of year though; we've figured out ways to protect the space. But the shadow of those floods remains in my brain, and I doubt I'll ever be rid of them.
Saturday
.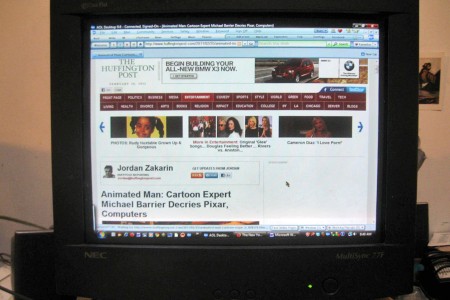 11
The Internet
Saturday was all about the blast that greeted me as I started trolling through some sites. Cartoon Brew led to The Huffington Post, and there was my friend, Mike Barrier being interviewed by some guy who was taking pleasure in saying some negative things about Pixar (without his really having to say them.)
Of course, Mike wasn't really saying anything negative; he just gave a few honest critiques against the way Pixar makes their films.
Manipulative. Certainly, their films are. It wouldn't be a problem if it weren't done so shamelessly. The road to the incinerator in Toy Story 3 is an obvious example. Naturally, it came with a built-in "deus ex machina." To hear people tell of weeping during this sequence has surely confounded me.
Lacking in character. The only real "Acting" in these films is done with the first rate voice actoring. That's where all the "character" lies. Brad Bird was nicely able to pull some excellent acting out of his animators, acting that went a smudge beyond the voices. I don't see that in many other Pixar films. Just think if someone had performed at a higher level than Ellen DeGeneris in Nemo, or beyond Ed Asner in Up. As a matter of fact, the best acting probably came with Wall-E in the first half hour before the film became trite and tedious.
Yes, I agree every bit with what Mike had to say. I just wish he'd written the entire piece instead of having some go-between guy. Part of the pleasure in reading Mike Barrier is the glory in the language and his pure ability to write.
Sunday
.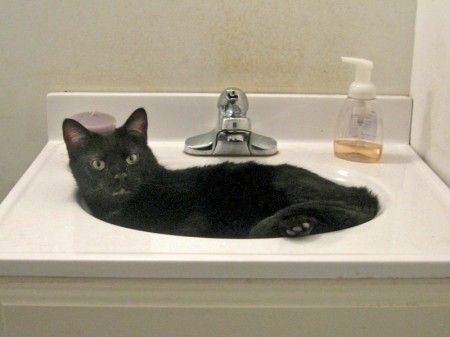 12
Robbie
Today, Robbie wanted to go out. That meant he wanted to climb the 10 foot wall adjacent to the studio. He, then, could also jump to the neighbor's yard and bother their cat. It would mean my having to climb the wall and retrieve him. Those days are over. No going out.
So he runs to the bathroom every time he thinks I'm heading there, and he plops himself down in the sink. Cute, but he's still not going out.
5 Responses to "Photo Diary"
Leave a Reply