Photos 06 Mar 2011 08:30 am
A while back, I posted a couple of pieces about things I love. Well, I've got lots more, and what's the point of the Sunday photo sessions if I can't share them with you?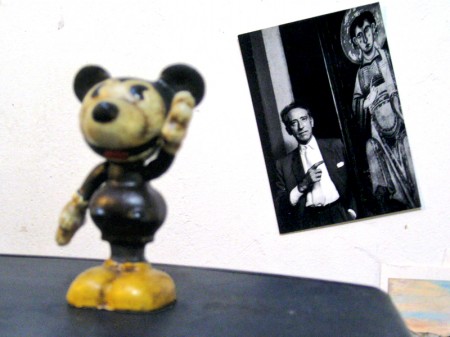 This Mickey Mouse is an iron toy that seems to have jumped
out of the Thirties. My sister had it and gave it to me one morning.
It sits atop my computer. That's a picture of Cocteau taped to the
wall behind my desk. A post card my brother sent from France.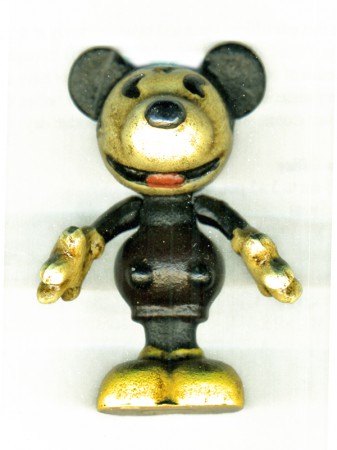 Here's another shot of Mickey.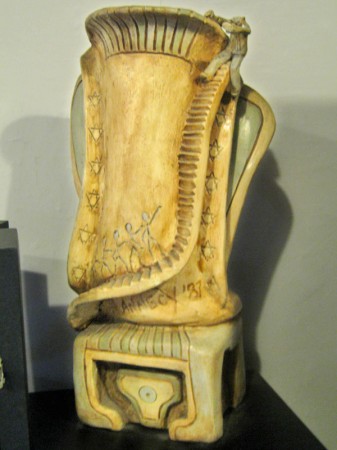 This is an award I received from Annecy for my Children's film,
THE MYSTERIOUS TADPOLE. I'm glad I wasn't there to receive it.
I received a phone call from the airport – JFK – one day. They had
a wooden crate for me. I had no idea what it was and told them
to send it to me at my studio. The gigantic crate arrived, and inside
was a mass of plaster pieces. The award had been crushed enroute.
I carefully put the puzzle pieces together one day, using Elmer's glue.
A large thing with stars of David all over it. The little plaster guy who
sits on top of it was missig his head. I guess it had been obliterated
in the shipping. When I look at it, I can't help smiling over the memory.
Much better than a large award I would've had to carry back from France.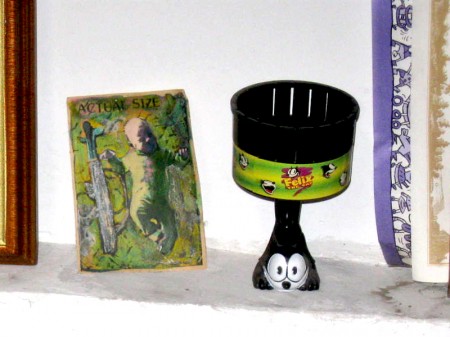 On the right is a Felix the Cat Zoetrope. Wendy's had it as a give-away
a couple of years ago (maybe 15?). Dave Levy picked it up for me on his
lunch break. A great surprise.
The baby picture came from Bridget Thorne in announcement of
her first-born, Matthew. He's now an editor living in LA.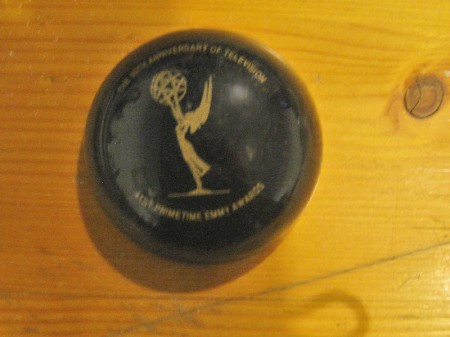 This is a souvenir of the first EMMY Award ceremony I attended.
I didn't win anything but picked up this great paperweight.
I remember bringing three friends with me who were living in LA. It took
a while for Louise, a friend, to pick out her dress. She wore a beautiful
black outfit. When we arrived, the tableclothes were black; the chairs
were black, the vases on the table were black. Everything seemed to be
black. Louise said if she'd known that she would have worn a color.
Her husband, Ernest, won an Emmy before I did (for a music score
he'd written.) I've since won four through HBO – children's films.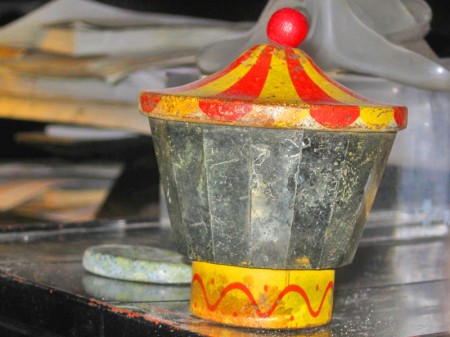 This is a praxinoscope. A mirrored item that sits on the spindle of a
record player. The record has a label with dancing teddy bears (for
the "Teddy Bear's Picnic) etc. You look in the spinning mirrors
and watch the animation on the record.
I had one of the Blue Bird items when I was a kid. I've bought
this one on e-bay. Thanks for the memory.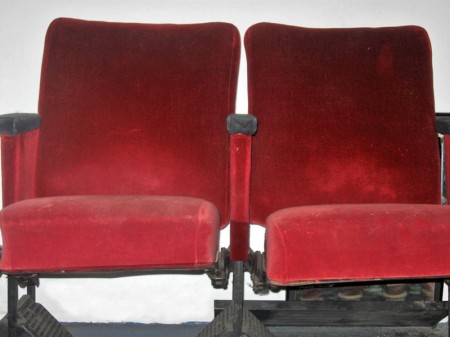 I have four theater seats from the old Radio City Music Hall.
James Wang gave me them one year when he was in NY.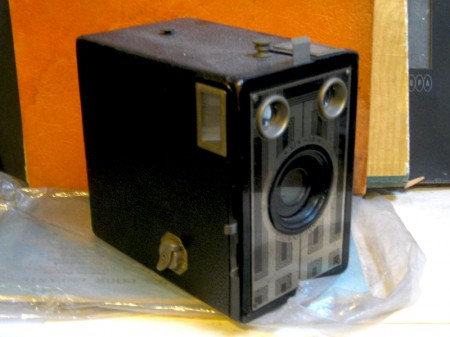 This is an old Brownie still camera. The kind Kodak sold in 1917.
I bought one for a couple of dollars when I was 12 and used it to
take a lot of still pictures. My cousin destroyed it one year, and I've
replaced it much later in my life. More memories.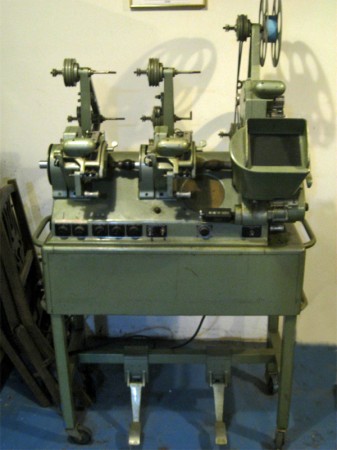 This is a 35mm movieola. I also have a 16mm version.
When I moved into this studio I gave up my steenbeck, but
I refused to part with the movieolas. I love them both.
One – 16mm – Weston Woods owed me some money. I gave
them $1, and they gave me the movieola.
The other – 35mm – I bought from an editor friend who
was going to flatbeds. I got it for $75.
To me, they're both priceless.
5 Responses to "More Toys I Love"
Leave a Reply