Bill Peckmann &Illustration &Peet 11 Mar 2011 06:51 am
- Here I continue posting the fine illustrations by Bill Peet for his book, Capyboppy. I've chosen not to put Mr. Peet's writing in the post, feeling it isn't quite ethical, so have condensed the story so that the illustrations make sense. I would urge you all to buy a copy of this book for the writing alone.
The book's about 60 pages in length, so it'll take a couple of more posts to share the artwork. It's a gem.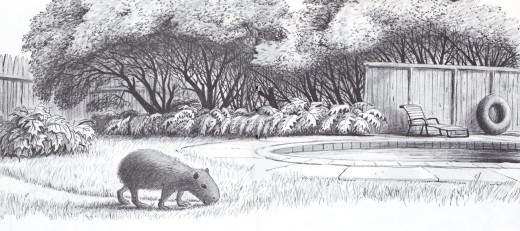 Our new South American visitor couldn't have been happier in the yard with the swimming pool and the meatly trimmed lawn. At first he enjoyed himself swimming gracefully in the pool, but then it became obvious he needed a playmate.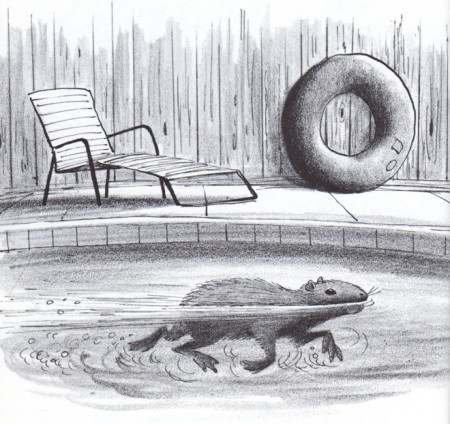 22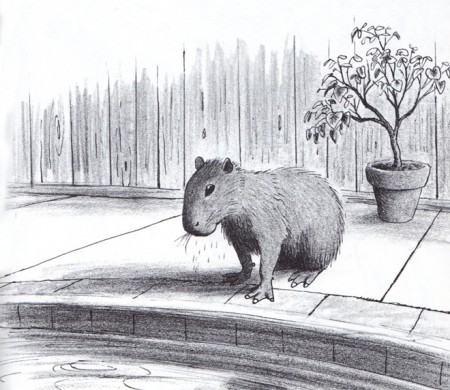 23
The family worked during the week, but on weekends there were plenty of visitors to keep Capy occupied. He swam when everyone swam and rested when they did, tweeting his tweets as if to join in on the conversation.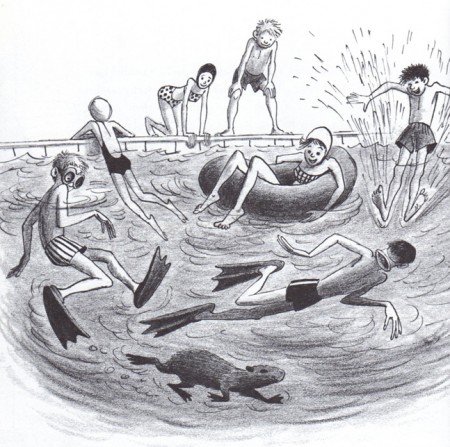 24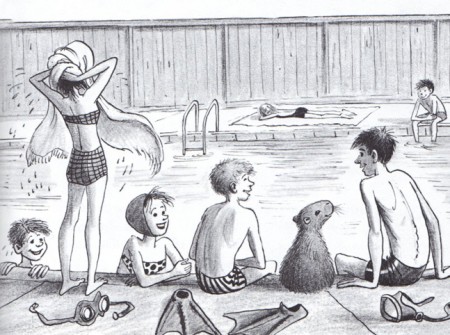 25
In the evenings, he joined the family in the family room watching television and sleeping in Margaret's lap while the cats watched on jealously and miserably. At the end of the evening it was Bill's job to take Capy out to the garage (kicking and squealing all the way) where he had his bed. He was getting spoiled.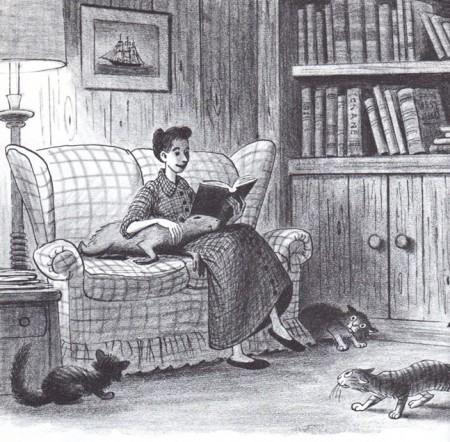 26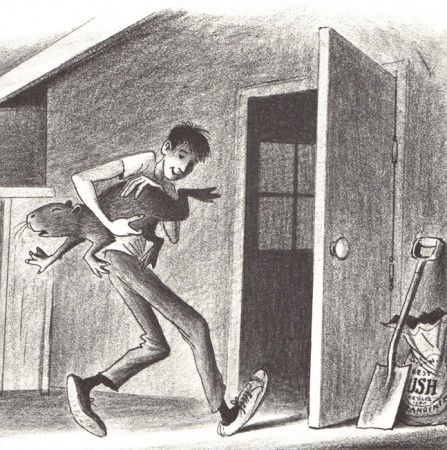 27
His day would begin with a warm shower, after which Margaret dried him with a fluffed towel. After this he ate a nice breakfast of barley and oats.
His favorite food was graham crackers, and some days Margaret would scratch his back with the back-scratcher until every one of his hairs stood on end.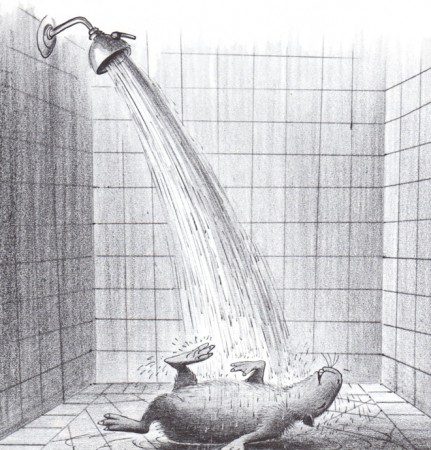 28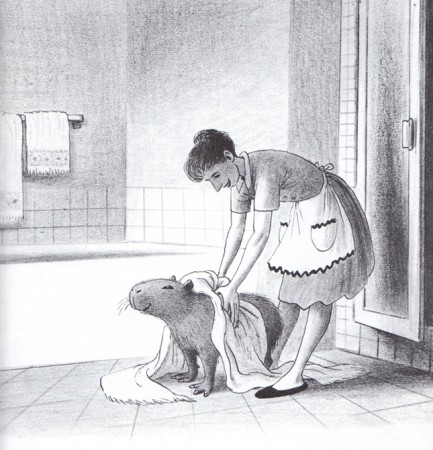 29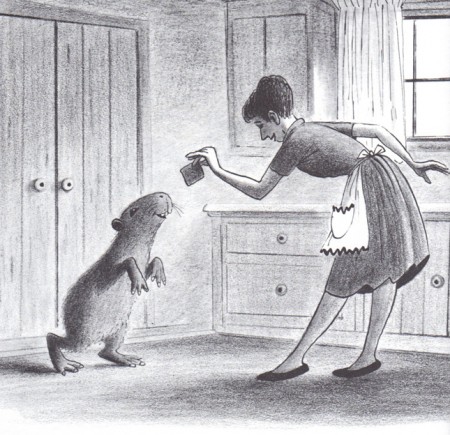 30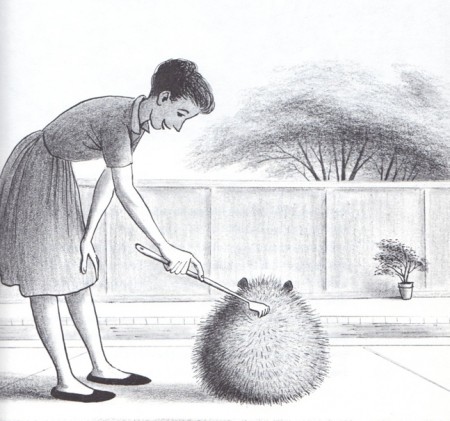 31
There were times we'd leave him in the yard too long until he started Tweeting madly to get us to let him in. One day he came inside the studio while I was drawing and I watched him nose about all the books, magazines and art materials. He ate a grease pencil.
I didn't mind losing a grease pencil, but he started eyeing some drawings on the wall. I couldn't lose a month's work if he ate them, so I pushed him out to the stairwell and rudely shut the door behind him.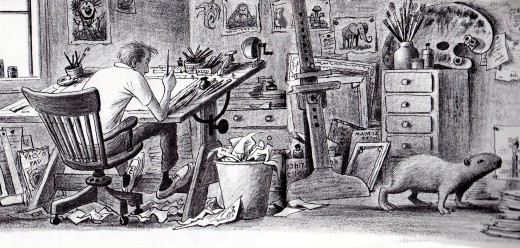 I would check on him from time to time to make sure he was safely within the yard. We had a notice on the gate to make sure it was kept closed. But one day, I saw that the gate had been left open and Capy had escaped.
Margaret and I ran out searching for him calling out "Capyboppy! Capyboppy!" No Tweeting response, so we ran to the car to slowly drive about the neighborhood in search of him. Immediately, after we pulled out of the driveway, Margaret shouted, "There he is! There's Capy!"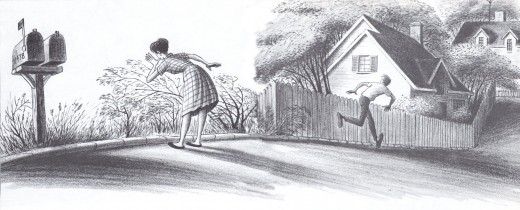 Many thanks to Bill Peckmann for scanning and sharing this art with me for the blog.
2 Responses to "Peet's Capyboppy – part 2"
on 11 Mar 2011 at 7:39 am 1.Stephen Macquignon said …

This book will be on my short list to buy,
it is just wonderful to look at.
Thank you for introducing us to these beautiful images

on 15 Mar 2011 at 7:57 am 2.industrial lighting fixtures said …

Good article over again! Thank you=)
Leave a Reply