Bill Peckmann &Comic Art &Illustration &T.Hachtman 08 Mar 2011 09:15 am
- This is the comic book FRONTLINE COMBAT (#12). It was sent to me by Bill Peckmann, and he best delineates what makes this issue so important. In Bill's words:
Here's the worn, torn cover and imperfect pages* of FRONTLINE COMBAT (#12) comic book from 1953.

Harvey Kurtzman (Age 29) – Editor, writer and lay-out artist.

Jack Davis (Age 29) – Cover (Before he was famous for his TV Guide & Time covers.) and one story.

Alex Toth (Age 25) – One story.

It doesn't get much better than this. Would be hard to find a bunch of comic book artists from this time period who could do a better job at setting mood, time and place. And, look at those ages, WOW… them, there young whipper snappers!

Alex's graphic design of those pages is a wonder. At that period in his early career the story is really something to behold. He and Harvey battled (neither one had pleasant memories of this) over how this story should be done/told and unfortunately they never worked together again. If you look at AT's other aviation stories (not done with Harvey) at this time, they're good, but do not reach the level of great art that "F-86″ breached. So, even though they couldn't/didn't agree, without their collaboration, we would never have had this keeper of a story!

-Bill

ps: Pages are a little off register and some of the ink bleeds through from the other side of the page but there's still a wonderful softness that's there, kinda like 4 strip Technicolor movies.
I couldn't agree more. Here're the scans: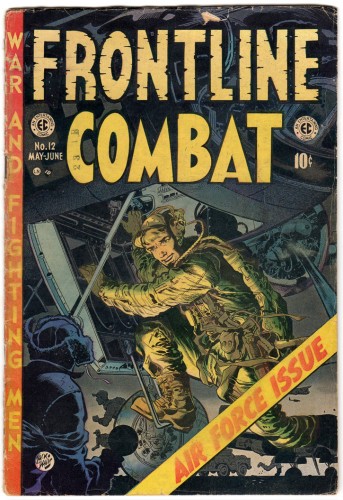 1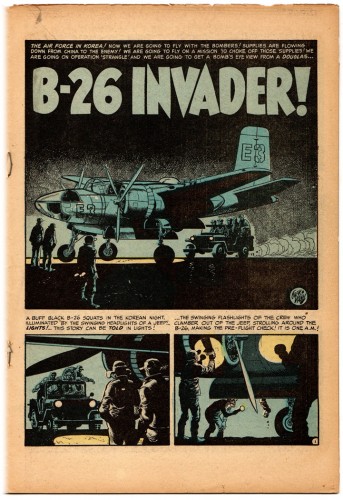 2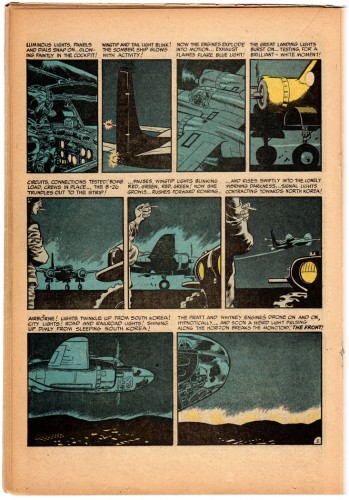 3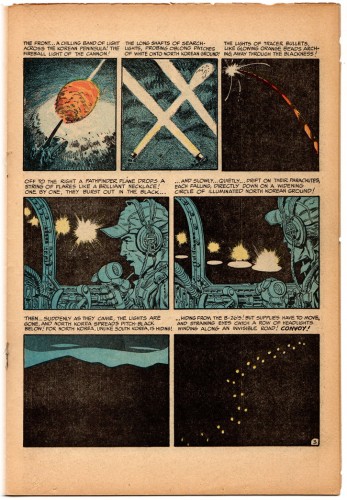 4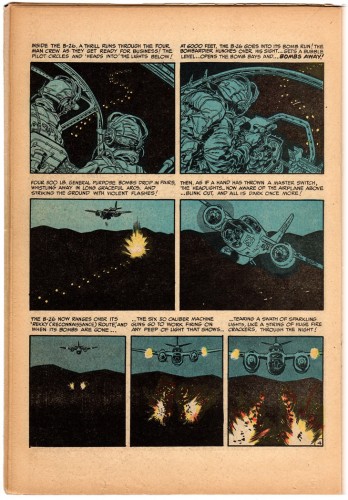 5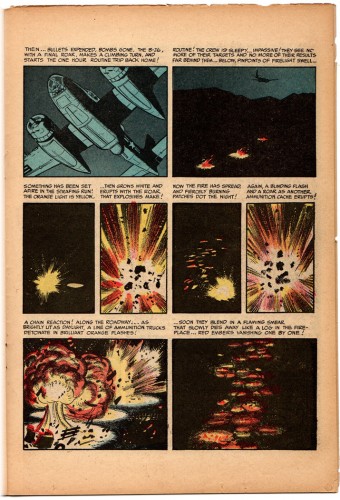 6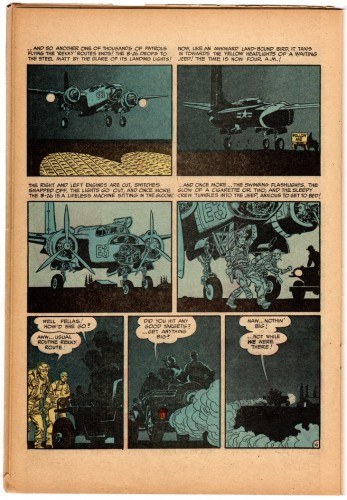 7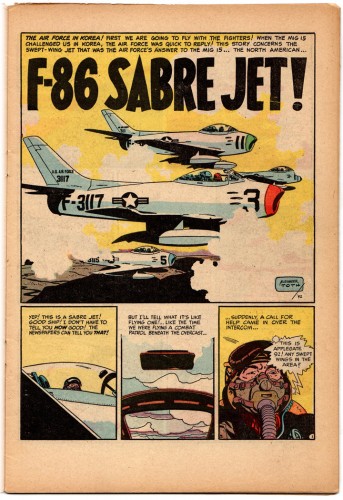 8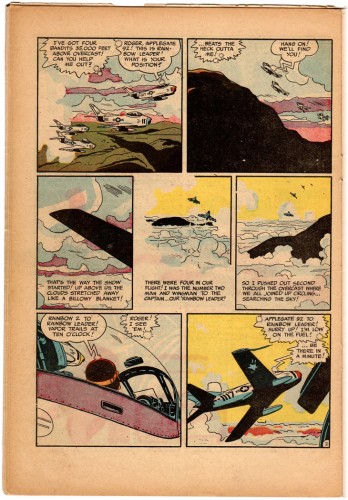 9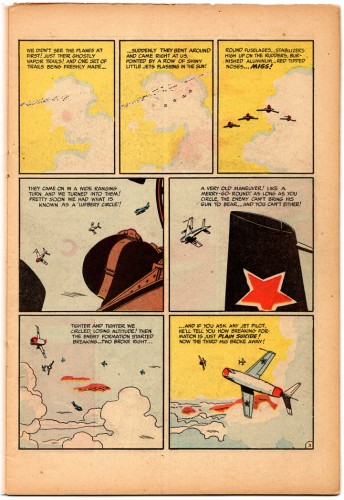 10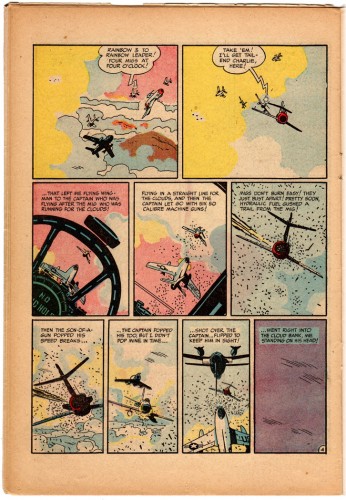 11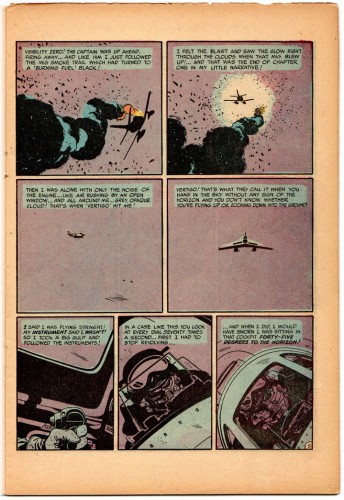 12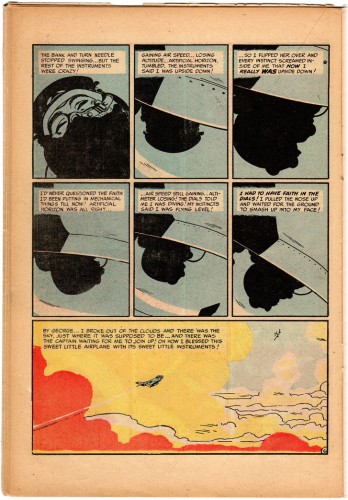 13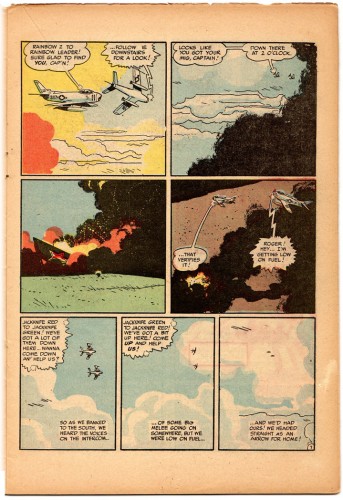 14

It just so happens that I received an email from Tom Hachtman today, and I thought I'd post it here since it's somewhat appropriate:
I just got a copy of 'The Art of Harvey Kurtzman' – because I am an artist and a humorist and not much of a musician I find Harvey more important than the Beatles and Harry Shearer, in an intro, says, '…no Harvey no Simpsons' and 'no Harvey no SNL'.
I'd like to add ' no Blazing Saddles or Young Frankenstein' and probably no David Letterman – hard to say – ALSO – I think it is in 'A Hard Day's Night' that there is a scene where John Lennon is reading a MAD paperback and those were all Harvey – so, maybe NO HARVEY NO BEATLES haha – and I think it was George at a press conference when they arrived in the USA, when asked what they call their haircut responded, 'Arthur!' – 'Arthur' was the name of the potted plant mascot that often appeared in the early MAD.

And of course 'no Harvey no Crumb' and if no Crumb – well, "NO HARVEY NO ME?"

I guess I am trying to say, "Thank you Harvey!"
Yet again, many thanks to Bill Peckmann for this treasure.
4 Responses to "Frontline Comics"
Leave a Reply