Commentary 26 Mar 2011 07:57 am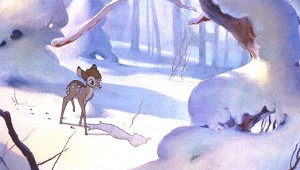 - Before getting into the info section of this post, let me talk about something that's been bothering me from Disney on TV. Because Disney owns ABC, all their VOD shows have commercials for upcoming DVDs and movies in theaters.
Currently, an ad for Bambi runs at every commercial break, as does one for Mars Needs Moms (or whatever that film is called). The Bambi ads make me feel good watching some of the iconic scenes over and over again: autumn leaves blowing, Bambi's first steps, Bambi on ice . . . a bunch of them. However, the music is downright annoying. Instead of using music from the film, they've hired someone to write a bed of Musak in the usual pop style to cover anything that's happening on sreen.
Here's a film that has brilliant music, and it's all out the door, replaced by audible nothing, the musical equivalent of watered-down milk. It's just another fine example of the little respect the Disney people really have for their merchandise. It's like playing an ad for The Wizard of Oz and not using any of the songs. I don't know; I throw my hands in the air in frustration. At least they're running ads, I suppose. But they treat Mars Needs Moms with more respect and play the hyper music from that film during its ad. No synth-pop composer has been called in to write a bed of nothing.
______________________________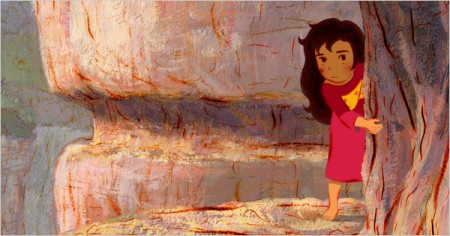 Mia and the Migoo
- The French animated feature. Mia and the Migoo, officially opened in New York, yesterday at the IFC Center, downtown. The film won as best animated feature at the 2009 European Film Awards.
The film has recieved mixed reviews from New York's critics.
NYTimes said: "… trying to parse meaning in "Mia" is secondary to its main point, which is its look, created with 500,000 hand-drawn frames. That's impressive in an age in which most mainstream animation is done with computers …"
The NY Daily News said: " … though the animation can be transporting, its lack of lyricism is disappointing."
The NY Post said: "France's animated feature "Mia and the Migoo" is far too childish to intrigue adults yet too slow and dull for kids."
You'll find film times and schedule here.
______________________________
- As it happens, the South Park guys, Trey Parker and Matt Stone, also opened their first Broadway musical yesterday. The reviews for The Book of Mormon were "Golden" as they might say. All four stars, all praise, all the time. This is obviously going to be the big hit of the year. Forget about it; it'll be imposssible to buy a ticket.
NY Times, NY Post. NY Daily News, Wall St. Journal

______________________________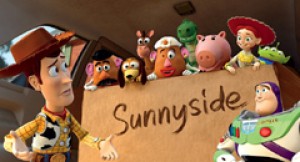 Ken Priebe sent the following notice:
VanArts is hosting our Pixar Artists' Masterclass with Andrew Gordon and Mike Venturini in New York City this summer, and also in Montreal (and Austin TX).
Registrations are now open for NYC, happening June 24th-25th, so we hope to have your friends, students and colleagues join us.
All information is available here.

______________________________
- It's become news when Maurice Sendak announces a new children's book. According to the Wall Street Journal article, his latest book will be published in the Fall. It's built from a character he developed for Sesame Street with Jim Henson. Apparently, the character, "Bumble Ardy" stuck in the author/illustrator's mind, and now, at the age of 82, he's developed it into a book. Unfortunately, no pictures of the character came with the article. However, here's the original Sesame Street spot. Sendak has changed the boy into a pig.

______________________________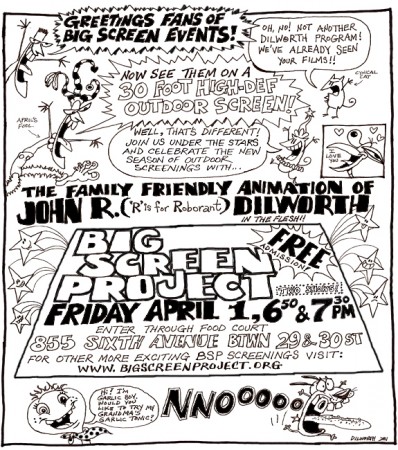 John Dillworth is having a BIG showing of his films at the new venue the Big Screen Project. All the information you need is posted above.
______________________________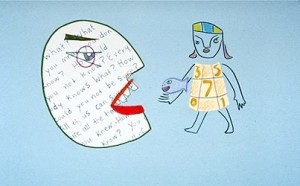 Additionally, Emily Hubley will be having a screening of her films at this site on April 11th. All the information for that screening can be found here.
The films she'll screen will include:
One Self: Fish/Girl
Enough
The Tower (made w Georgia Hubley)
Set Set Spike
Delivery Man
Octave
Blake Ball
Likewise there will be other screenings during the month of April. Go here to find out about Elliot Cowan, Nina Paley, Bill Plympton and Deborah Solomon's screenings.
7 Responses to "bits and pieces and screenings"
Leave a Reply