Commentary 21 Apr 2011 06:31 am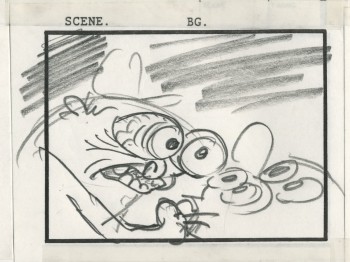 - In days past John Kricfalusi spent quite a bit of time on his site giving some great instructions, via his completed animation art, as to how to properly do different phases of the process. You can start with this ode to Bobe Cannon where images are all he needs to offer in a breakdown of Chuck Jones's Hold the Lion. Then there's this great piece on the BG painting technique of Art Lozzi. Part 1, Part 2. There are plenty of other great pieces of this sort, if you haven't already seen, by just scrolling about.
Recently, he has posted an excellent piece on working storyboards-to-layouts and how to get the most out of both. The layout poses remind me of the working style of Chuck Jones, giving plenty of juicy poses for the animator to follow. Kricfalusi's purpose, however, isn't for the animator in the studio but for the animator overseas. As it turns out, I think it's probably appropriate for both. It's well worth reading and studying this art from a past Ren & Stimpy episode. Even if you think you're beyond these stages. I suggest you take a look. Even if you have nothing to learn, it may remind you of how to do better work on these two phases of an animated film. You can find Part 1 and Part 2 at the links. There are another couple of Parts adding more layout drawings to his thesis, but those first two parts are the keys.
_________________________
.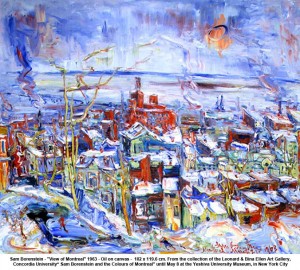 On Wednesday, April 27th and Monday, May 1, Oscar nominated animator,
Joyce Borenstein
, will be giving guided tours through an exhibition of her father's paintings at
Yeshiva University Museum
.
Sam Borenstein
(1908-1969) is considered a master of post-war expressionism in Canada. Joyce's Oscar-nominated short animated documentary about her father will also be screened.
Yeshiva University Museum's SELZ GALLERY is located at 15 West 16th Street, NYC. The exhibition continues through to May 8, 2011.

_________________________
.
- I saw
Rio
last week and had mixed feelings. A real three star event. The visuals are lovely to look at, beautifully colored and crafted. The character design was good, though I couldn't get over the fact that the leading male human looked so much like animation director
Ray Kosarin
. I saw no cliches in the character design or animation and find that rare from American animation. The voices are excellent. I particularly liked
Jesse Eisenberg
as the lead character, Blu, and
Jemaine Clement
as the villainous owl.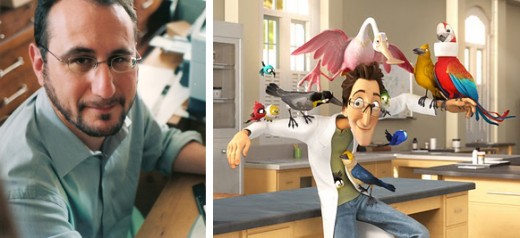 The real Ray?
The problem with the film came with the writing. The plot overcomplicates with a very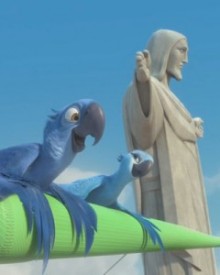 simple and obvious story. There are too many characters and too many of them are introduced late in the game. The film keeps jumping from one plot direction to another to another and back again, but there is no real tension created anywhere in the film. This is too bad since the film has so much going for it.
By the way the 3D is good. I have to admit my eyes watered as usual with these glasses, but the graying effect wasn't as enormous as it was on other films – particularly Tangled. There is one incredible 3D shot where the camera flies around the statue, Christ the Redeemer, and an arm stretches wildly into the audience. Seeing some stills of this shot shows that the effect is completely nothing in 2D.
8 Responses to "Loose Pieces"
Leave a Reply