Bill Peckmann &Books &Illustration 22 Apr 2011 07:06 am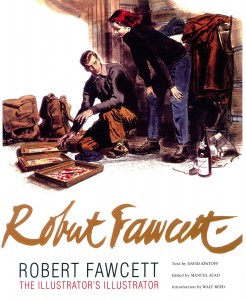 - I have to admit I've been a bit remiss. I was handed a copy of a brilliant new book and would have liked to have reviewed it much sooner than now. However, the book is so gorgeous that it's hard to say much more than that about it. But I will.
The book is titled: Robert Fawcett, The Illustrator's Illustrator and it couldn't be more appropriately labelled. Fawcett was
an illustrator who started selling in 1927 and continued on until his death in 1967. He worked for all the major magazines and entertainment groups.
Although Fawcett and Norman Rockwell worked at the same time, they were two sides of the coin. Rockwell illustrated mom, hearth and apple pie; Fawcett illustrated men, war, danger and action. He was the consummate draftsman and an inspiration for many illustrators who followed after him.
The text clearly covers Fawcett's biography but it also goes into depth about his drawing and painting techniques. It's thoroughly researched and well written to convey the artist's process. There's also a method to the arrangement of images so that you can see a repitition of poses, and some of the themes of the artist. It's a well thought out book.
I've chosen a number of illustrations from the book to give a wide range of examples from his work. I think these will speak plenty for the volume, which is filled to the brim with well framed and positioned images.
Also included in the book is an interview done with Robert Fawcett by Mary Anne Guitar for Famous Artists Magazine, Vol.8, No.4, Summer 1960.
I have to applaud the key people responsible for this book. They include:
David Apatoff who wrote the text.
Manuel Auad who edited the book.
Walt Reed who wrote the Introduction.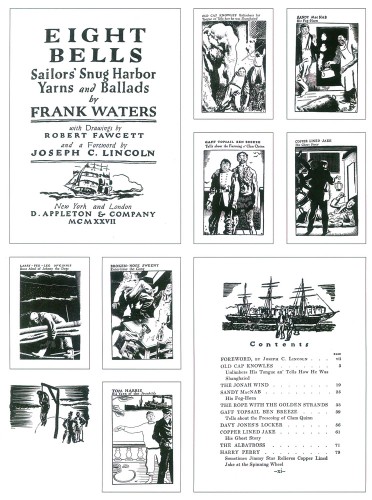 An early commercial assignment for Fawcett.
Illustration for "Eight Bells" by Frank Waters. (1927)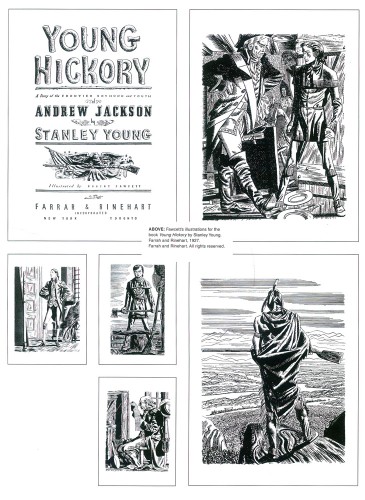 Another early commercial sale, the book illustrations for
"Young Hickory" by Stanley Young. (1927)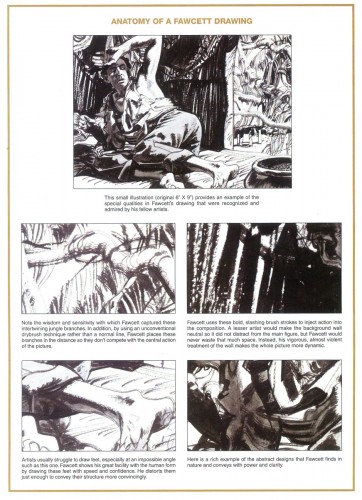 An interesting piece presented by the book's authors.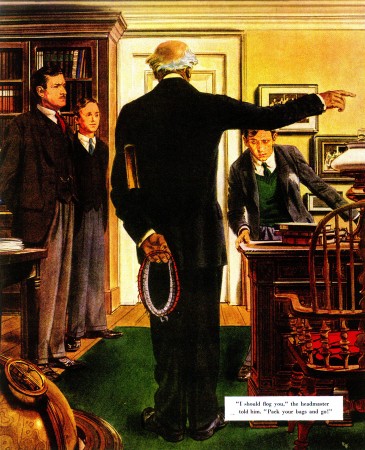 Day of Vengeance by Noel Langley
for Saturday Evening Post, April 10, 1948.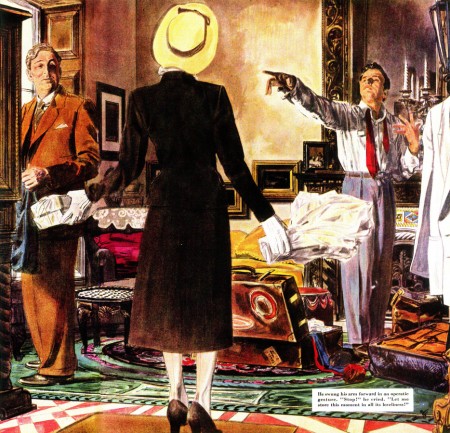 Counterfeit Marriage by George Tabori
for Saturday Evening Post, June 11, 1949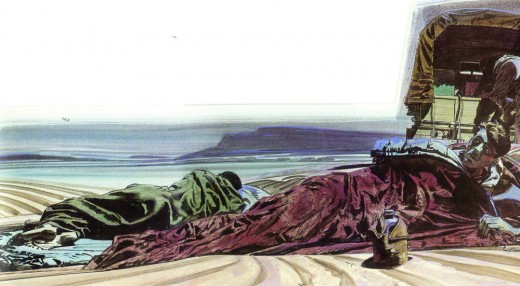 Prisoners of the Plain by Geofrey Household
Saturday Evening Post, October 31, 1947


Dawn Pursuit by Wyatt Blassingame
for Saturday Evening Post, March 1951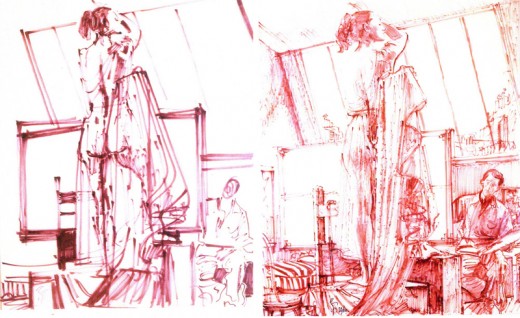 First preliminary sketch and the Final sketch for The Pride of Beauty.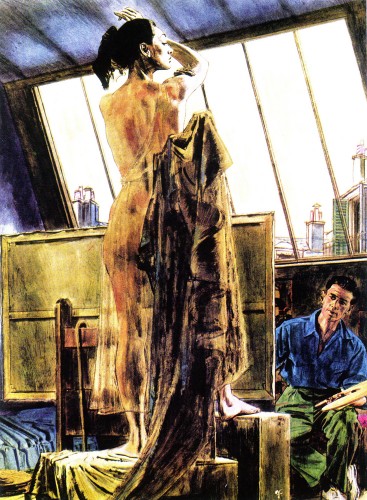 The Priide of Beauty by A.J. Cronin for
Woman's Home Companion Magazine (1955)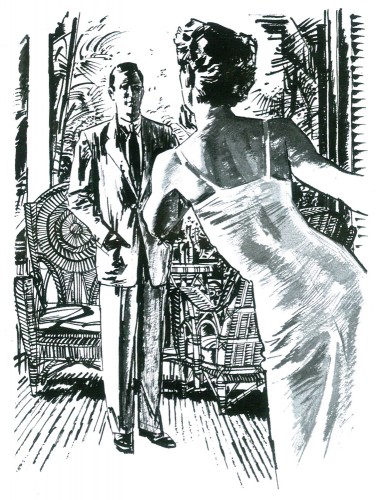 The Myna Birds by james Michener
for Holiday Magazine, (date unknown)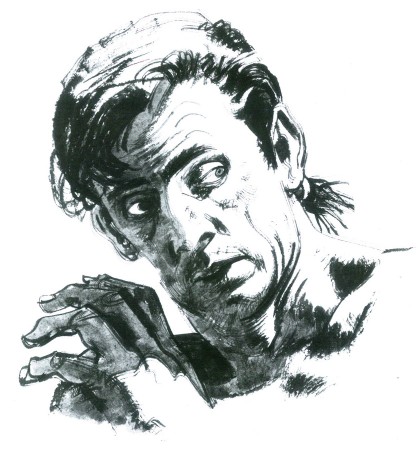 Mutiny In Paradise by James Michener
for This Week Magazine May 5, 1957.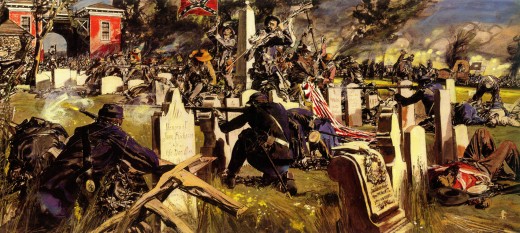 If the South Had Won the Civil War
Look Magazine, November 22, 1960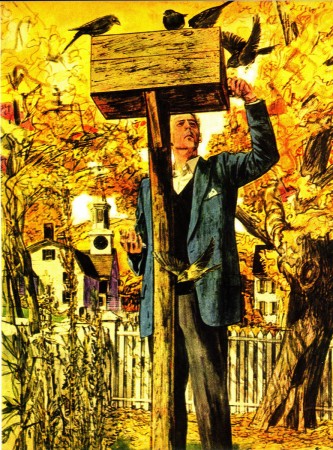 Story illustration, date & title unknown.
This Week Magazine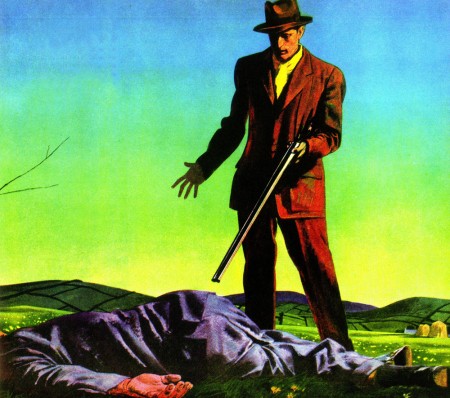 Run From the Hangman by Geofrey Household
Saturday Evening Post, March 10, 1951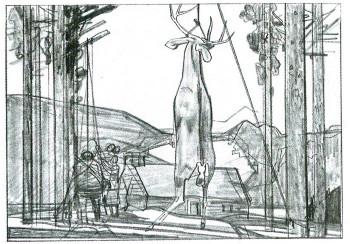 Preliminary sketch for Center Air Conditioning Refrigeration
Date unknown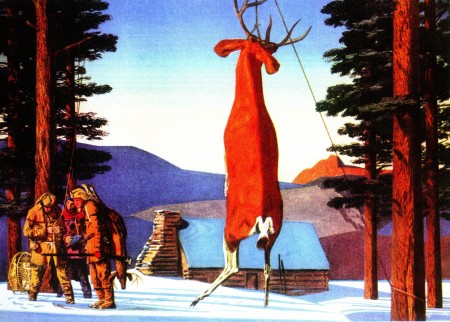 Center Air Conditioning Refrigeration advertisement
Date unknown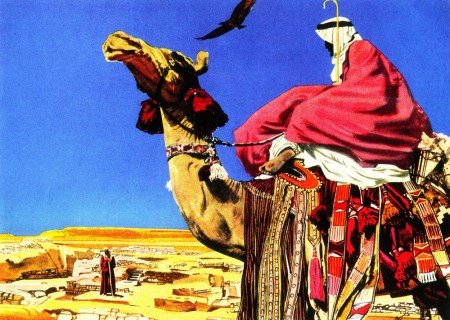 Center Air Conditioning Refrigeration advertisement
Date unknown
Many thanks to Bill Peckmann for getting a copy of this beautiful book to me. I wholeheartedly suggest you try to get a copy. It belongs in the hands or on the shelf of every working artist.
5 Responses to "Robert Fawcett"
Leave a Reply