Commentary &SpornFilms 28 Apr 2011 07:28 am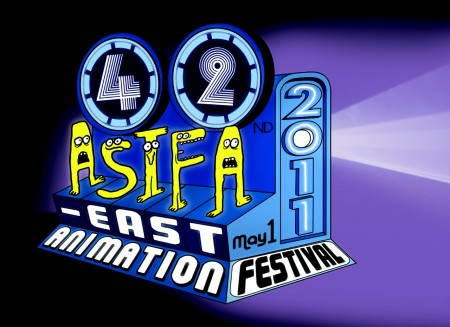 The ASIFA East Animation Festival will be held on this coming Sunday, May 1st.
Tishman Auditorium, The New School. 66 West 12th Street.
As always, admission is free. So is the party after the show.
________________________
.
- We just received the poster for our upcoming half-hour program for HBO,
I CAN BE PRESIDENT
. The show will air, for the first time, on June 22nd and will be repeated ad infinitum after that. HBO is throwing a party for it on May 26th; I'll take some pics, if anything interesting happens, and post them.
The poster is a mishmash of part of a scene from the show with other elements thrown at it. The type is less than I would have liked. I have difficulty with the mix of translucent and opaque colors (something I would never do), so I asked them to put a white border around it. The poster originally bled from the page. Hopefully, this takes a bit of the onus off it. Hey, what do I have to complain about! They made a poster!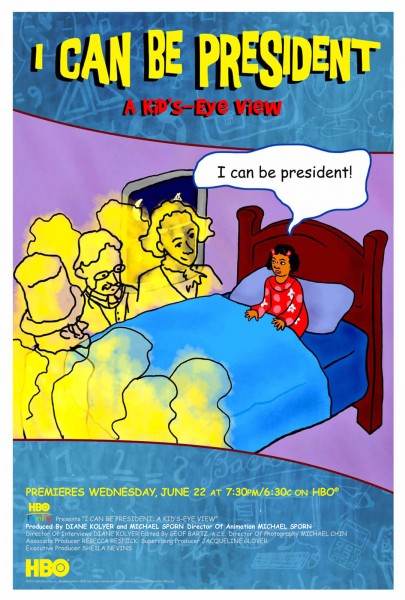 The poster for our show, I CAN BE PRESIDENT
Key to this show was the work of animators Matt Clinton and Katrina Gregorius. They both had a big hand in making anything that is "Special" in the show Special.
____________________________
.
- As part of the Tribeca Film Festival, Saturday at 7:00pm there will be a NYWIFT "
Independent Women
" screening and panel.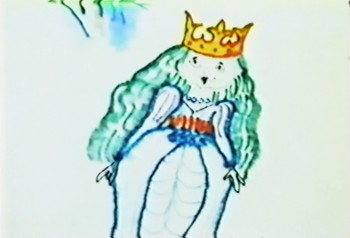 The films to be screened include:
Pastorale (1950, dir. Mary Ellen Bute),
Divination (1964, dir. Storm de Hirsch),
Windy Day (1967, dir. Faith Hubley),
Zenscapes (1969, dir. Marie Menken),
Anything You Want to Be (1971, dir. Liane Brandon),
Homage to Magritte (1974, dir. Anita Thacher),
1-94 (1974, dir. Bette Gordon), _________________________"Windy Day"
Coney (1975, dir. Caroline Ahlfors Mouris, Frank Mouris),
Desire Pie (1976, dir. Lisa Crafts),
Remains to be Seen (1983, dir. Jane Aaron), and
Bent Time (1984, dir. Barbara Hammer).
The panel will include: directors, Lisa Crafts, Emily Hubley, Liane Brandon, Barbara Hammer, Jane Aaron, Bette Gordon, as well as Bute films curator/collector Cecile Starr, and Tribeca's experimental film programmer Jon Gartenberg. It will be moderated by Drake Stutesman, co-Chair of The Women's Film Preservation Fund and editor of Framework: The Journal of Cinema and Media.
Saturday, April 30 at 7:00pm
Location: SVA Theater (SVA) 333 West 23rd Street Between 8th & 9th Avenues NYC
________________________
.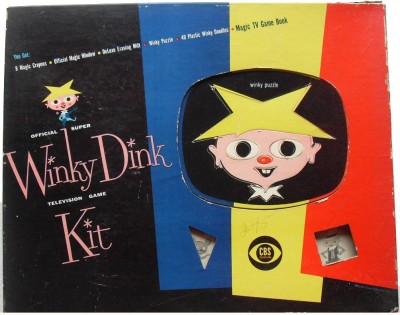 - Stephen Heller at Print Magazine reminisces about Winky Dink. Check it out.
Somewhere I have one of these original kits. The envelope it's in is deteriorating; they used such poor quality paper to pack it in.
8 Responses to "Ends and Odds"
Leave a Reply