Books &SpornFilms 30 Apr 2011 07:49 am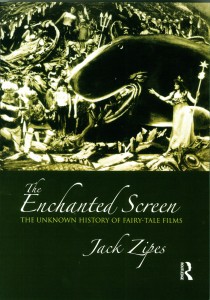 - Author, Jack Zipes, has just released a new book called, The Enchanted Screen. Mr. Zipes is a professor of German and Comparative Literature at the University of Minnesota. He is a scholar whose focus has been children's literature and culture, and he has written at least seven other books. I've been aware of his work since his book, Hans Christian Andersen, the Misunderstood Storyteller. It was in that book that Mr. Zipes gave some attention to the films we've done in our studio. Although he felt that Andersen was often misused or misunderstood when translated to other media, he wrote that our films offered excellent adaptations. Of course, I'd be interested in anything Jack Zipes had to write in the future.
This new book, The Enchanted Screen, goes deeper than just Andersen's tales, taking in all world literature. However, there can be no doubt that Andersen is a primary interest of Mr. Zipes' studies. There are elaborate analyses of the various productions of The Snow Queen or The Little Mermaid or The Emperor's New Clothes. Disney is certainly taken to task for sentimentalizing children's literature. Indeed, there's a complete chapter entitled, "De-Disneyfying Disney: Notes on the Development of the Fairy-Tale Film." To be honest, it's hard to argue with his premise, if you take Grimm and Andersen seriously. When he points out that J.M.Barrie's Peter Pan becomes Walt Disney's Peter Pan or Lewis Carroll's Alice In Wonderland becomes Walt Disney's Alice, you begin to realize the change in ownership which also recognizes a change in the values imparted in those original tales. (Shrek actually fares well under this scrutiny since it spoofs the Disneyfication of the tales.)
In short, the book is an excellent read if you're interested in the subject – as I am. It's especially pleasing when the author has nice things to say about your work, but that is hardly the reason I enjoyed the book. I appreciated the honest and intellectual discussion of the material, and I enjoyed some of the sources he considered at length. Since I make films using this material, I am curious to hear what critics have to say.
As an addendum to these comments, I thought I'd post a page from the book that talks about a couple of my films. Why shouldn't I spread the news? I'm proud of these films. I've added some illustrations from a couple of these films to punch up the post. So over to Mr. Zipes:
From 1990 to 1992 Michael Sporn, an American animator, adapted three of Andersen's fairy tales, "The Nightingale," "The Red Shoes," and "The Little Match Girl" for Italtoons Corporation, and they are currently distributed by Weston Woods Studios, an educational company. The films, all about twenty-five minutes long and created for children between five and ten, have been shown on HBO, but for the most part they have not received wide public attention, and they can be considered marginal cultural products of the culture industry—all the more reason that they deserve our attention, because Sporn's films written by Maxine Fisher are profound interpretations of Andersen's stories that transcend age designation and keep alive Andersen's legacy. They all use voiceover and colorful still sets as backdrops, and naively ink-drawn characters who come alive because they are so unpretentious and resemble the simple and found art of children.

Two of Sporn's films are particularly important because they transform motifs from Andersen's tales to deal with contemporary social problems. Both take place in New York City, and the music and dialogue capture the rhythms and atmosphere of present-day urban life. In The Red Shoes, Sporn depicts the warm friendship of two little black girls, Lisa and Jenny, and how they almost drift apart because of a change in their economic situation. The story is narrated by Ozzie Davis as a shoemaker who lives in a poor section of New York. Lisa and Jenny often visit him, and he describes their lives and how both love to dance and play and enjoy each other's company. One day Lisa's family wins the lottery, and they move to another part of the city. Now that she is rich, Lisa ignores Jenny until they meet at a ballet about red shoes. The spoiled Lisa ignores Jenny, but later she returns to her own neighborhood and steals some red shoes that the shoemaker had been making for Jenny. Guilt-ridden, Lisa finds that the red shoes have magic and bring her back to the old neighborhood and help her restore her friendship with Jenny.

In The Little Match Girl, Sporn depicts a homeless girl, Angela, who sets out to sell matches on New Year's Eve 1999 to help her family living in an abandoned subway station on Eighteenth Street. She meets a stray dog named Albert who becomes her companion, and together they try to sell matches in vain at Times Square. The night is bitter cold, and they withdraw to a vacant lot where Angela lights three matches. Each time she does this, she has imaginary experiences that reveal how the rich neglect the poor and starving people in New York City. Nothing appears to help her, and when she tries to make her way back to the subway station, she gets caught in a snowstorm, and it seems that she is dead when people find her at U nion Square the next morning. However, she miraculously recovers, thanks to Albert, and the rich people gathered around her (all reminiscent of those in the dream episodes) begin to help her and her family.

Sporn's films are obviously much more uplifting than Andersen's original tales. But his optimism does not betray Andersen's original stories because of his moral and ethical concern in Andersen and his subject matter. In fact, his films enrich the tales with new artistic details that relate to contemporary society, and they critique them ideologically by focusing on the intrepid nature of the little girls rather than on the power of some divine spirit. At the same time, they are social comments on conditions of poverty in New York that have specific meaning and can also be applied to the conditions of impoverished children throughout the world. What distinguishes Sporn's films from Andersen's stories is that he envisions hope for change in the present, whereas Andersen promises rewards for suffering children in a heavenly paradise.

Sporn's films are tendentious in that they purposely pick up tendencies in Andersen's tales to express some of the same social concerns that Andersen wanted to address. His critical spirit is maintained, and even some of his faults are revealed. Most important, he is taken seriously.
It's a pleasure to be taken seriously, and I have to thank Jack Zipes for that.
7 Responses to "Zipes' The Enchanted Screen"
Leave a Reply