Commentary &Puppet Animation 07 May 2011 07:01 am
- There should be plenty of 3D stop-motion films circling the globe ni a year or two. Recently there's been a bit of news about a few of these animated features.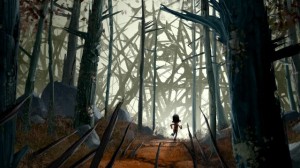 LAIKA, the company that produced Coraline, under the sturdy direction of Henry Selick, has announced a new two picture deal with Focus Features. Their first film, ParaNorman, will be released on August 17th, 2012. The second, yet-to-be-named, picture will be released nationwide in 2014. The first film is being directed by Sam Fell and Chris Butler, from his own original screenplay. Sam Fell was director of The Tale of Despereaux and Flushed Away. Chris Butler was storyboard supervisor on Coraline and storyboard artist on Tim Burton's Corpse Bride. The voice cast includes Academy Award nominee Casey Affleck (The Assassination of Jesse James by the Coward Robert Ford), Tempestt Bledsoe (The Cosby Show), Jeff Garlin (Curb Your Enthusiasm), John Goodman (Monsters, Inc.), Anna Kendrick (Up in the Air), Leslie Mann (The 40-Year-Old Virgiin), and Tony and Emmy Award winner Elaine Stritch (30 Rock).
Meanwhile . . .
Aardman animation is producing two features in conjunction with Sony Pictures Animation. Arthur Christmas, is a 3D adventure that will hit theaters on November 23, 2011. The voice cast includes: James McAvoy, Hugh Laurie, Jim Broadbent, Bill Nighy, Imelda Staunton, and Ashley Jensen, which is currently in production. The film is being directed by Sarah Smith from a screenplay written by herself and Peter Baynham.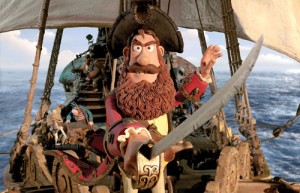 The second feature, The Pirates! In An Adventure with Scientists will be directed by Peter Lord and co-directed by Jeff Newitt. The screenplay is by Gideon Defoe, based upon his books. The vocal cast will include: Hugh Grant, David Tennant, Imelda Staunton, Jeremy Piven, Salma Hayek, Brian Blessed, and Brendan Gleeson.
And . . .
Henry Selick has recently signed to direct features for Disney/Pixar. He'll be working out of Pixar's Emeryville, Calif. campus and using their resources. The films he will make will be written and directed by him based on both original ideas and literary properties. This brings Selick back to many of the classmates with whom he graduated from CalArts.
_____________________
- Last week the ASIFA East Festival was held and awards were presented to the chosen filmmakers. Cartoon Brew posted a note about the winners and included a snarky comment by Amid Amidi which takes a swipe at the board members for entering their films in this local festival. And I do mean local festival. Here's Amid's comment:
ASIFA-East president David Levy also won two of the top awards: Best Educational Film and 1st Place for Independent Film. He's a nice guy so let's all look the other way and pretend that's not a conflict of interest…

The quality of the film is irrelevant. Doesn't matter if it's the best animated short since One Froggy Evening. If the ASIFA-East leadership or board is competing against its members, that's a serious issue that affects the legitimacy of the awards.
Here's a response from Adrian Urquidez:
ASIFA-East board members have always been allowed to participate in the festival and always will because the volunteer board is comprised of active members in the animation community both in their professional and personal lives. In no way are any of the awards just "given to people in their circle", they are voted on by the hundreds of members who participate in the well-publicized jury screenings. We've had 42 years of successful festivals, and while always looking to improve, I believe we have a lot to be proud of
If one wants to have a discussion on outreach, fine. But unnecessary slander gets you nowhere.
-Adrian Urquidez ASIFA-East website manager, board member and (horror of horrors) grateful award winner.
The way ASIFA East works is this. Filmmakers are asked to submit films; board members are not discouraged. There are several nights of viewing for any member who wants to attend. Those who attend are the voters for any awards.
Just as the Oscar voters are tied to some of those entering the awards and vote for their friends, those who attend the ASIFA screenings are probably friends of some of the filmmakers and will most likely vote for their friends. This is human nature, not corruption.
This doesn't mean that it's a small coterie of friends who always win the awards. However, when only a small number of films are entered, the quality will be lower than usual. If board members (all 9 of them) weren't allowed to enter their films, there would be fewer board members since they do a lot of work for no pay, and if they weren't allowed to enter the films in the festival there would be a reason for them not to volunteer to be on the board and do all the hard, necessary work.
This is very different from the awards given out of ASIFA Hollywood. ASIFA East is a small group in New York and should be reccognized as such. When The Lipsett Diaries won the award as the Best Canadian Film at the Ottawa Animation Festival, was that suspect? Somehow I, personally, didn't see it that way. I did see a good film win a well-deserved award. Just as I saw David Levy's film win a deserved award.
In the past 40 years or so of ASIFA East's festivals, I can assure you I've won quite a few awards, despite the fact that I've been a board member. Certainly all my licking of stamps for the ASIFA mailers wasn't enough to make my films succcessful with all the voters who didn't know me. My films won the awards, and I was pleased to be able to share them with the audience – that's truly the prize you get. (When you win a prize, your film is usually screened in the large New School auditorium.) The awards – a piece of paper – are worthless. Hearing a large audience (about 1000) makes the win worth while and something to remember.
12 Responses to "Left Overs"
Leave a Reply