Animation 09 May 2011 06:57 am
- Let's just ramble on about animation. I don't mean animated films, I mean animation. I don't much like watching animated films these days. I haven't seen much that I like among recent films. All those YouTube videos and student films on Cartoon Brew. There's so much more chaff than wheat. I get enormously impatient and dismiss films quickly. I sat through the ASIFA East animation festival award winners and got to see a number of bad films, regardless of the fact that they'd won awards. (Despite all the unknowing comments on Cartoon Brew recently, there were quite a few films among the winners. The shortage was in the Independently produced films, which is not a problem with ASIFA East's festival but with Independent film. There were two fine films among the winners – both had problems as well – and a lot of bad films. I don't include Student films in this discussion.)
I saw a lot of problems with these films that had won. Let's talk about a couple of these problems without naming the films. I don't mean to pick on ASIFA East award winners; it's just that some bad habits showed up among some of the winners. There was lots of bad writing, but that's not going to be my main focus. I'm concerned about the animation.
Below are the frames from John Kricfalusi's site of one of his favorite run cycles: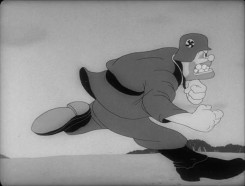 1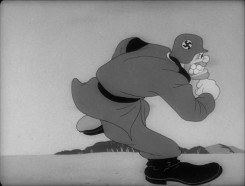 2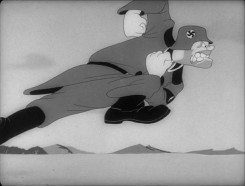 11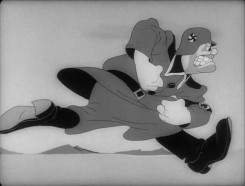 12
Though the original scene is and should be on ones,
I've exposed it on twos for the sake of my blog points.
The drawings above in a QT movie.


- I don't think most people animating these days think of their drawings as characters – not really. How else could you explain the preponderance of half-walks? That is when you animate one leg crossing in front of the other, and you keep repeating this instead of then animating the back leg crossing. You're doing half the number of drawings, but you're showing your lack of interest in a character, rather than a graphic motion. This isn't limited animation, it's bad animation! It's surprising that even in the silent days of animation, they didn't take this crappy short cut. They didn't really know what character animation was, back then, yet they had more concern for the characters than do the "animators" of today. It's pathetic. Yet, I can count three times, in three different films, noticing this lousy stunt among the award winners. And you see it in so many of the new on-line films.
The drawings #7 -12 above in a QT movie. Half the cycle
as it would be animated by today's animator.

Students: ANIMATE BOTH LEGS! "Professionals," you should be ashamed of yourselves.
- I've also noticed that there are a lot of films that are animated on fours. It's not just that the animation is on fours (and believe me when I say that I can see every one of the frames on fours!), it's that the animators don't make the choice. They work in flash or some other program where they choose to animate solely on fours. This means they can't go to threes, twos or, heaven forbid, ones when they have to. It also means they don't properly know how to animate. Since all animation is about TIMING, and since you choose not to properly time your motions, you've given up the most important attribute in animation. It's not good, and it's a real disservice to your own learning abilities. You've chosen to stunt your growth.
There were many films done this way. One of them also included a lot of camera moves – also on fours. It was like a staccato zoom in or out. I felt like I was jumping in and out in stages and wanted to run out of the theater – or at least stop watching these award winners.
Every other drawing above in a QT movie
exposed on fours.

There was a Disney Action Analysis class where they discussed when things should be on ones, twos, threes or fours. The decision was, originally made, that animation should be NEVER exposed on fours. That is until it was shown that very slow moving animation, animation that required MANY drawings – when lines touched lines – could get away with fours. Of course, this has to do with full animation, and the limited type of animation done today can find many uses for fours, but there has to be a choice to go in and out of that choice. Limiting yourself to ONLY animating on fours means you choose to handicap your animation, and you're not really developing character. You can't be.
You're, again, animating a graphic symbol not a living thing.
- Then there were the films that treated the characters with complete hostility by pulling insufferably nasty and inhuman stunts on the characters. This IS a fault of the writing and the directing more than the animation. I do have a complaint about scripts. Why do I, as an audience member, have to sit through these terrible actions and business on the screen? This was the case with at least three of the films. The younger generation seems to delight in rotten behaviour to their "characters" indicating more of a psychological problem in the filmmaker than a choice in service of the film. Believe me this wasn't the case ten years ago. Terribe things might happen to Daffy or Elmer, but they weren't as vile and in your face as they are today.
One film showed a lot of promise as far as the animation – the movement – was concerned, but the principal character lived through some horrible torture. And then the happy ending had big, bright, bubbly and cute Disneyesque drawing that was equally repugnant. The film was just so easy to dismiss – yet the animation, itself, moved fairly well and showed real knowledge on the part of the animator/director/writer. The film was tedious to sit through.
This is what we have today. Violence is the last bastion of the young filmmaker. Viva la freedom! Too bad it makes for horrible filmmaking! Impossible to sit through.
Unfortunately, I can't make an example of this from the drawings John K posted above. Also unfortunately, the violence in his films has unwittingly helped to lead to this direction, albeit the cartoon violence in his films IS character driven and works. In the best spirit of Clampett or Avery. The superviolent activity in these newer films is just repulsive and has nothing to do with character. It isn't necessarily John K's fault, it's just the way it is. We all affect each other, and that's the society we have nowadays. Too bad.
24 Responses to "Bad Animation"
Leave a Reply