Animation Artifacts &Commentary 26 Feb 2006 08:46 am
It's wonderful how things have grown with the internet age. Of course, there's also more than a fair share of nonsense out there. Lots of misinformation, so one has to move cautiously in accepting much of it as gospel. Know your sources.
- Hans Perk has posted some excellent comments on my "Bookkeeping" page. He responds to a good question by Galen Fott about changes during the course of a production and the reflection of that on the charts. Hans also provides a link to a chart which calculates the variations from Acme to Disney field guides and back.
If you're interested in the studio's production charts I posted last week (with more to follow soon), I encourage you to read more.
-I also encourage you to go to Thad Komorowski's website: Golden Age Cartoons. It's a site I visit often; there's plenty of history there.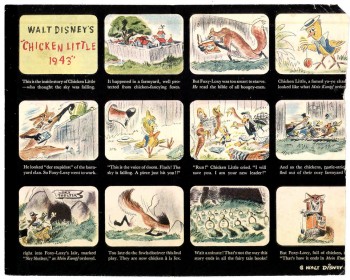 - Here's a reprint ripped (literally) from the pages of LIFE Magazine, circa 1943. It represents a few of the storyboard(?) panels from Chicken Little, the Disney propaganda film. No it's not the one with aliens – at least not aliens from outer space.
It was a wartime short warning us of the evil of the Nazis or at least of reading Mein Kampf. I didn't realize these films needed publicity, too.
(Click on image to enlarge to a readable size.)
One Response to "Chkn Li'l"
on 26 Feb 2006 at 9:42 am 1.Mark Mayerson said …

Hi Mike. In the finished cartoon, the name on the book was changed from Mein Kampf to Psychology. That necessitated a change in the end dialogue between the fox and narrator.

I have to believe that this art was prepared before the cartoon was finished, or the book title would have been changed here too.

I wonder why the studio made the change?
Leave a Reply