Action Analysis &Animation Artifacts &Articles on Animation &Disney 23 Jun 2011 06:56 am
- I continue, today, with the Action Analysis notes from the lectures given at the Disney studio by instructor, Don Graham. The lectures were often built around film sequences that were screened. In this lecture, they screened a sequence from Charlie Chaplin's Easy Street as well as an in-house loop of a man walking with two children.
The animation personnel who attended and participated on this lecture included: Reuben Timmins, Izzy Klein, Jacques Roberts, Bernie Wolfe, Chuck Couch, Jack Hannah, Amby Paliwoda, Bill Tytla, and Bruce Bushman.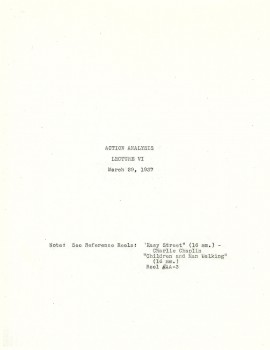 Cover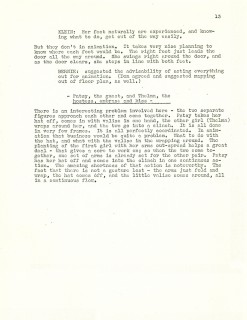 13
If you enjoy reading these Action Analysis notes, there are a wealth of them on Hans Perk's wonderful resource of a site, A Film LA. Many of them from earlier periods than these that I'm posting.
One Response to "Action Analysis – March 29, 1937"
on 12 Jul 2011 at 7:46 am 1.Nancy Beiman said …

Hi there, Mike…they also ran a sequence of Thelma Todd throwing herself on a bed and answering the telephone. I have not identified the Todd film yet, it could have been any of them since she was already dead by '37…but the films are now viewable again so I'll let you know when I find out.
I ran the EASY STREET sequence in my action analysis class and handed my students these notes. They were greatly appreciated.
Thank you and Hans for posting them online!
Leave a Reply