Commentary 25 Jun 2011 08:38 am
Cars Too Much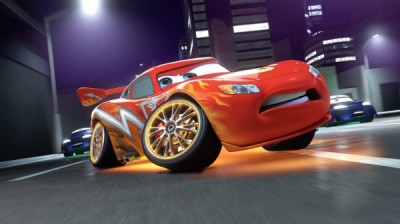 - Cars 2 doesn't seem to be getting the magic reviews that Toy Story 3 got.
At least that's how it looks in New York.
Let's take a look at a couple of the most obvious reviews.
A.O.Scott in the NYTimes wrote:
Even without Mater's nattering . . . "Cars 2" would be, by far, the loudest Pixar feature yet. The whine of engines and the rattle of gunfire (surprisingly frequent in a G-rated film) compete with the nonstop yakking to such an extent that Michael Giacchino's score has to strain and blare to be heard. Perhaps after the exquisite silences in "Wall-E" and "Up," the Pixar team wanted to open up the valves, kick up some dust and make some pop culture noise, leaving the poetry to someone else. Or maybe the company was tired of turning out one masterpiece after another and decided to coast for a while.

"Cars 2" is certainly built to move merchandise — this series may surpass even the "Toy Story" films as an effective advertisement for licensed playthings — but it is notably lacking in soul or sublimity. . . It may be intriguing to imagine what our toys do when we leave them behind, but there is something irreducibly grim about an entire planet ruled by mass-produced consumer goods whose producers and consumers are nowhere around.

But maybe I'm misinterpreting the movie and underestimating Pixar's capacity for subversiveness. Maybe "Cars 2" is a dystopian allegory for an era of ecological anxiety.

Or maybe not.
Joe Neumaier of the NY Daily News was the most positive, giving it three stars:
With Porsches and Jaguars rolling out of Pixar annually, you can excuse some occasional clank and knock. So "Cars 2″ cruises in looking polished, and if there's very little under the hood, it's surely because this savvy and sensitive company has unapologetically made a movie for (very) young moviegoers.

. . . whereas the first movie's lessons about appreciating a slower pace and the way the world once lived contained Pixar's trademark subtlety — junior division — the sequel's message about standing by friends and remaining true to yourself is nice but, well, standard.
Kyle Smith of the NY Post was not as generous giving it 1½ stars:
They said it couldn't be done. But Pixar proved the yaysayers wrong when it made its first bad movie, "Cars." Now it has worsted itself with the even more awful "Cars 2."

This international toy fair and pun emporium billed as a movie relies painfully on the redneckery of Larry the Cable Guy, an alleged but not proven comedian whose country corn-pone act makes Jeff Foxworthy look like Gore Vidal.

. . . London billboard reading "Lassetyre," a reference to the film's director, John Lasseter, looks like a typo. Surely they meant Lassetired?

In much the same way that a pleading nightclub comic might say, "Is anyone here from a foreign country?" "Cars 2″ makes a show of its globalism, zinging around the planet to mollify important markets — sorry, countries!

Things are so dull, rote and humorless that when signboards in a European scene read "Mondiale Grand Prix," I at first thought they said "Mondale Grand Prix," which sounds like an unwanted award this movie could easily win.
But then maybe New York isn't so different from the rest of the country; the film got a 33% on Rotten Tomatoes (not good). I have a free Academy screening coming up next week. I'm not sure if I'll make it.

Archie on Display
The Chuck Jones Gallery, 232 Fifth Avenue, in the heart of San Diego's famed Gaslamp District will showcase the original drawings of famed Archie's Comics cartoonist, Henry "Scap" Scarpelli. The show will be on display July 21st through July 24th during Comic Con International.

Henry Scarpelli, a native New Yorker, studied at the School of the Visual Arts in Manhattan and after service in the U.S. Army landed his first job in the art department at General Features, a newspaper syndicate.
"We are thrilled to premiere the Scarpelli Estate's collection of original Archie Comic's drawings, both graphite and inked," said Scott Dicken, vice-president of retail operations for Linda Jones Enterprises, the parent
company of the Chuck Jones Gallery, "from the hand of this master of the comic book panel. Henry Scarpelli's work is without peer in the field of comedy cartooning."
I was a fan of the Archie comics when I was younger, but that was in the days of Bob Montana's handling of the comics. It would be a kick to see the original art for this comic strip, but I'm in New York with no plans t make it to San Diego. If you're in the area, I'd urge you to check in to see the show.
Giant Puppets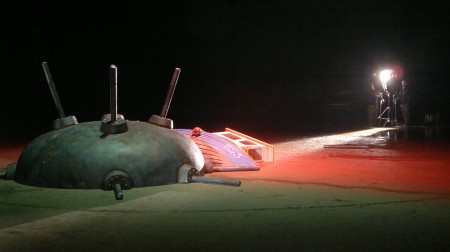 - Aardman has teamed up with Nokia again. Last year they produced the world's smallest bit of stop-motion puppet animation. This year they're trying for the largest. (Something tells me they'll succeed.) If you want to follow the blog for this project you can go here.
12 Responses to "Cars & Archie"
Leave a Reply