Animation Artifacts 21 Feb 2006 06:51 am
- Yesterday I came across a chat room discussion about the original Bambi (as opposed to the newer one about to be released). Once I hit this sentence, I had to stop reading: "But the new Bambi sequel is much easier on the eyes than the old Bambi, and from what I saw from that 10 minute clip, I think I'm going to enjoy the sequel a lot more."
It depressed me too much to continue reading, and I was reminded why I should stay away from animation forums and chat rooms.
To that writer, I devote this posting of some bits and pieces of a Life Magazine article published at the time of Bambi's original release.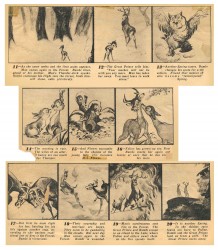 (Click on any of the above images to enlarge to a readable size.)
This material was originally given to me by Jim Logan. I owe the memory of him a long column or twenty, and I will post it eventually.
- Marc Hairston has an interesting posting about Miyazaki, the Oscars and Howl's Moving Castle at FPS.
- Newsday has an entertaining interview with Tim Burton regarding his Oscar nomination for The Corpse Bride.
5 Responses to "Bambi bits"
Leave a Reply