Bill Peckmann &Comic Art &Disney 26 Jul 2011 07:15 am
- At last, we've reached the final part of the Carl Barks Donald Duck story, "Sheriff of Bullet Valley". This is one of the most treasured of the Donald comics, and thanks to Bill Peckmann's sending the book, we can get to see it all of a piece.
You can visit part 1 & part 2 on this blog in the past two weeks.
Let's start with another oil painting by Carl Barks adapted from the cover of this magazine. It's from "The Fine Art Of Walt Disney's Donald Duck."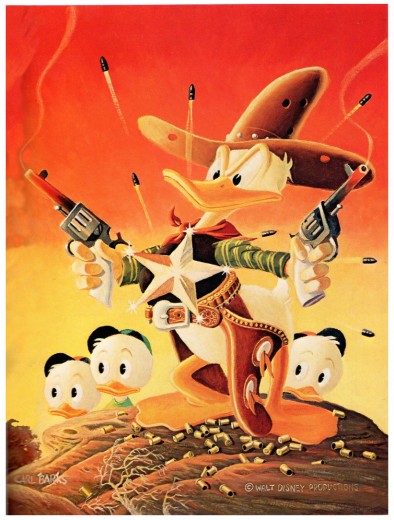 "The Sheriff of Bullet Valley" (18″x24″)
The handling of this third version of Bullet Valley is close to the original comic book
cover and truly conveys the ominous atmosphere of the showdown scene.

.
Now here's the remainder of the story, The Sheriff of Bullet Valley.
We pick up where Part 2 left off . . .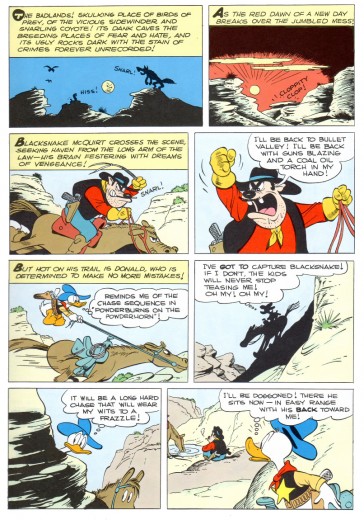 1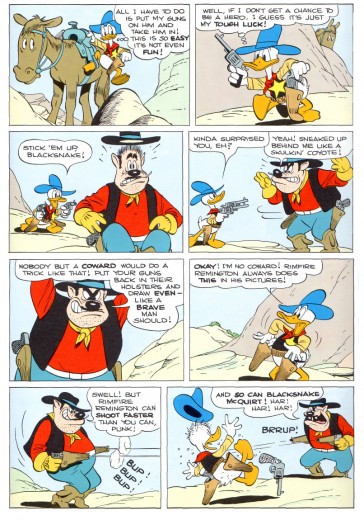 2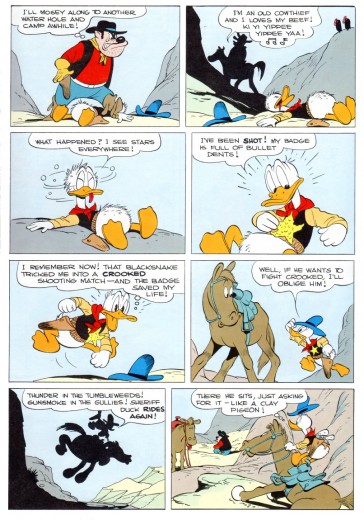 3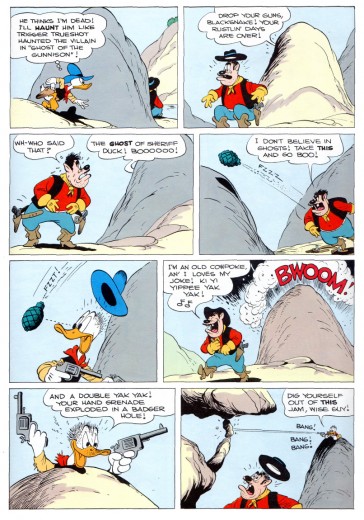 4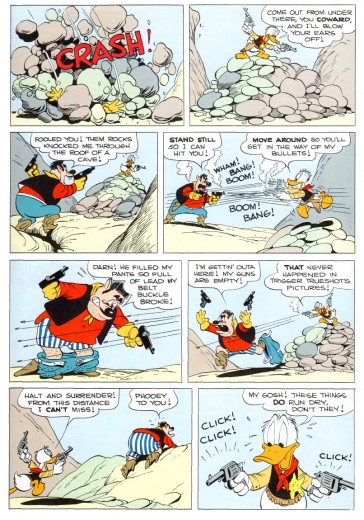 5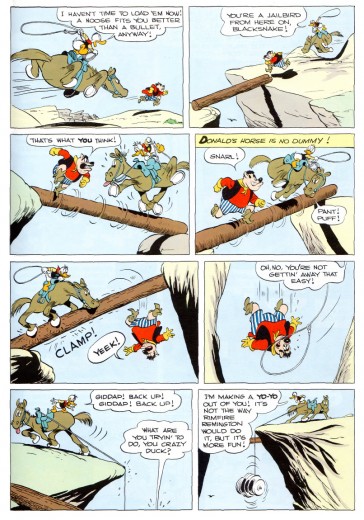 6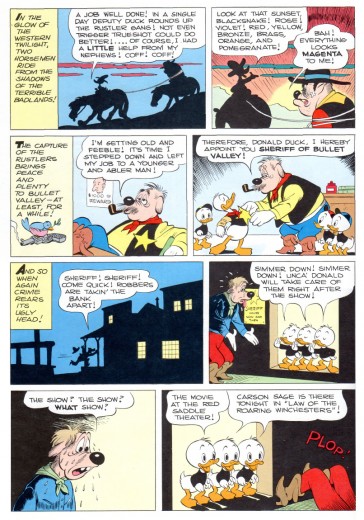 7

To fill out this post Bill Peckmann had sent another couple of one-page gags. Here's his additional note:
Here are the two end page gags done in the original two color format which looks great as well as the back cover gag done in full color, which also looks terrific. When we were kids, all of us "Good Duck Artist" fans, (Remember at that time we didn't know the name of the cartoonist who drew our favorite DD stories) would have loved to have seen a whole DD comic printed and colored on cover stock (like back cover gags) and not on the ratty, pulp newsprint paper. Unfortunately now, when comic book reprint albums are printed on quality paper, the coloring is so ham fisted, they loose so much of the essence of the original book, especially Barks' beautiful line work. It's probably better to see it in it's original black and white but then something else seems to be missing. (There are some people you just can't seem to please!)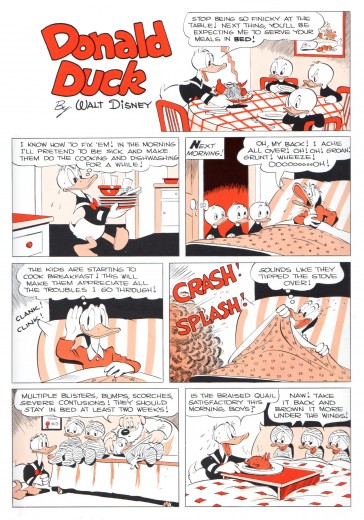 1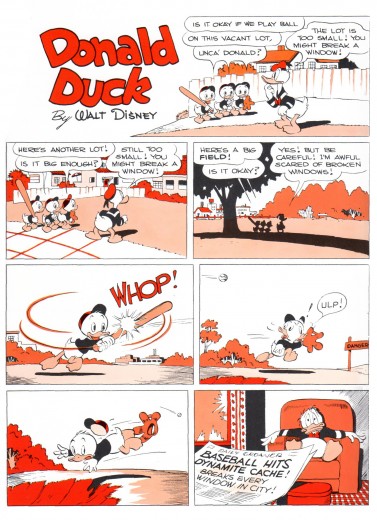 2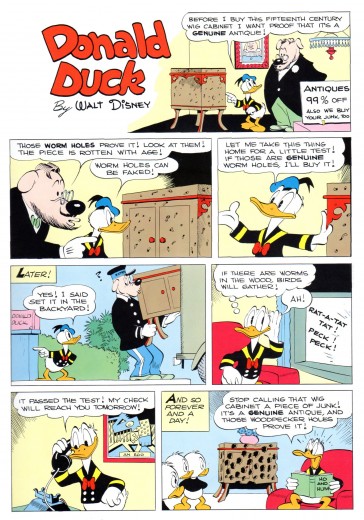 3

Thanks again to Bill Peckmann in sharing his library with us.
3 Responses to "Sheriff of Bullet Valley – 3"
on 26 Jul 2011 at 5:01 pm 1.Milton Gray said …

Thanks for reminding me of this great Barks story, The Sheriff of Bullet Valley. Even though I've read it many times already, beginning when I located a used copy back in the 1950s, in 2011 I'm utterly amazed that the Dell comic book editors and the Disney Studio would allow stories back then to be published with the kind of writing on display in the first page of your post today. That kind of guts and grit and earthiness added so much to the real world believability of the Barks stories, and it gives a nice contrast to the comedy, but these days I can't believe it would pass the committees of P.C. censors and attorneys at the corporate offices. It sure is refreshing to see that again!

on 26 Jul 2011 at 8:33 pm 2.The Gee said …

For those who may know or who might guess, on the last page of the main story,

after Donald describes the colors of the sunset, McQuirt says, "Bah! Everything looks magenta to me!"

was that a joke about the four-color printing process? It just seems odd to choose magenta when the character could have just "seen red" out of anger or his black eye.

Obviously, it isn't a big deal. I didn't laugh.

(oh, I won't bring up the go-to dishes Donald tried to serve his nephews as being the meals of King Carnivores. Why not? It is only a cartoon… so I gotta step back a bit.)
Leave a Reply