Photos 24 Jul 2011 06:50 am
- The artists are always there first. In NYC, they settled in the 60s in Soho, just south of Greenwich Village where lots of warehouses & factories stood. Lots of galleries built around them, and the rents suddenly went high. The artists moved to Williamsburg in Brooklyn (just across the East River), a Polish neighborhood where the rents were low. Galleries and boutiques moved in, and the artists had to move out again. They went further into Brooklyn.
At 6am the other day, I was walking across Prince Street in Soho. It's been years since the artists had fled, yet I realized a lot was still changing. Even bigger money was moving in, and the beauty and charm of the neighborhood was moving out. I took some photos and am about to give you a little tour.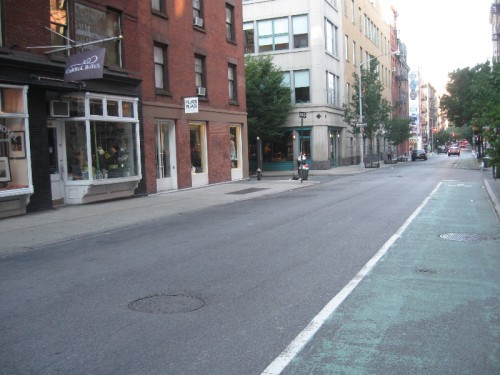 1
This is Prince Street which goes across Manhattan Island from East to West.
In this photo I'm looking West because that's the direction I'm walking.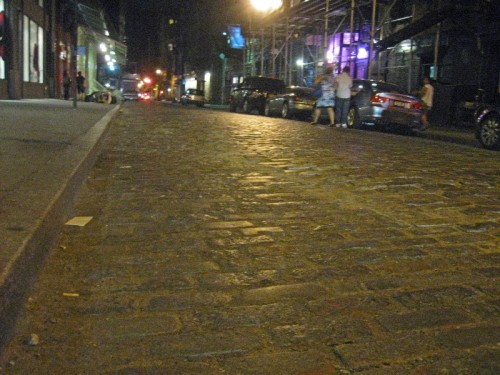 2
This is the first N/S street we come upon, Mercer Street looking North.
I was also there at midnight, so some of the pictures were shot at night.
You'll notice it's not really cobblestone but bricks laid to make up the street.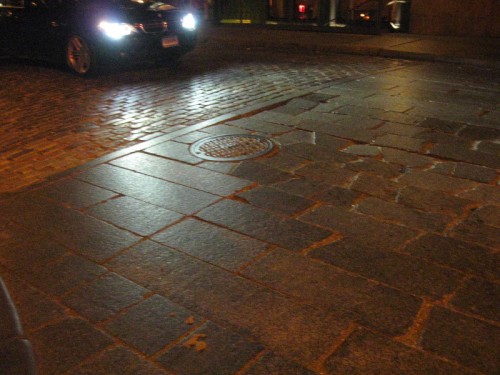 3
Even the crosswalk at Mercer Street is made of a different size brick.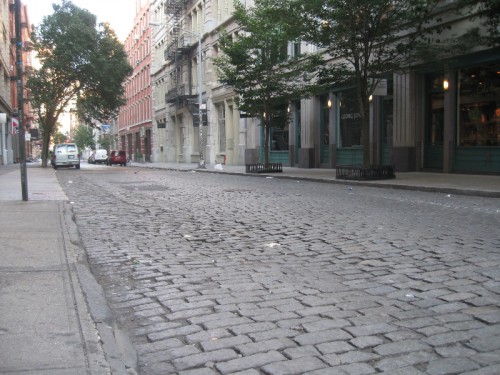 4
Here's the next block, Wooster Street looking North.
The same brick composition poses as cobblestone.
It has its own sort of charm.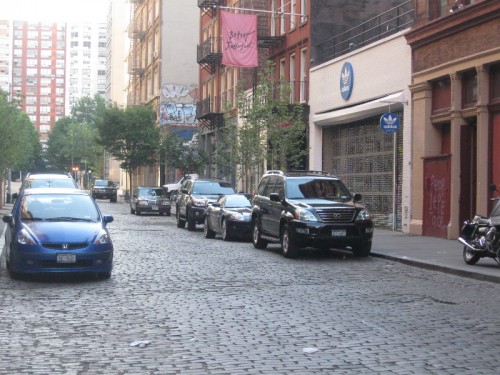 5
Here's Wooster Street looking South.
More bricks, very quaint.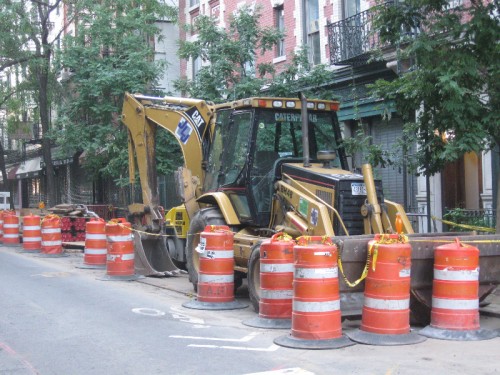 6
Aha! Construction has moved in, Greene Street, the next block up.
Those fake cobllestones will soon be history. Paved over.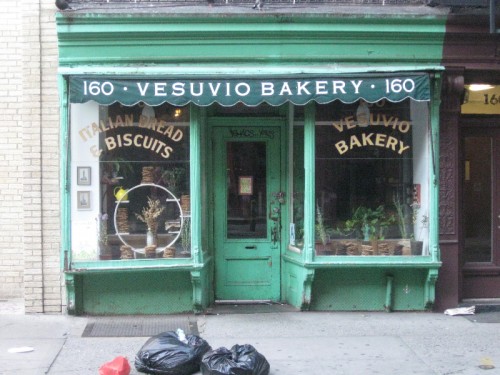 7
This is Vesuvio Bakery on Prince Street.
It's a famous old bakery that sells great bread.
I wonder how long it'll last.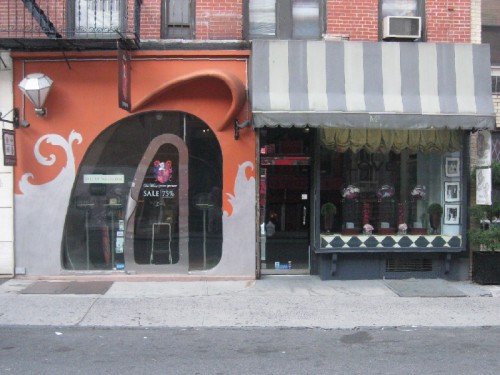 8
Right next door is a more fashionable Estate Jewelry store on Prince Street.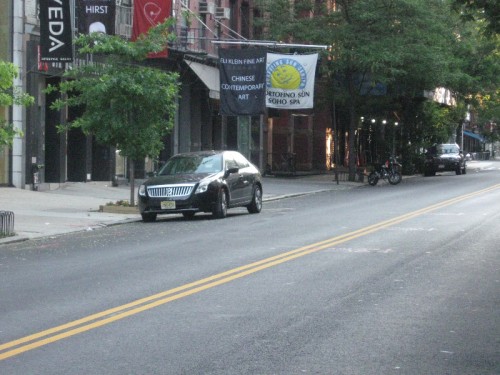 9
Once you get to West Broadway, everything changes.
The streets are paved the stores are chi-chi.
Traffic is two-way.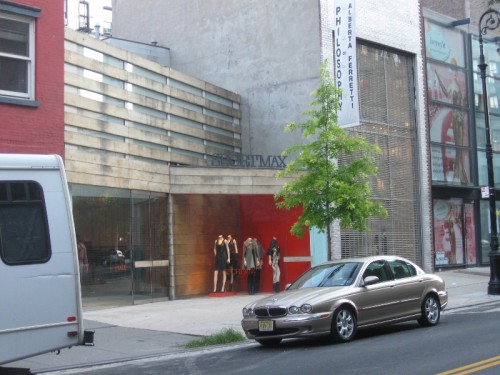 10
Here's a fancy new store on West Broadway, a SportMax.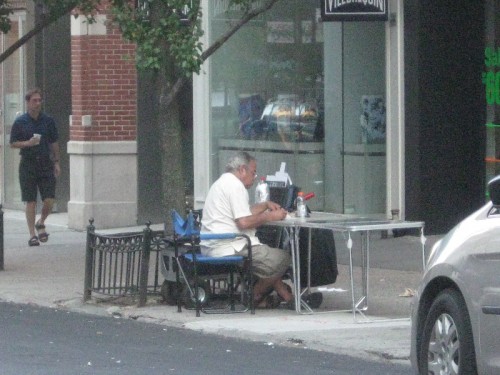 11
Street sellers line West Broadway selling their wares.
They have to fight the City even after they get their licenses.
(This was an all-out war under Giuliani – cops vs vendors.)
At 6am this is the first vendor to set up, just off Prince Street.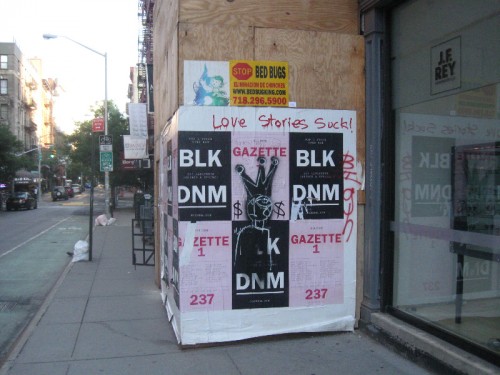 12
Even the construction sites look fancy on West Broadway.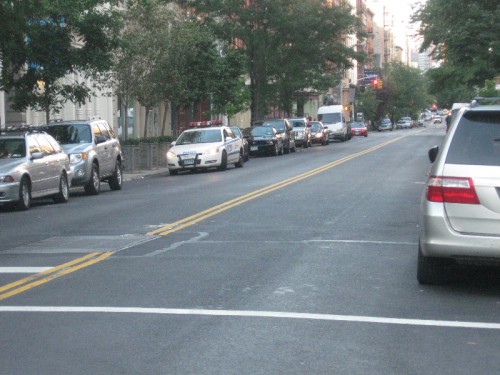 13
Here's the last stop, the other end of Prince Street,
Sixth Avenue, looking back, East.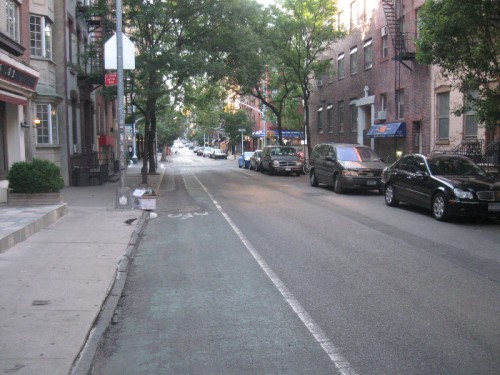 14
Moving down Sullivan Street (the last small cross street) heading Uptown.
It's the very last block prior to Sixth Avenue.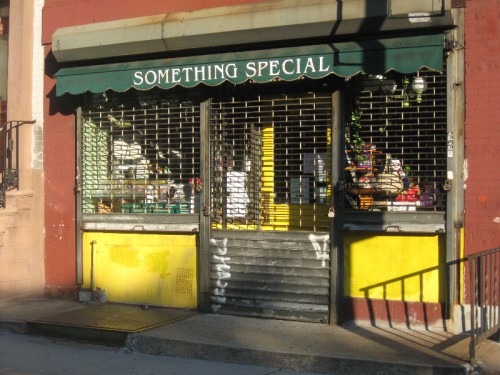 15
On of my favorite stores on Sullivan Street is Something Special.
It's a candy store with a lot of rental Postal boxes. The pictures
of Matthew Broderick and Sarah Jessica Parker & their kids indicate
that the couple uses one of the boxes in this store. Their mail drop.
I get things notarized here from an older Italian gentleman.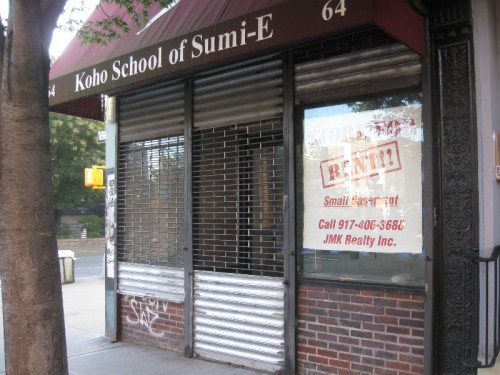 16
The Koho School of Sumi-E is going out of business on the corner
of Sullivan Street and Houston. This shop always reminds me of
the late Francis Lee, who studie Sumi-E painting.
He was a real Independent back in the day.
I often rented his Oxberry to shoot films overnight.
I wonder if the demise of this shop will mean that I won't think so often of Francis.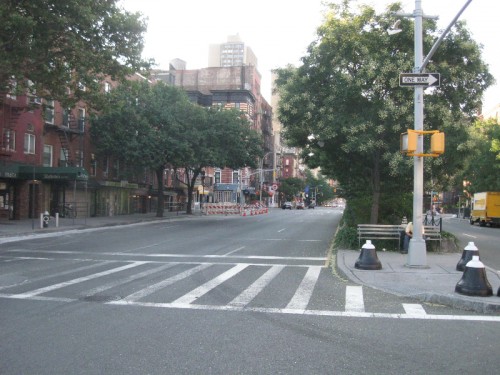 17
Here's the big street that runs parallel to Prince Street. Houston Street looking East.
The photo shows one half of the traffic, so it's a big street and separates NOHO from SOHO.
You can see that the nature of the neighborhood is changing. Brick-laid cobblestone is about to go completely. Old shops are being forced out of business, and money is moving in with higher prices and no concern for the little guy or the neighborhood. There are no artists here anymore, just vendors who pay high rents.
6 Responses to "There Goes the Neighborhood Photos"
Leave a Reply