Commentary &SpornFilms 30 Jul 2011 06:54 am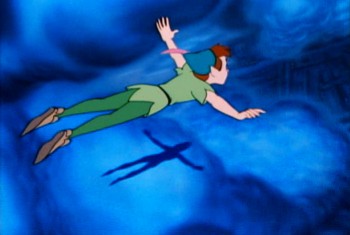 - A month ago, I did a post on the use of the multiplane camera in Peter Pan. Thanks to some comments and questions by Milt Gray, I was made to question whether the flying sequence from the feature was done with multiplane or many-leveled out-of-focus-painted clouds. One quote in Bob Thomas' original book, The Art of Animation, settled the question for me. In listing some of the great sequences done using the multiplane, Thomas lists this flying sequence: "Another memorable sequence: the flight over London in 'Peter Pan,' with the runaways (or flyaways) sailing through the clouds. The scene was painted by Claude Coats."
But now, Hans Bacher, on his brilliant site One1more2time3′s asks the question again. This time Hans, in his stunning way, has reconstructed the enormous Bg of this scene, then reconstructs the layout of the scene (with its many complicated rotations and pans), and finally details why he believes it did not use the multiplane camera. This is an amazing post and is throughly deserving of a long look at what Hans has constructed. I'm in awe.


A layout posted on Hans Bacher's blog
But that Thomas quote still keeps me questioning it. After all Thomas would have been writing the book in 1957 or 58, and surely the people involved in this scnre were among those Thomas spoke to. In fact, Claude Coats is given some strong attention in the book. Would he have gotten it wrong to call the scene a multiplane camera scene? I'm not convinced.
_____________________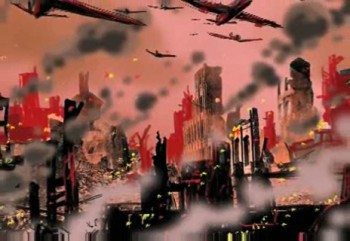 - Leo Sullivan and Floyd Norman have teamed together to work on an animated short about the Tuskagee Airmen. The short, titled The Tuskegee Redtails, has just been posted to Kickstarter; the film makers are seeking to raise $55,000 for the production.
Some of the description given on Kickstarter reads:
The Tuskegee airmen were so called because most of the African American pilots were trained at Tuskegee University in Alabama during the 1940s. Through their bravery and actions, the Tuskegee airmen joined the ranks of other patriotic Americans who defended the United States of America against the Axis military powers during World War 2.

The animated short will take a snapshot in time of the Tuskegee airmen obstacles and achievements.
The film will be "an animated short in 2D combined with CGI animation approximately 20 minutes."
Leo Sullivan's bio reads: "Leo Sullivan is the President/CEO of Leo Sullivan Multimedia, Inc. a California S-Corporation which produces educational and entertaining media for children ages 5 to 17 years. Prior to incorporating his company, Leo worked in the animation industry as an animator, layout and storyboard artist, director, and producer for various companies which included Hanna-Barbera, Warner Brothers, Spunbuggy Works, Campbell/Silver/Cosby and others. "

Floyd Norman's bio reads: "Floyd has contributed his talent to motion pictures, television shows and comic books for over fifty years. He has the distinction of having worked with the Old Maestro himself when the boss recruited him for the story team on what would become Walt Disney's final motion picture.

A veteran story development artist, Norman has worked as an animator and story artist on at least a dozen films for both Walt Disney Studios and Pixar Animation Studios."
I'd recommend that everyone take a look at their proposal and help out if you can. You can give as little as $5, if you're able and would like to.
It's interesting that just today George Lucas' film, Red Tails, announced its opening. On January 20, 2012 the film will open, according to this NYTimes article. I hope the announcement brings added attention to Mr. Sullivan and Mr. Norman's film.
_____________________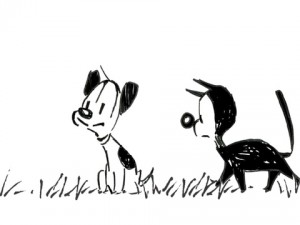 - This week some attention was paid by the animation community when they learned that the comic srip, Mutts, has been singled out to become a future feature with cartoonist/author Patrick McDonnell writing the script with his brother, Robert McDonell. This was the story from The Hollywood Reporter.
We had the good fortune a couple of years ago of doing a one minute animated piece for King Features Syndicate. We followed the look of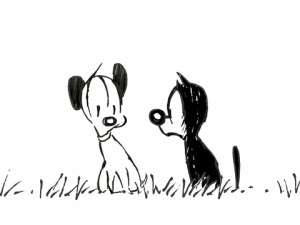 the strip very closely and had a lot of fun doing it. Patrick McDonell was quite involved in the production asking for a number of good changes. If ever there were a strip made to be a 2D animated film, Mutts is it. he film will be made by 20th Century Fox. Does that mean it'll look more like the Blue Sky films' Horton Hears a Who, or will it be like Marmaduke and Garfield? (Meaning a live action film with animated characters.)
Hopefully, Blue Sky will do the animation if it's cgi. At least they bring a little dignity to their work. Though we all know it should be a 2D film, but the Republicans are dominating the conversation in D.C. and cgi is dominating the conversation in animation.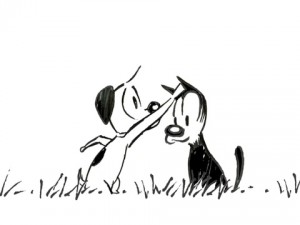 All stills, here, are frame grabs from our spot.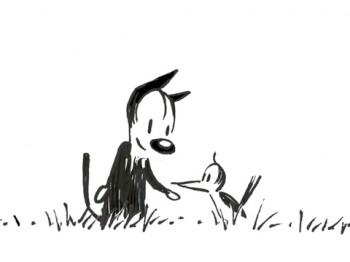 12 Responses to "Grab bag"
Leave a Reply