Action Analysis &Animation &Disney 23 Aug 2011 08:06 am
- These are the notes for the Disney studios after hours classes on Action Analysis give on April 26, 1937.
The action they studied was a loop from a Charlie Chase film wherein he throws apples from a fruit stand while the attendant tries to stop him. They are particularly studying the drapery involved. Don Graham, as usual, conducts the class with involvement from: Roy Williams, Milt Neil, Joe Magro, Rose, (Ray?) Patin, and Izzie Klein.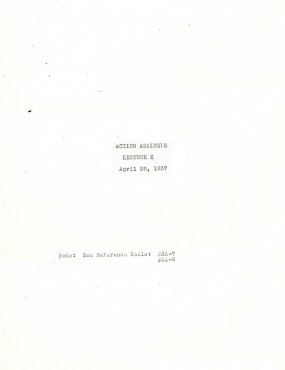 Cover sheet
Just a reminder that there are many more Action Analysis class notes on Hans Perk's invaluable site, A Film LA.
3 Responses to "Action Analyisis – April 26, 1937"
on 23 Aug 2011 at 12:12 pm 1.Nicholas Pozega said …

I love those Action Analysis papers, and i love to be able to find those! Now if only i could find more animator drafts for all the old Disney shorts…

By the way Micheal, i made a new post, this time a full post talking about an Oswald Rabbit short. It's a follow up to that Oswald Run Cycle post i showed to you previously. Heres the link below, check it out and leave a comment please.

http://classiccartoonreviews.blogspot.com/2011/08/my-favorite-oswald-rabbit-cartoon-hells.html

on 23 Aug 2011 at 4:57 pm 2.Nicholas Pozega said …

Micheal, i need to tell you this! The Lantz DVDs you have are probably the Columbia House Woody Woodpecker DVDs! The print i got those frame grabs from is from "The Woody Woodpecker And Friends Classic Cartoon Collection Vol. 1: The Walter Lantz Archive". It's the "official" DVD set from Universal, not the Columbia set. Both Vol. 1 & 2 of the Official Universal sets have some of the Lantz Oswald shorts on them, including the restored print of "Hells Heels!" I hope that helps!

Below is an Amazon link to the first of the two "Official" Woody Woodpecker DVD sets.

http://www.amazon.com/Woodpecker-Friends-Classic-Cartoon-Collection/dp/B000PC1PAW

on 24 Aug 2011 at 7:09 am 3.Michael said …

Thanks for letting me know. I'll get the newer DVD if it has treasures like some of those Oswalds.
Leave a Reply