Commentary 27 Aug 2011 07:02 am
Hurricane Panic
.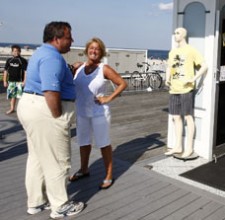 - There's a panic going on throughout New York and New Jersey. NYC is scheduled to be in the direct line of Hurricane Irene. Meteorologists have, at last check, scheduled the eye of the hurricane to pass over Manhattan. Should be fun.
On Thursday night – two days before the storm hit – Gov. Chris Christie declared a "state of emergency" in New Jersey. Since it was barely raining on Thursday, I thought that was a bit of cheek, but perhaps the Mad Gov is afraid of what may happen. You're in good hands in N.J. Oh wait, Cuomo did the same on Friday in NY.
Mayor Bloomberg, on the other hand, took his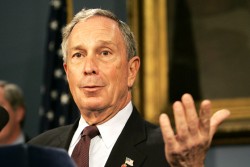 own steps. He demanded evacuation of some hospitals and senior centers that seemed to be in the way of the storm. He also announced that ALL mass transit would be halted during the course of the storm. That means from Saturday noon to Monday morning, who knows when, there'll be no buses or trains running. I guess we'll have to walk to make it work when the expected hurricane passes Sunday afternoon.
Of course, as I recently detailed, I assume there'll be flood conditions inside my studio and have taken a lot of preparations. The last will be to get the cat to higher ground for the duration. He'll come back with me to my apartment to face two other cats who live there. Lots of hissing and spitting expected atop the heavy sound of rain on the skylight. I'm not looking forward to the aftermath. Though maybe, like the last hurricane, it'll be all panic and little reality. That'd be nice.
________________________
Another Plympton Show.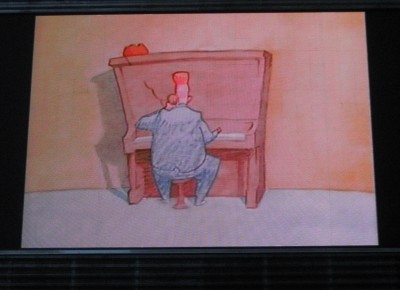 .
- This past Monday, it was a beautiful day in New York. Under the shadow of the Empire State Building, that evening, there was a program of early and late
Bill Plympton
films showing at the
Big Screen Plaza
.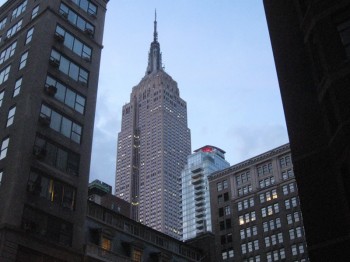 This is an outdoor arena with a very big screen overlooking a food court. Lots of tables and seating places around a rectangular fountain makes for a pleasant ambience for watching animation. They've finally gotten it together and have their sound problems repaired (something encountered at a couple of earlier screenings this Summer.)
As the films played overhead, Bill sat at a table in the back where you could buy a copy of some of the cartoons, or his big book. Or, you had the chance just to meet Bill.
The center film of the program was a screening of Bill's first feature, The Tune. It's been quite a while since I'd seen this film, so it was a pleasure to rejoin it. The Tune feels like early Plympton, and that's a wonderful thing. Lots of metamorphosis and surprise distortions and complete nonsense thrown your way, all to the score of songs played throughout, as the lead character searches for a hit tune.
And, as I said, the weather was brilliant.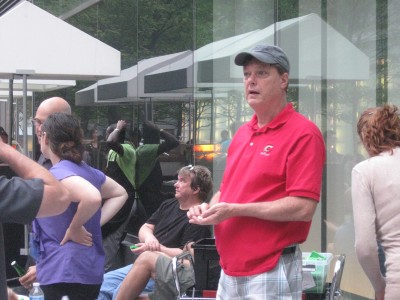 Bill Plympton, as ever, was the gracious host.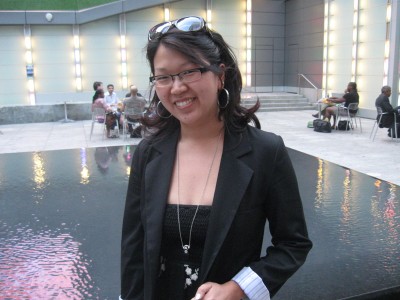 Jaime Ekkens is the coordinator for all Big Screen events.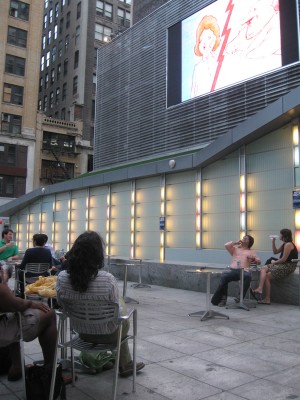 The film played overhead in the beautifully crisp NY evening.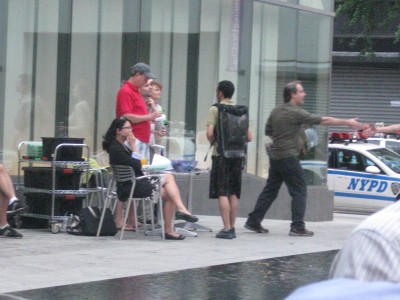 Bill worked the table.
________________________
the Ghibli Blog News
.
- On the Ghibli Blog recently, there have been a number of key posts. Principal among them was the news that Madhouse Productions in Japan has stopped work and pulled all production on the completion of The Dreaming Machine, Satoshi Kon's last film. When Kon died last year the studio, under the supervision of designer Yoshimi Itazu, was continuing work on the film. It's obvious that budgetary cuts have stalled this work and have put it into a full stop even though work was half done. It's questionable if the film will continue work and complete this master's final production. Satoshi Kon, of course, is the director of "Millennium Actress", "Tokyo Godfathers" and "Paprika."
- Back on Aug 12th, the Ghibli Blog posted this CNN video, an interview with Hayao Miyazaki about the formation of Studio Ghibli. He talks about the inherent problem of an animation studio: at first you form the studio to do the work; then it gets so you do work to keep the studio running. The cart pulls the donkey.


________________________
A Kickstarting Request
.
I received the following note and request, this week. I thought it worthwhile to promote it:
I'm a recent graduate of California State University, Northridge's Animation program, and I've recently released my final short film online. Tanks for Nothin' is a fun little 50′s, retro cartoon about an imaginative tomboy named Lucy, who uses her creativity to get back at her mean older brother. I spent a year developing and animating "Tanks".

It's got a great musical score, and every last frame has been lovingly assembled. The only thing it's lacking is an awesome sound design. I've been approached by a talented Sound Designer from an Academy Award winning animated short, who'd like to collaborate on my film. I'm using Kickstarter.com to raise the funds for the sound studio overhead.

If you're not familiar with Kickstarter.com, it's a site that helps art projects raise funds from online backers in exchange for rewards. In the case of my project, backers can earn original signed artwork (I'm just starting out, but I plan to make great animated stories for years to come – this is a chance to get my "Rookie card"), a DVD of the finished film, movie posters, and even their name in the credits. I've heard most projects are funded by under 5 dollar pledges. Kickstarter is an all-or-nothing platform, so if the project doesn't reach its goal no money changes hands.

If you think this is a worthwhile project please help out by telling your friends about it via Facebook, Twitter, Tumbler, Linkedin, etc. I really need help getting the word out there (I only have until Monday Aug 29, 3:02am ET. left to raise the funds).

Tanks for Nothin' site.
I don't intend to turn my site into an open venue for everyone, but thought this project of interest, and I hope it does well.
________________________
- I also wanted to post a reminder that Grayson Ponti has one of the best blogs out there (for animation freaks, that is.) The 50 Most Influential Disney Animators offers good bios and passable critiques of many different Disney animators, past and present.
Of course, the two inherent problems with the site are that many great and brilliant animators didn't work for Disney. They're all left out.
So, too, are all the wonderful story artists/writers and production designers that have seriousl affected the films (both Disney and non).
4 Responses to "Saturday Scribbles"
Leave a Reply