Books 30 Aug 2011 07:26 am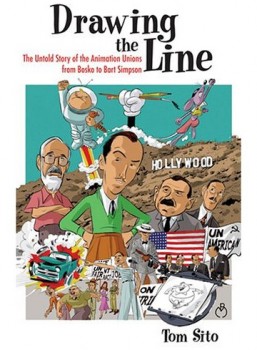 - There are a number of books I have been remiss about reviewing. For different reasons I've not been able to get to reading or reviewing or even commenting on several excellent books. I've decided to try to catch up with some of the more important ones.
Note: I also have a problem with WordPress I am having difficulty resolving. It won't allow me to save any post that has the word "u-nion" in it. I have to add the hyphen to get by with it. Since this book is about u-nions, please expect and forgive a lot of hyphens.
- Tom Sito's excellent book, Drawing the Line, is, to me, something of an important book. Other than Karl Cohen's 1997 book, Forbidden Animation: Censored Cartoons and Blacklisted Animators in America, this is the only book to talk in depth about the Hollywood labor problems and the effect of the McCarthy-era blacklisting on animation. The politics of the different periods is crucial to the subject, and Tom Sito takes that in with ease clearly addressing the subject at hand.
My favorite chapter of the book comes at the beginning. Tom Sito has a charm and a wit in his style, and it comes across most abundantly here. He details lots and lots of small injustices the bosses have against the labor force. It's all told with such humor, that it takes a while for the heinous conditions being described to be driven home.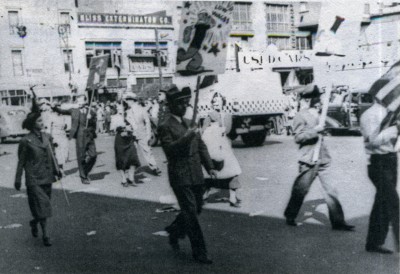 I imagine it was no mean feat to give both a history of animation, for those who are unfamiliar with it, and, at the same time, to go into depth with very specific data that breaks down the conditions and the actions that caused the strikes. There are three attempts at
u-nionizing analyzed with detail within the book. _____ Fleischer strikers in front of the Fleischer studio, NYC, 1937. *
Smaller actions like
the Van Buren and Schlesinger studio strikes are dealt with in short order. The Fleischer, Disney, and Terrytoons strikes take whole chapters to review. All three created enormously heavy feelings felt by the participants even to the end of the century, though the actions had happened more than fifty years earlier. I'd witnessed conversations with members who were holding angry grudges against other members, whether because they had been scabs or had been participants in the u-nion organizing. Sito's book gives clear descriptions of this and the reasons that caused the friction.
The Blacklist and the Hollywood Wars are likewise detailed and broken down in specifics. Though I'd had an interest in this period of animation history some of the book's stats are new to me. I also like Sito's discussion of the aftermath of the period – an anti-political wave that kept people from speaking their mind about their politics. It seems like a simple observation, but it's obvious only after it's relayed.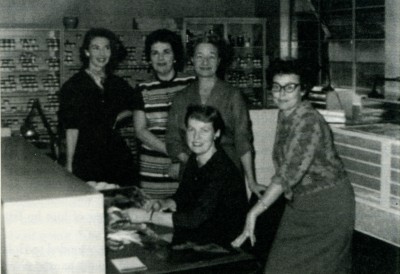 My second favored chapter comes as the book goes in the second half. "Lost Generations" sees into the latter half of the Twentieth Century after the "Big Five" studios have been u-nionized. Here we look into smaller studios from Clampett to Jay Ward to Ralph Bakshi. Depatie-Freleng to Chuck Jones. We see how a ___ LtoR: Sylvia Cobb, unknown, Mary Tebb, Phyllis Craig (seated)later generation of ________and Ann Lord. Ink & Paint women at Disney, 1957.*
artists have less of a
connection to the u-nion, and this sets us up for the big chapter, "Animation and the Global Market." Here we see the mega-money step in and just about wipe the art off the face of animation. We see how the employees turn on their own u-nion and allow the studios to hae the upper hand. As Don Bluth moves to Ireland for financial incentives with lower salaries and Steven Spielberg settles in London to make his lower budget features. Disney sets up studios in Australia and Canada to produce low budget feature sequels and reap in high grosses at the box office. (Just today I saw a TV ad for the "Special edition" of Bambi II, years after its production. If only the film were "Special.") Tom Sito is intimately involved in this chapter having been part of the picketing work force, and you can feel it in the writing. It feels personal.
Since he had been President of Local 839 for a while, I would have expected him to be partial to the u-nion but was pleased to see a very fair view showing both sides of the u-nion's history – positive and negative. It's an engrossing book, and I'm sorry I didn't turn to it earlier.
The one negative I had with the book were the many niggling little errors throughout. Some examples include:
- pg 17 says: "Ub Iwerks, working alone, animated Walt Disney's 1929 short The Skeleton Dance." In fact, it was Plane Crazy that Iwerks animated alone with only some small assistance from Ben Clopton. In fact, Les Clark took particular pride in animating a scene of a skeleton playing the ribs of another skeleton as if it were a xylophone
- pg 26 reads: "Mary Blair had once been called by Walt Disney 'the best artist in the studio.' Within a year of Walt's death she had resigned, perhaps as a result of professional jealousy of a woman with that much importance." In fact, Mary Blair had resigned from the studio in 1953, even before Peter Pan, a film she had designed, had been released. She came back to work with Disney on designing a couple of exhibits for the NY World's Fair and then supervised their move to Disneyland. She was devastated by the death of Disney and left several years later. Her problems with alcohol probably had more to do with the retirement than any "professional jealousy of a woman with that much importance."
- pg 156 calls Bill Walsh the new president of IATSE. (I was curious to know if this was the same producer who worked at Disney for many years.) No, we learn on page 158 that it's RICHARD Walsh who is the president of IATSE.
- Page 211 goes from calling William Weiss, Bill Weiss to Bob Weiss and back again.
I also was a bit annoyed with the Index which does not list quite a few names. Mary Blair, who is mentioned at least half a dozen times doesn't get in the Index, nor does Preston Blair. Rudolph Ising and Hugh Harman don't make it either, Bill Walsh (who is really Dick Walsh) gets listed on pg 156 & 202, although that name is Dick Walsh on 202. I stopped looking at the Index pretty quickly.
There are many other errors like this, though all of the large and detailed, specific data about the strikes and u-nions seems accurate. This book which is filled to the brim with facts dates and figures obviously has most of them correct. Perhaps the book's copy editor should have been more questioning.
This is a strong book, and if you haven't already read it, I have to encourage you to do so. It's a very particular history, and it has a lot to offer that isn't available in other animation history books.
________________
- Tom Sito has also authored several other books:
He is the author of the revised version of my favorite "how to" animation book, Timing for Animation. It was originally written by Harold Whitaker with John Halas attaching his name (he probably got the publisher and not much more). Tom updated the book to include the cgi world. (To be honest, I haven't seen the book; I only know the original – very well. Consequently, I have a hard time saying much about the revised version.)

He also has co-authored with Kyle Clark. Inspired 3D Character Animation is designed to show how to put Character into 3D animation and not just set key frames.
* picture 1 courtesy of MPSC Local 839, AFL-CIO Collection, Urban Archives Center, Cal State Univ., Northridge
* picture 2 courtesy of Anne Guenther and Archives of the Animation Guild, Local 839, North Hollywood.
7 Responses to "Overdue Book Review – Tom Sito's Drawing the Line"
Leave a Reply