Commentary 24 Sep 2011 07:45 am
- The Ottawa Animation Festival has been ongoing for the past couple of days. We have a film in the program and would have really enjoyed being part of it. However, funds are tight, and I had to pass on it this year. It's something I'm a bit sad about, but whatcha gonna do!
Richard O'Connor at his studio blog Ace and Son, is giving a daily diary of the Festival.
Here's day 1, day 2, you can scroll up from there for the rest.
______________________
.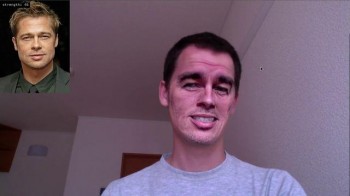 -
Cartoon Brew
featured a couple of videos this week that really had me thinking. Using some kind of computer animation, a couple of people replaced their faces (partially) with some celebrity parts. It was especially freaky to see some of the results. Surprisingly two of them went for a couple of the same celebrated faces: Castro, Paris Hilton, Mao, Brad Pitt et. al. The first video is more interesting than the second. The third vid shows moving facial expressions on various cartoon masks.
.
This all makes me glad that I'm in the twilight of my career. I think animation will incorporate all this motion capture stuff and will mutate into some kind of sad computation. I don't see this stuff as animation but as Effx, and I think the industry has just gone off the tracks and walked away from any kind of real animation.
.
One commenter suggested that the early Disney stuff will someday look like garbage in comparison to what's being done. Considering how many young people attack Snow White today, I'd have to say I agree with whoever wrote that. It's inevitable that the people growing up with this computer nonsense will want more of that. No one will have to draw Daffy Duck in the future; just get some second rate actor to rant and put it into Daffy's 0101010101 algorithm, and no one will ever have to draw animation again.
.
Given all the recent reading I've been doing about the silent Disney films, or Shamus Culhane's bio or early Russian animation, I've been even more inspired to draw these days. I can imagine how frustrated I'd be with cgi if that's what I did for a living. Given what I do work on it takes even more imagination to say I'm doing it for a living.
______________________
.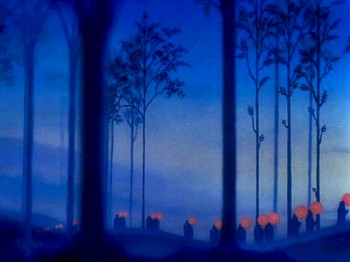 .
-
Bill Benzon
is back to his analyzation of Disney's
Fantasia
as he comments in depth on the
Ave Maria
segment of the film. This is on his blog,
The New Savannah
. If you haven't read his other pieces on
Fantasia
, you should check out the
past posts
.
______________________
.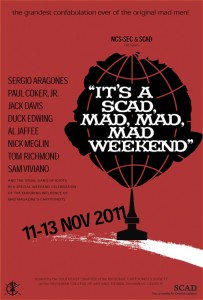 .
- Sergio Aragones, Jack Davis, Paul Coker Jr., Al Jaffee and other MAD Magazine artists will gather in a weekend long celebraion of their work at MAD. The upcoming event of the
National Cartoonist's Society
event in Savannah Georgia will have special rates for members at the
Courtyard Savannah Marriott Hotel
.
Rooms start at $119 and are available from 11-10-2011 through 11-14-2011.
You must reserve by 10-27-2011 to take advantage of this special rate.
______________________

.
9 Responses to "ChatAbout Bits"
Leave a Reply