Bill Peckmann &Comic Art &Disney 30 Sep 2011 06:50 am
Jesse Marsh was a comic artist who, principally, is known for his work on 'Tarzan', the comic series published by Dell. He was a self-taught artist who started working for the Disney studio in 1939. He worked on Fantasia and Pinocchio in the story department. He served in the Army as a radar specialist and was wounded with a mortar shell. After the War and a long recuperation, he returned to Disney but also worked freelance at Western Publishing. He left Disney in 1947 to work at Western, where he took charge of the TARZAN series of comic books.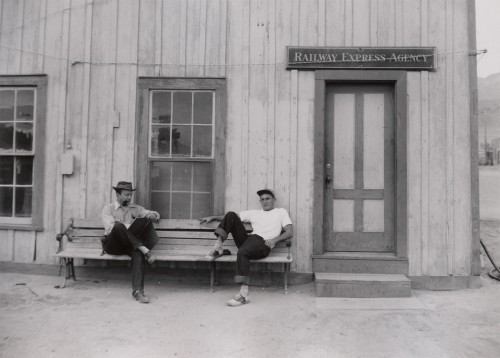 Jesse Marsh (L) and Tom Oreb (R) in the early 1940s
borrowed from Dan Nadel, posted Monday, March 29, 2010
.
Bill Peckmann
sent some scans of various art by Jesse Marsh and I'm pleased to post them here. Many thanks to Bill. He writes:
"Before gaining success as DELL Comics' TARZAN artist in the late 40′s and 50′s, Jesse Marsh, early in his career, worked for Disney in animation. The following material is some rarely published from that time period, They are taken from Charles Solomon's 1995 book, The Disney That Never Was."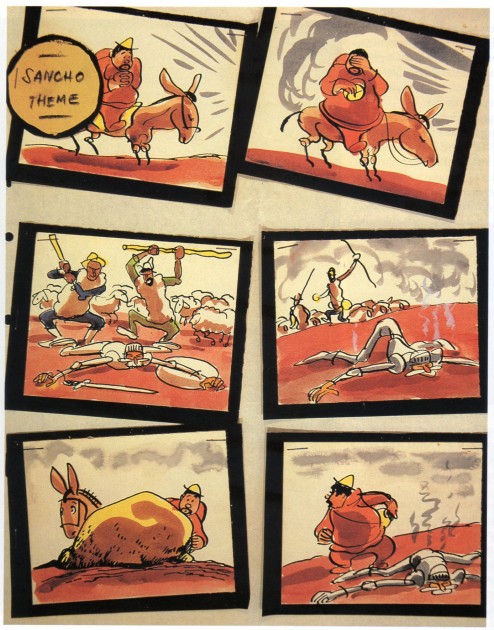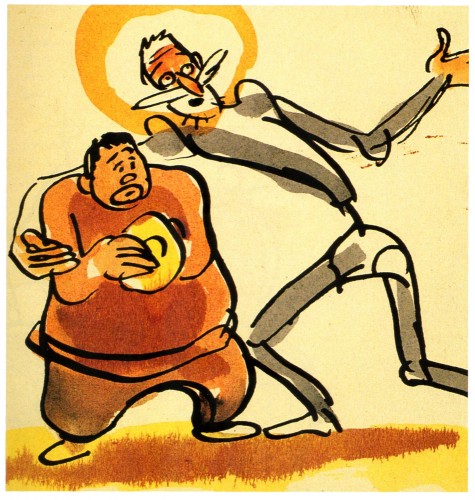 The following is the accompanying article by Solomon about Marsh's artwork:
In 1946, a second crew, under Jesse Marsh, returned to "Don Quixote." This version would have been set to an adaptation of Richard Strauss's tone poem Don Quixote: Fantastic Variations on a Theme of Knightly Character far Large Qrchestra, op. 35. Marsh prepared hundreds of neat pen-and-ink and watercolor cartoons, noting the musical themes that would accompany the action. He did enough rough storyboards for an entire film, beginning with a shot of the book resting on a table I flanked by suits of armor, and concluding with a sort of apotheosis: After Don Quixote's death, he, Dulcinea, and Sancho Panza would ride through the clouds to a glittering castle beneath a rainbow. Like the earlier version, this incarnation of "Don Quixote" was apparently shelved before story meetings were held or dialogue prepared.
.
Preproduction work began for the third time in April 1951. This crew used an even simpler style that reflects the influence of such New Yorker cartoonists as Sol Steinberg and Otto Soglow; The rounded characters consist of little more than a few ink lines with monochromatic highlights in dull green or tan. Work on the film must have ended soon after it began, as only a few dozen drawings were completed.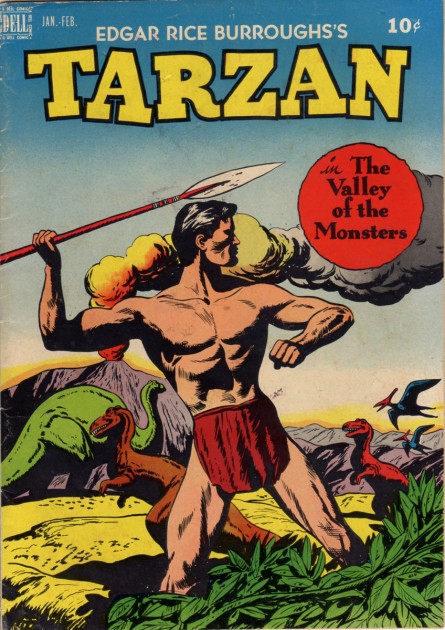 1
One of Jesse's early Tarzan covers, 1949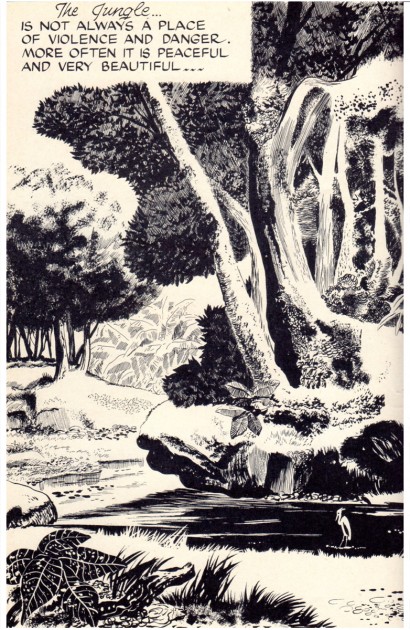 2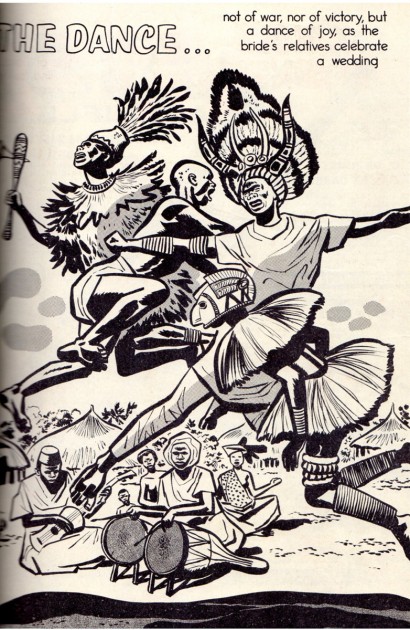 3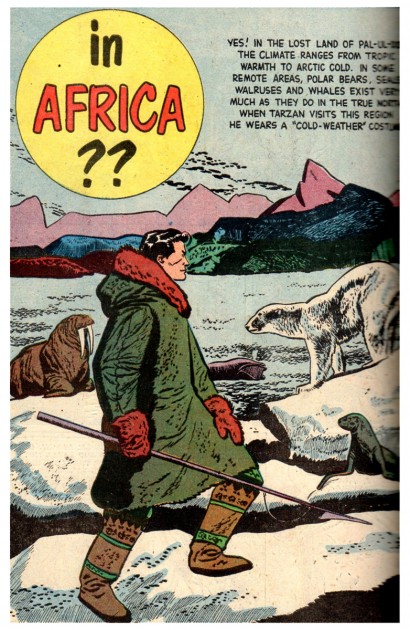 4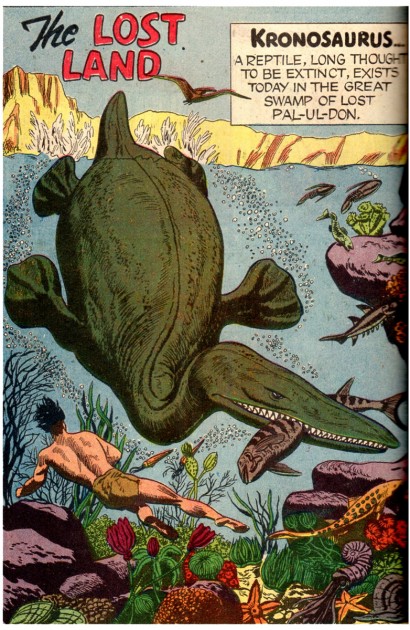 5
The following is from the Disney True-Life Adventure comic book, 1957.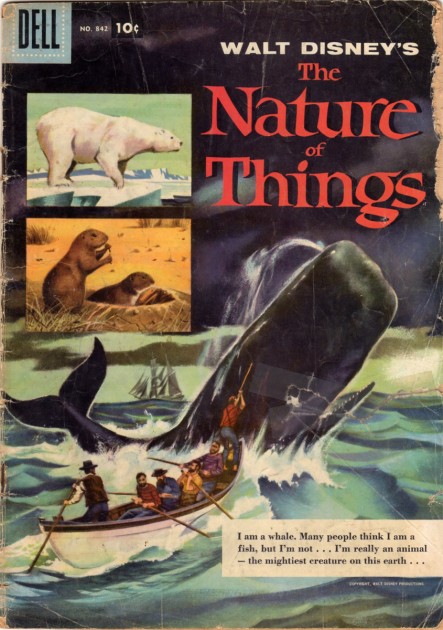 Jesse did not do the cover of this 1957 comic,
but he did do all of the 3 inside stories.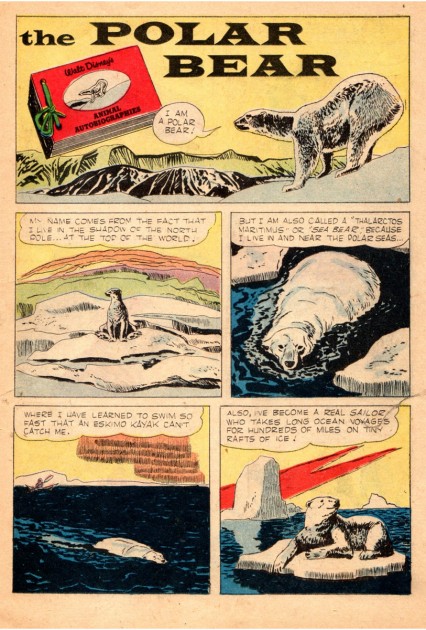 10
This is the first of the three stories in this book.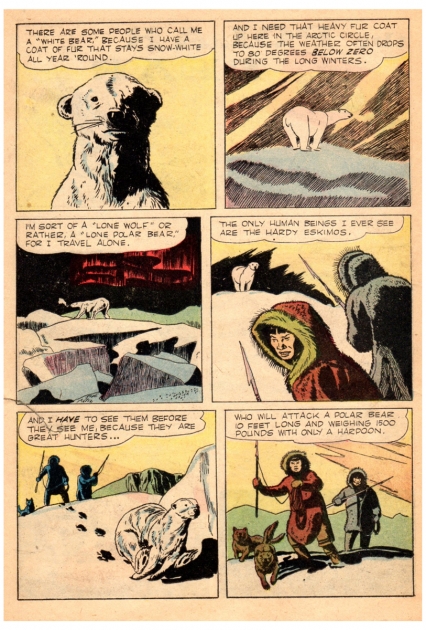 11
Combine Marsh's "non slick" style with his beautiful panel and
page layout designs, and you got some impressive results.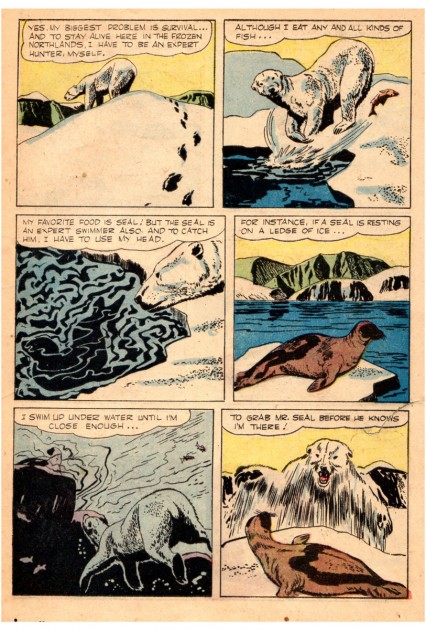 12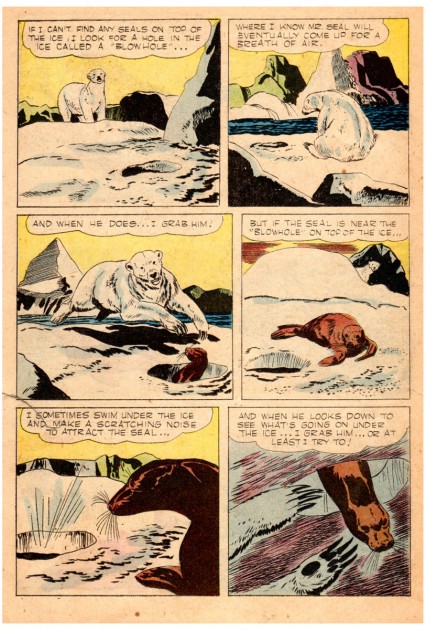 13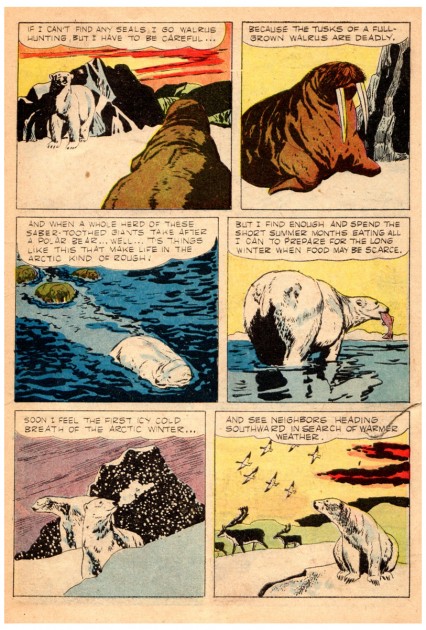 14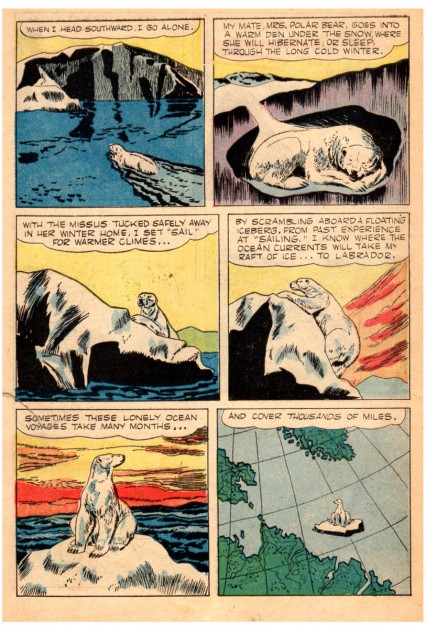 15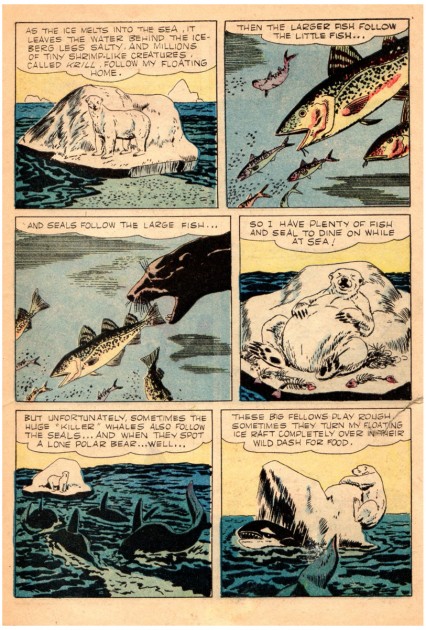 16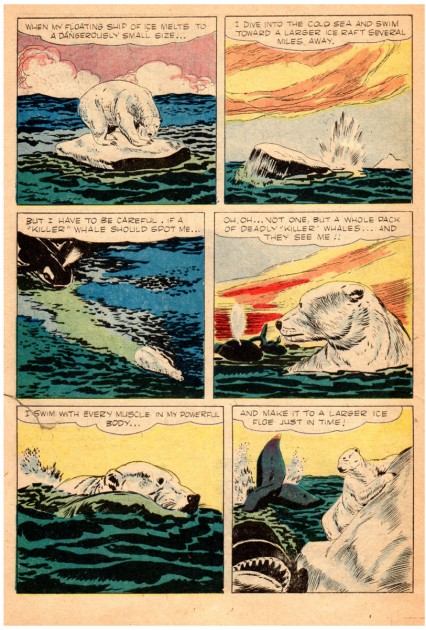 17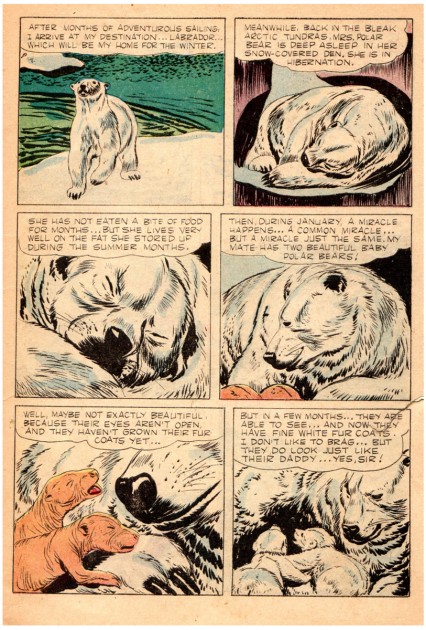 18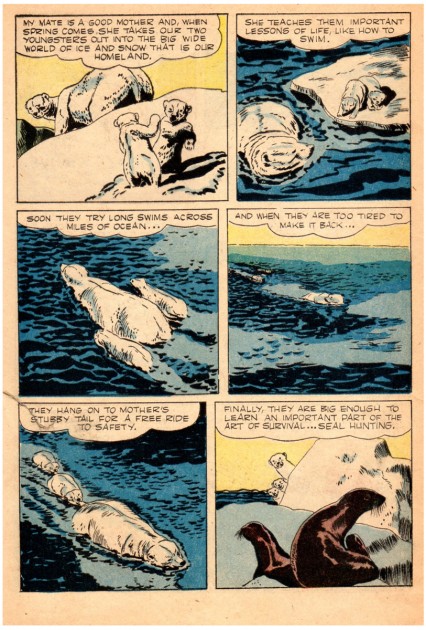 19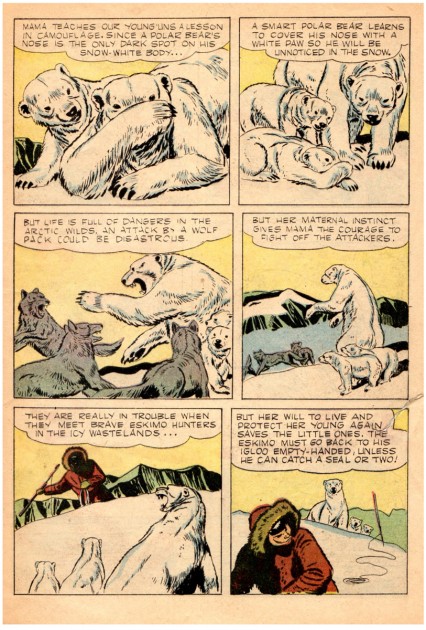 20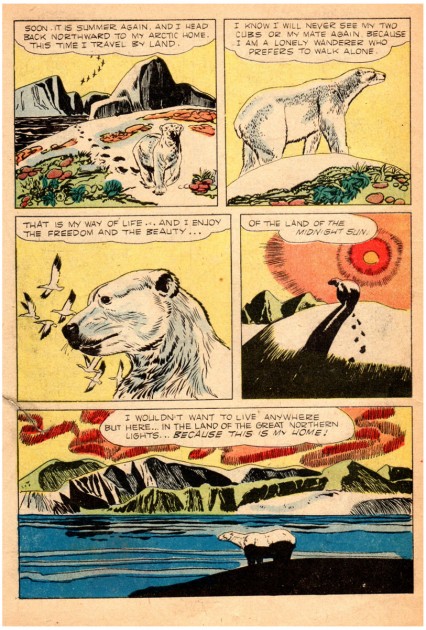 21
A site called The Jesse Marsh Site offers the complete Dell TARZAN no. 1, from January 1948. This was actually the third TARZAN that Dell published.
3 Responses to "Jesse Marsh comic art"
on 30 Sep 2011 at 7:24 am 1.Stephen Macquignon said …

wonderful story telling

on 01 Oct 2011 at 5:40 am 2.Amid said …

The excerpt from Solomon's book incorrectly identifies Saul Steinberg as Sol Steinberg. I checked the book and the error is from there.

The photo of Marsh and Oreb was taken by Ward Kimball in April, 1947. I gave that photo to the guy who posted it.

Here's a photo taken at the Burbank studio that shows the bottom half of one of Marsh's famous ladies that decorated many of the doors at the studio:
http://bit.ly/n5w4av
Leave a Reply