Animation 24 Feb 2006 08:51 am
- Making good children's films is difficult business – especially in feature films.
I'm not talking about the typically American way of doing business – all activity and loud, screaming nonsense for what feels like hours. It's easy to take a children's book classic that's been treasured by generations of children; update and alter the artwork so it looks brighter and more in-your-face, get celebrity voices to ensure the cache of their names, then add a couple of fart jokes. It's hard to make a good, intelligent children's film.
Dumbo is a great children's film; Spirited Away is a great children's film. Bambi, Toy Story and My Life As A Dog are all exceptionally good children's films.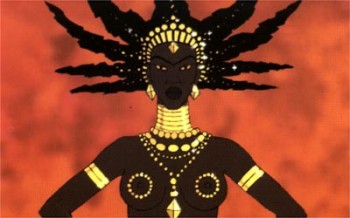 Last night, I got to see Michel Ocelot's Kirikou and the Wild Beasts. Michel's first Kirikou feature, Kirikou and the Sorceress, was exceptionally well received in France. It has played continuously in France for the past seven years.
Michel was pushed into this sequel, which plays like an original. The film tells four stories of tiny Kirikou, an African child living in a small village and the difficulties he overcomes in the ever present struggle with a sorceress who tries to destroy his village. She represents natural disasters, and Kirikou, using his intelligence, fights back with things available to him. No loud violence, no screaming noises, no guns, no farts. Just humanity and intelligence.
And stunningly beautiful graphics remniscent of Matisse's Ethiopian paintings. in other words, the art is inspired by the art of the film's subject – African painting. The excellent musical tracks by Manu Dibango and songs by Youssou N'Dour are also inspired by African music.
Michel Ocelot has delivered a film that should be seen. Because of the nudity in the film, breasts in particular, it is doubtful that the film will receive proper distribution in America. It has played in every other country, though, and will undoubtedly be on dvd here. Please look for it. If you can see it on a big screen so much the better. It's a beautiful children's film, and that's saying a lot for me.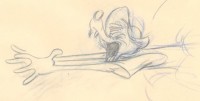 – In a move aimed at nurturing their local animators, China has banned the import of foreign cartoons that combine live action and animation. Blue's Clues and Roger Rabbit are out! China would like their animators to develop their own product rather than do only outsource work. Read full news article here.
- The NYTimes today has a review of the Oscar nominee showcase from Magnolia Pictures. John Canemaker wins this review hands down; sorry PIXAR.
- No reviews for Doogal yet. I guess they avoided giving a copy to reviewers; I wonder why.
3 Responses to "Kirikou"
on 24 Feb 2006 at 2:54 pm 1.Henry Lowengard said …

We've been huge fans of Kirikou for years, and I'm glad to see a new film featuring the plucky little infant. One thing that really set the first film apart from other kid's (or adult's) films, is that rather than vanquishing the "evil" sorceress, his goal is to understand her pain and cure her!
I assume you saw a subtitled version; I'm wondering how the dubbing team'll handle the new Kirikou song, which goes "Kirikou, Kirikou, naked child, black child". Maybe they'll leave it in French.

on 24 Feb 2006 at 3:41 pm 2.Michael said …

The subtitled version of the song had those lyrics. I don't think they'll dub it unless they find a large enough distributor, which seems unlikely given the nudity. At least, Michel seemed not very hopeful.

on 25 Feb 2006 at 6:37 pm 3.Henry Lowengard said …

The KIRIKOU AND THE SORCERESS tape that we have was dubbed, and just as unencumbered by clothes!
Leave a Reply