Commentary 15 Oct 2011 06:44 am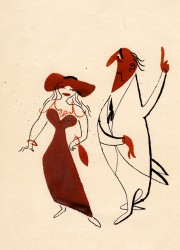 - This past week was a busy week for animation in New York.
It started on Monday with the AMPAS celebration of John Hubley's early work. It turned into quite an event with beautiful prints of many of the early UPA films which began with the military film, Flat Hatting and led to the brilliant masterwork, Rooty Toot Toot. Some commercials and a few of the early, brilliant films of the Faith & John collaboration, Adventures of an * and Tender Game. It was a sterling evening well attended by many of the key personae in New York's animation scene.
On the following night, ASIFA East held a retrospective of the work of the late and great Independent animator, Karen Aqua. I was unable to attend this screening but was certainly down about it. Fortunately, there were two key reports describing the show: Linda Beck, the new President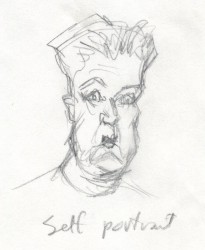 of ASIFA East, described the event on the organization's blog, and Richard O'Connor of Ace and Son gave a good accounting on his blog.

- Last night, Bill Plympton hosted a show at the Friar's Club which featured the NY premiere of the new documentary by Alexia Anastasio, "Adventures in Plymptoons", about him and his work.
Tonight at 7pm, at the Film Society of Lincoln Center Bill will doing a book signing of his ". . . big Rizzoli book, "Independently Animated: Bill Plympton"' He'll be showing artwork from it and signing books and he'll also be showing some of his new short films, plus a clip from Alexia Anastasio's doc "Adventures in Plymptoons!". All for free.
_____________________
.
BROOKLYN FILM FESTIVAL
'S
kidsfilmfest
will be screening films from their archives
WHEN: this Saturday, October 15th, from 10am-4pm.
WHERE: The Big Screen Plaza: 29th St between 6th and 7th Avenues in New York
WHO?: Kids of all ages!
WHAT: A selection of kid-friendly films, with in-plaza activities like face painting, balloon artists, popcorn, & more!
Join them for live action and animated films, food, face painters and more! Films are rated "G" for all ages.
The event is free of charge and open to the public.
_________________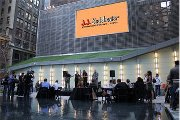 It should also be noted that the films of J.J. Sedelmaier will premiere at Big Screen Plaza on Tuesday, Oct 18th, 7pm. It's free, outdoors and the atmosphere will be party time.
Some of the works to be screened include:
__ Saturday Night Live's "Conspiracy Theory Rock"
__ Saturday Night Live's "Titey"
__ The Daily Show's "Midterm Elections"
__ Ambiguously Gay Duo: "Safety Tips"
__ Ambiguously Gay Duo: "Ace and Gary's Fan Club"
__ Ambiguously Gay Duo: "Blow Hot, Blow"
and many others
_____________________
.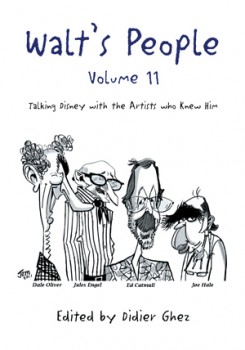 -
Didier Ghez
has been editing a library's worth of books featuring interviews with animation professionals. For the most part these are the raw materials historians have worked with in writing their histories. Just now in release is volume 11 of his series,
Walt's People
. There are interviews included in this edition with:
John Culhane: I. Klein_________________C. Finch & L. Rosenkrantz: Eric Larson
John Culhane: John Hubley____________Robin Allan: Jules Engel
Darrell Van Citters: Ed Love____________Darrell Van Citters: Mike Lah
JB Kaufman: Frank Thomas____________John Culhane: John Hench
John Canemaker: Ward Kimball________Dave Smith: Ward Kimball
David Tietyen: George Bruns___________John Canemaker: Dale Oliver
John Canemaker: Iwao Takamoto______John Canemaker: Richard Williams
John Culhane: Daniel MacManus________John Canemaker: Glen Keane
Didier Ghez: Joe Hale__________________Jérémie Noyer: Mark Henn
Didier Ghez: Ed Catmull
_________and many others.
The introduction to this edition is by John Canemaker.
You'll find the book Walt's People – Vol. 11 at Amazon or Xlibris

_____________________.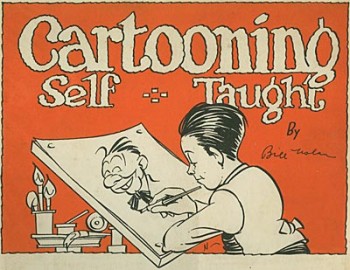 .
- Sherm Cohen, on his blog, Cartoon Snap has posted a "How To Draw Cartoons" book by Bill Nolan. It originally came from the ASIFA Hollywood Animation Archives, but since all their links are broken, the re-post is welcome.
Bill Nolan, of course, was one of the premiere animators in the early days of animation. He claimed to have invented the cycle in animation. He worked for many studios doing Felix the Cat as well as Krazy Kat. He was one of the forces behind the Oswald the Rabbit series, working for Walter Lantz.
_____________________
.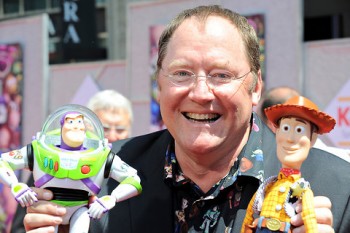 .
In celebration of Pixar's 25th Anniversary, The New York Times is now taking questions for John Lasseter. In the next week or so Lasseter will answer questions left for him on the Times' Artbeat blog. So if you want to ask Mr. Lasseter why there aren't more 2D animated films coming out of Disney or what effect the death of Steve Jobs will have on Pixar's work or why Cars 2 was such a dud, check in to the Times and leave your question.
_____________________
.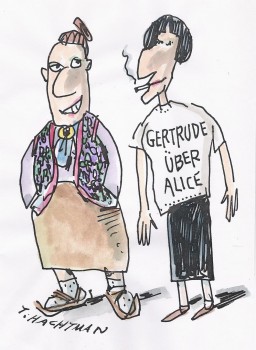 .
-
The National Gallery of Portraiture
is featuring a show of art about
Gertrude Stein
. Called Seeing Gertrude Stein: Five Stories, the show features the work of over 100 artists. Tom Hachtman, whose comic strip, Gertrude and Alice. has been an obsession of mine, is one of those artists who contributed to this show. So if you're in D.C. look for an original piece of art by Tom. (Tomorrow, I'll post a video of a short short I did of one of Tom's strips.)
Go here to see one of Tom's contributions to the exhibit.
The show just opened on Friday and runs through Jan. 22, 2012.
8 Responses to "Ramble, Ramble, Ramble"
Leave a Reply