Commentary &Hubley &Independent Animation &John Canemaker 12 Oct 2011 06:51 am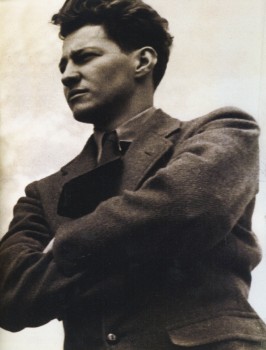 – The AMPAS program celebrating the early work of John Hubley went off wonderfully on Monday evening. The show started at 7pm, but prior to it there was a cocktail party for about 50 people. I have no idea who was invited to this, but it seemed to be Academy members who might have know the Hubleys as well as friends of the Hubley family. All four of the Hubley children were there including: Emily, her husband, Will Rosenthal, and their son, Max; Georgia and husband, Ira Kaplan (both part of the group Yo Lo Tengo); Ray Hubley, and Mark Hubley.
Also there, were Tissa David, Ed Smith, Candy Kugel, George Griffin, Vinnie Cafarelli, Lee Corey, Ruth Mane, John Canemaker (of course) with Joe Kennedy and others I probably have forgotten. Patrick Harrison and John Fahr ran and hosted the event for the Academy.
At the program I saw: Ray Kosarin, Linda Beck, Stephen MacQuignon, Richard O'Connor, Bill Plympton, and a hundred others that I recognized. The house was full.
As we entered the theater, prior to the start of the show, the soundtrack to Finian's Rainbow was playing. Frank Sinatra, Ella Fitzgerald, Louis Armstrong, Ella Logan and Barry Fitzgerald.
The actual program began as all Academy events do, exactly on time. Patrick Harrison spoke for two minutes promising that next month the event would be a retrospective of the work of Saul Bass done in conjunction with MOMA. He then introduced John Canemaker, and we were off and running.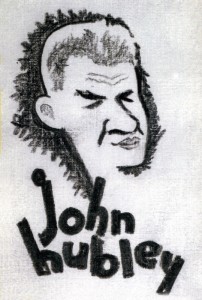 John started with a PowerPoint presentation that showed the child, John Hubley, his surly uncle who became the model for Mr. Magoo; we saw some childhood drawings as well as a number of strong influences including classmate, Alvin Lustig, who designed the UPA logo. These were followed by some of the artwork Hubley did for Disney, which included a lot of Layouts and preliminary Background sketches. We saw art done during the War as well as preliminary art for many of the UPA films. John Canemaker featured a lot of Hubley in-house cartoon drawings peppered throughout the presentation.
This talk ultimately led to screening the movies.
Unfortunately, it started with the only 16mm print, a soft-focus soft color print of Brotherhood of Man. Somewhere a good print of this film exists, and I don't know when it'll be found – hopefully in my lifetime. It's such an enormously powerful film, designed in a style which was borrowed from Saul Steinberg's work at the time.
Flat Hatting followed with a beautiful 35mm print. This is a brilliantly directed film showing how much good can be done with limited animation. It never felt limited, nor does it feel like an educational film for pilots. It's very entertaining and drew a lot of laughs. Hubley had spent years directing mediocre films under Frank Tashlin at Columbia and a number of films for the military. This film shows how much he had learned as a director in such a short time.
The Magic Fluke is probably the best of the Fox and Crow series. This film has a great sense of design featuring that famous background by Jules Engel of the concert hall. I'm not sure Hubley was best cast as the director of a lightning quick comedy cartoon, but, for the most part, it works well. The print, again, was sterling.
Following this was a beautiful print of Ragtime Bear, the first Magoo cartoon. I hadn't remembered how fluid the animation was; there was some beautiful distortion on Magoo later in the film. My guess is that it was a Pat Mathews scene. The film offers all of Magoo's traits, but the character design is far away from what Pete Burness ended up directing.
The crème de la creme of the evening: Rooty Toot Toot followed. What a beautiful, big 35mm print. What a stunner of a scene – that great Grim Natwick animation of Nelly Bly – all blue – corkscrewing her hands and arms in the witness chair. Beautiful and funny. This is certainly one of the great films ever created.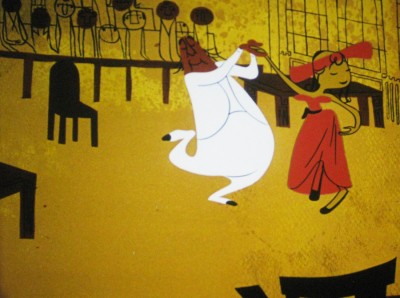 An image photographed off the screen
.
There were a stash of commercials – both West and East coast – from the original Storyboard Prods. I own prints of all screened except for my favorite: a spot for Mennen aftershave. A rectangle of wrinkles around a pair of eyes. Mennen helps the lines smooth out, and the commercial uses abstraction for a very funny commercial. It was the first time I'd seen this commercial. They certainly were creative back then. Hubley repeated the use of abstraction in a number of other, later spots. I'm thinking particularly of one done in the early 70s for AT&T; Tissa David animated.
Beautiful reconstructed prints from MOMA included Adventures of an * and Tender Game. One was more beautiful than the other. Both are great films.
Voyage to Next was represented with a beautiful print, though I have to say, I never really liked this film. I had a lot to do with the making of it, and it really was a challenge and a great learning experience. About a third of the way through the production money ran out, and we had a film to get out with a small but great staff. There was a lot of stylistic improvisation done to try tokeep on a vbery tight budget, while being artful. It was a tough time for the Hubleys, and they stayed true to the film at hand.
Finally, the evening ended with a beautiful animatic called Facade. These were storyboards filmed (with slates) for a William Walton and Edith Sitwell score. John Canemaker actually located and got the rights to a version with Edith Sitwell, herself, actually doing the narration. Miraculously, it all seemed well in sync. This piece was done in 1964 as a sample for PBS., though the film was never completed. A real find for Canemaker straight from the Hubley collection. A film not seen by the public (and it hasn't made its way into animation history books, either.)
All in all the show was so invigorating that the Academy had a hard time getting rid of us. People stayed and chatted in the lobby. It was a great event.
John and Joe, Heidi and I went out for dinner so we could chat about the program. I had a blast all night; it was one of the finest animation events I'd attended in many years.
Here are pictures I took during the evening.
The Program
.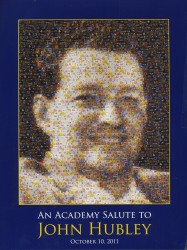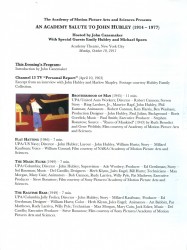 1

The cocktail party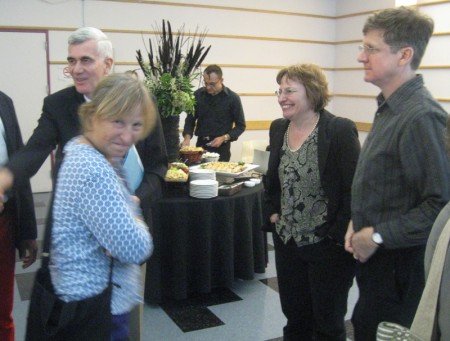 1
LtoR: John Canemaker, Georgia Hubley, Emily Hubley, Will Rosenthal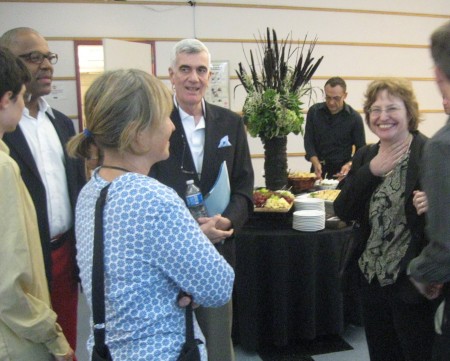 2
LtoR: unknown, Patrick Harrison, Georgia Hubley, John Canemaker,
unknown in rear, Emily Hubley, Will Rosenthal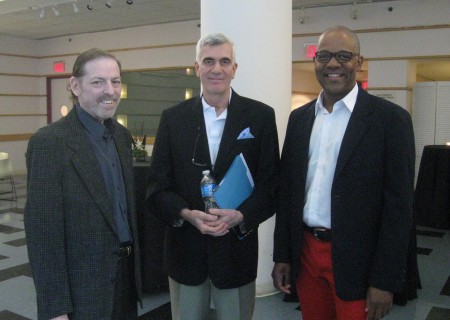 3
LtoR: me, John Canemaker, Patrick Harrison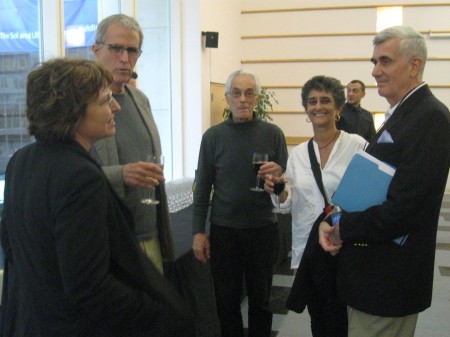 4
LtoR: Emily Hubley, George Griffin, Vinnie Cafarelli,
Candy Kugel, John Canemaker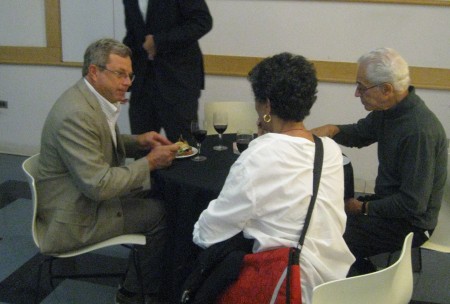 5
LtoR: Mark Hubley, Candy Kugel, Vinnie Cafarelli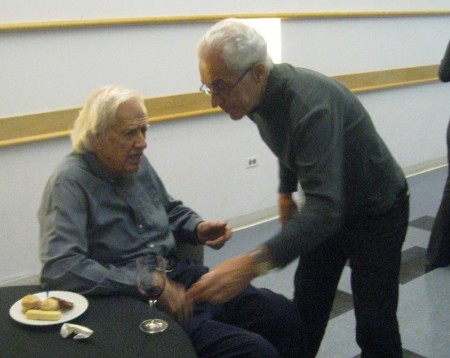 6
LtoR: Ed Smith, Vinnie Cafarelli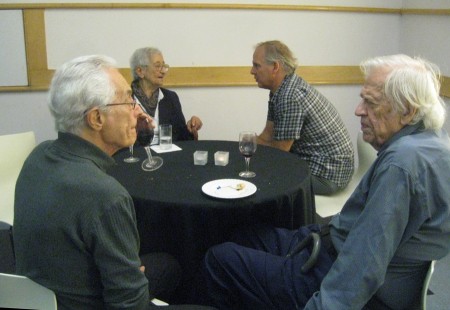 7
LtoR: Vinnie Cafarelli, Tissa David, Lee Corey, Ed Smith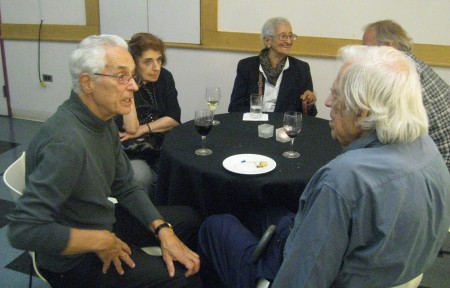 8
LtoR: Vinnie Cafarelli, Ruth Mane, Tissa David
Lee Corey (partially hidden), Ed Smith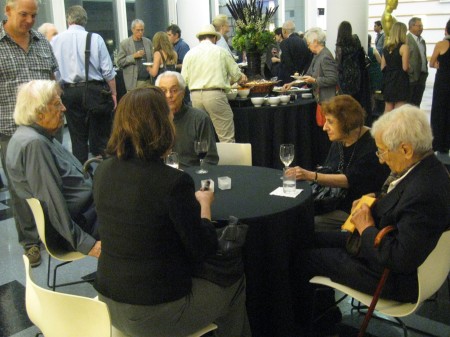 9
at table LtoR: Ed Smith, Heidi Stallings, Vinnie Cafarelli,
Ruth Manne, Tissa David
in rear, standing with winde glass: George Griffin w/Jeff Scher and wife, Bonnie.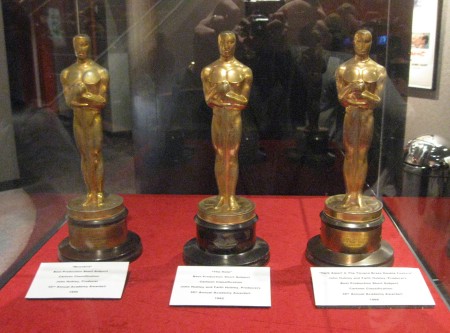 10
The three Hubley Oscars for (LtoR): Moonbird,
The Hole, The Tijuana Brass Double Feature.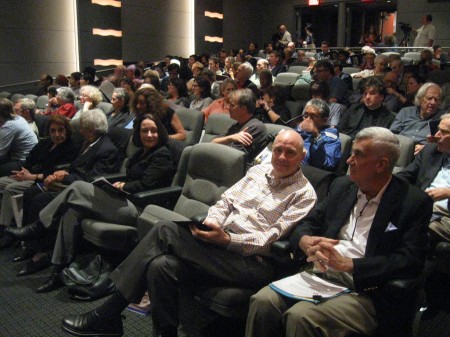 11
Audience front row (RtoL):
John Canemaker, Joe Kennedy, my empty seat,
Heidi Stallings, Tissa David, Ruth Mane
2nd Row, over empty seat: Stephen MacQuignon
3rd row (RtoL): Ed Smith, Richard O'Connor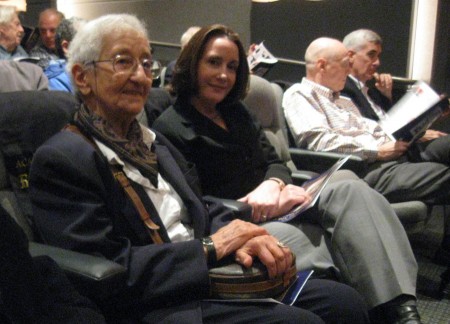 12
LtoR:Tissa David, Heidi Stallings, Joe Kennedy, John Canemaker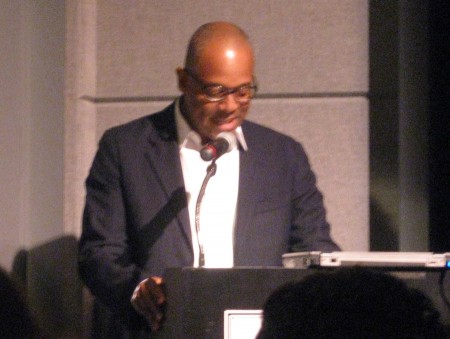 13
Patrick Harrison giving thanks and introducing John Canemaker.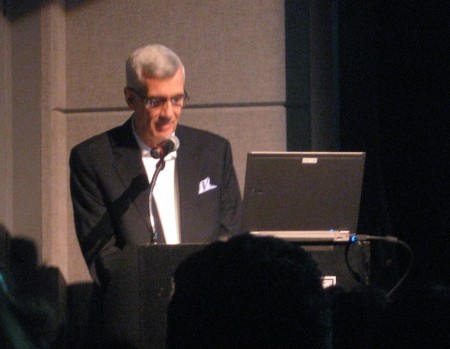 14
John Canemaker giving PowerPoint presentation


.
The following images were photograped during the PowerPoint
presentation or during the films. Consequently, they often soft focus.
With apologies.
.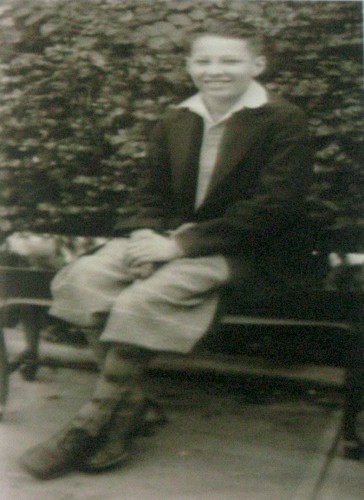 15
A very young John Hubley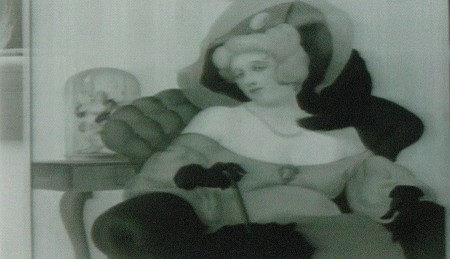 16
An early John Hubley painting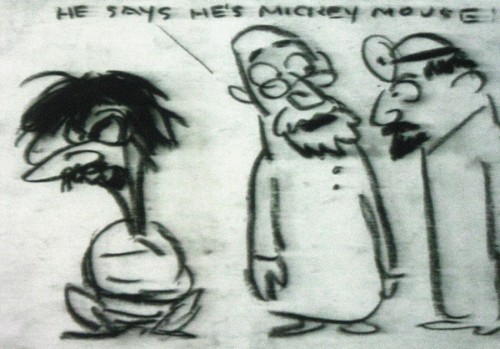 17
A gag cartoon from Hubley. Self portrait in straight-jacket.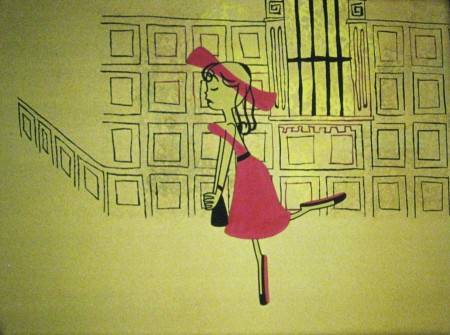 18
Rooty Toot Toot
Images from Facade follow: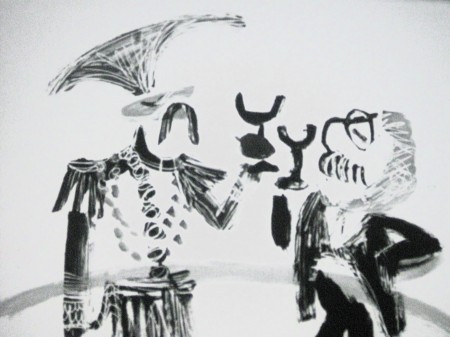 1
The animatic was done in 1964.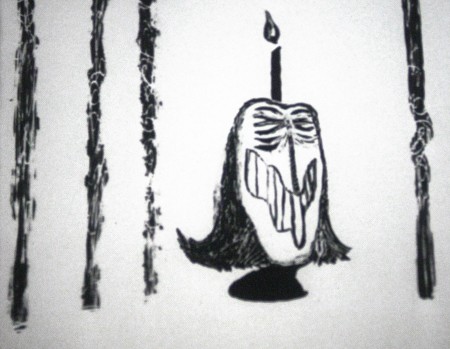 2
Stylistically it feels like:
Moonbird, The Hole and The Hat crushed into one.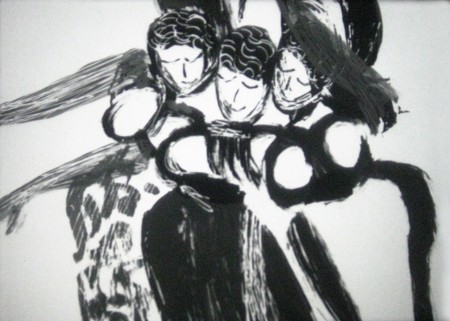 3
Beautiful B&W oil paintings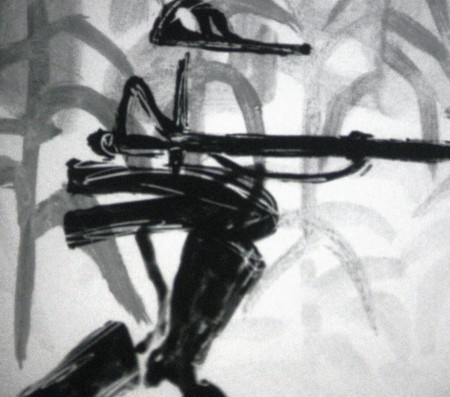 5
The Hat for this animated duck-like character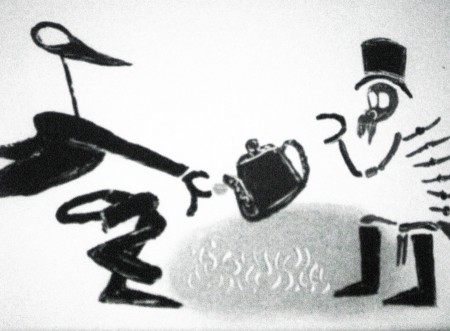 6
Toward the end of the film there was one extremely long vertical pan.
It was an oil painting done by John, beautiful in its simplicity, perfectly
planned to fill a good 45 secs to a minute of screen time and yet it
was so compositionally correct and glosiously layed out.

All I can say is that I am so pleased to have had the opportunity to have
worked with John & Faith Hubley; it was all that it could have been and more.
One of the high spots of my life.
14 Responses to "A Hubley Affair"
Leave a Reply