Commentary 22 Oct 2011 06:55 am
- As I posted yesterday, Hal Silvermintz died this past week. I didn't know him well, but I knew his work. Everyone in NY animation did back then. Conseqeuntly, I asked for some help in writing about him. Here's a bio/obituary that was written and compiled by Mitchell Silvermintz, Vincent Cafarelli and Candy Kugel: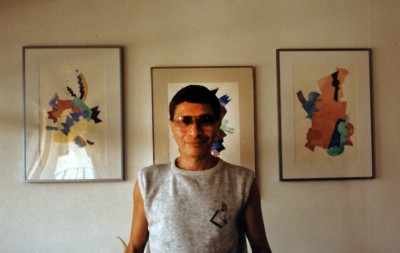 Hal SIlvermintz was an artist. He was a serious painter. And had an original sense of graphic design.
.
Hal was born October 4, 1930 and grew up in Brownsville, Brooklyn.

He graduated from the High School of Art & Design in Manhattan and
enlisted in the Army because he said army food was better than his mother's cooking!
He was stationed at Fort Bliss in El Paso, Texas. While there Hal painted the murals in the lunchroom and other places at Fort Bliss and painted signs

He went to the Cooper U-nion School of Modern Design in 1955 and studied fine arts. He graduated June 8, 1960. He won the Cooper U-nion Painting Award while he was there.

Hal was a member of the Brata Gallery, part of the movement that was known as the 10th Street Galleries. The 10th Street Galleries were an avant-garde alternative to the Madison Avenue and 57th Street galleries that were both conservative and highly selective.
From the early 1950s through the mid 1960s many galleries began as an outgrowth of the artist community and many of the artists who showed in these galleries, referred to as the 10th Street Co-ops or the 10th Street Scene, have since become well known. The galleries on 10th Street played a significant part in the growth of American art and were a direct predecessor to the Soho gallery scene, and the more recent Chelsea galleries.

In 1953 he married his wife, Sheila and had 3 children. He started working in television—first for DePicto Films and then for Wylde Films. There he met Vincent Cafarelli who brought him into the New York animation scene and to Stars and Stripes Productions Forever. Stars and Stripes was the psychedelic, most groovy, hip studio at the time! Headed by Len Glasser, he and Hal soon developed compatible styles and sensibilities. They worked on Rex Root Beer, Sparkletts, and other campaigns. They often used their own voices as sound tracks. He was there for a couple of years and met a young film editor, Buzz Potamkin and the two of them left and founded Perpetual Motion Pictures in 1968.

Hal was the designer and director of animated TV commercials at Perpetual Motion Pictures. His innovative sense of style and reference to fine arts was evident in his work. Perpetual won numerous Clio awards for their campaigns for DuPont, 3M, Bell Telephone, Western Electric and the Wall Street Journal. He also directed spots for Aziza, Burger King, Soft 'n Dri and Diaperene. Perpetual also produced 5 Berenstain Bears holiday specials and Strawberry Shortcake in Big Apple City. But Hal's sensibility was most obvious in the "Mr. Hipp" series, featured on NBC's "Weekend" show.

Hal was a member of the Director's Guild of America and the Screen Cartoonists' Guild for many years. The business agent of the Screen Cartoonists' Guild, with the blessing of the u-nion membership, sent Hal as a delegate to the ASIFA animation festival in Annecy, France in 1965.

Hal was featured on the cover of Art Direction Magazine, where they wrote:
"Cover artist Hal Silvermintz has been creating award-winning animation for two decades and, unlike many other designer/directors, he has not built his reputation on any single, specific style. Rather, Silvermintz has worked toward creating animation appropriate to its eventual function, which, of necessity requires many styles – some innovative, others tried and true. Of our cover, he said 'I tried to get a feeling of motion or animation in the flat art… I took a whack at making the page move.' And if he can do that on unmoving page, think of the magic he can create on film"

In 1982 Hal and Buzz parted ways. Hal Silvermintz teamed up with Hal Hoffer to become Perpetual Animation, where he continued to work until he retired in 1986, first to Texas and then to Miami. He continued to paint and was represented by a gallery in South Beach. In 1991 Hal designed "Fast Food Matador," for Buzzco Associates. It won numerous awards and was displayed at the Museum of Modern Art in New York. It is part of MOMA's film archive.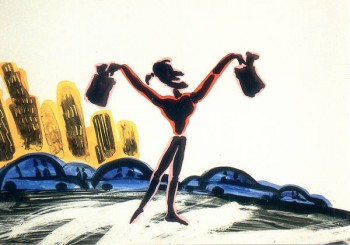 Fast Food matador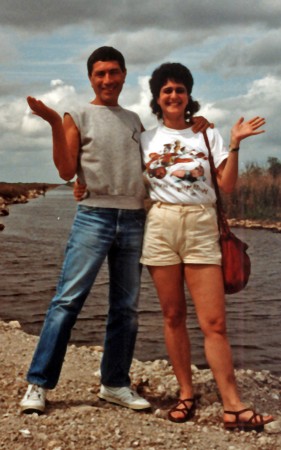 Hal Silvermintz with Candy Kugel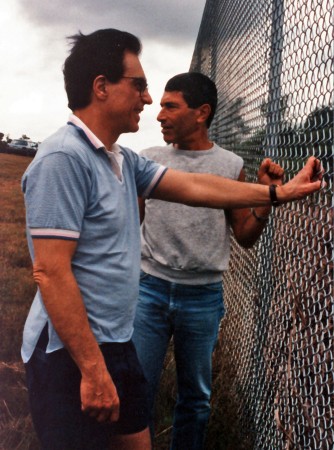 Vinnie Cafarelli and Hal Silvermintz
If you have any memories or thoughts about Hal, please don't hesitate to leave them in the Comments section. Thanks, M.S.
Here are a couple of Mr. Hipp pieces that aired on NBC.
Many thanks to Candy Kugel for spearheading this piece.
.
6 Responses to "Hal Silvermintz Remembered"
Leave a Reply