repeated posts &Trnka 21 Nov 2011 07:42 am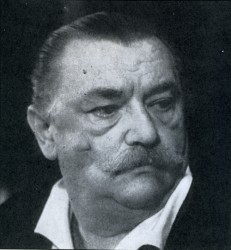 – I've been a fan of Jirí Trnka's work since I first saw it back in the 60′s. I've bought every publication I've ever found which discusses or displays his films or illustration. These days I can also own a number of his films.
His puppet films were always the gold standard of that medium. However, since I've studied his illustrations for many years, I'm always interested in the 2D work he's done.
The dvd titled The Puppet Films of Jirí Trnka includes one of these 2D films. It's cut-out animation, so it really borders the world between 2D and 3D. Trnka exploits the shadows on his constructed cardboard backgrounds to great effect. The style purposefully hides the three dimensions of the constructions, but it uses it when it needs to. The film is a delicate piece which just shows a number of acts in a local circus setting.
It's a sweet film with a quiet pace. I'm not sure it could be done in today's world of snap and speed. No one seems to want to take time to enjoy quiet works of art.
I'm posting a number of frame grabs from this short so as to highlight the piece.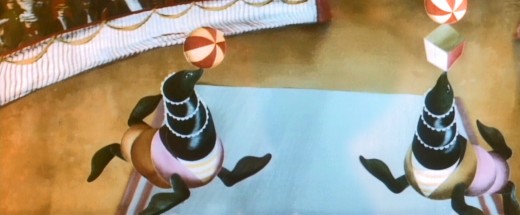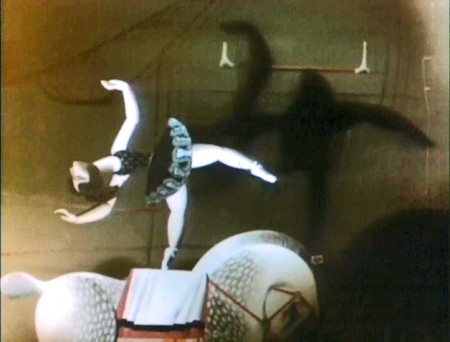 Note the real shadows on the background.
These were obviously animated on glass levels in a multiplane setup.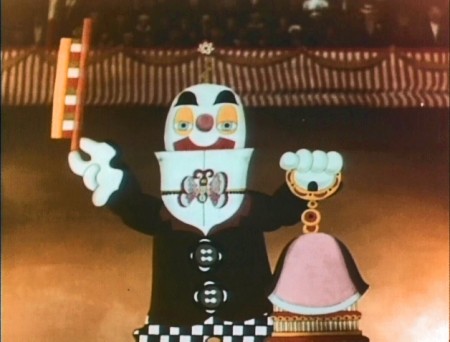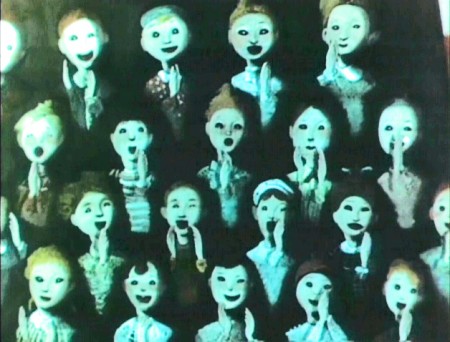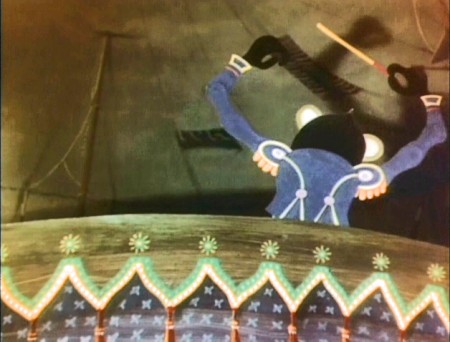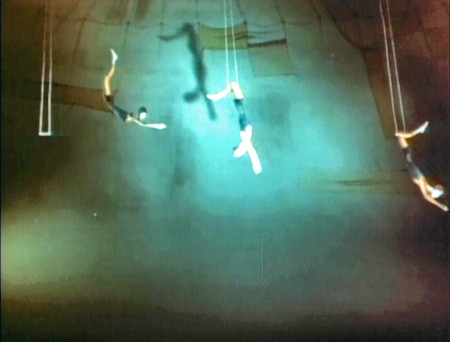 Again, note the excellent use of shadows. It's very
effective in these long shots of the trapeze artists.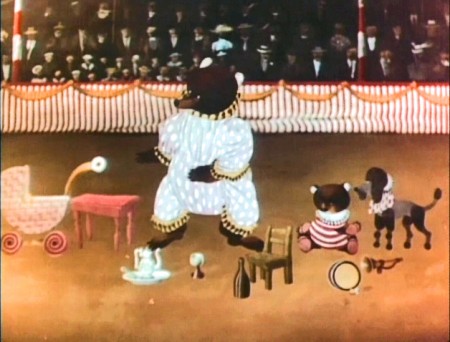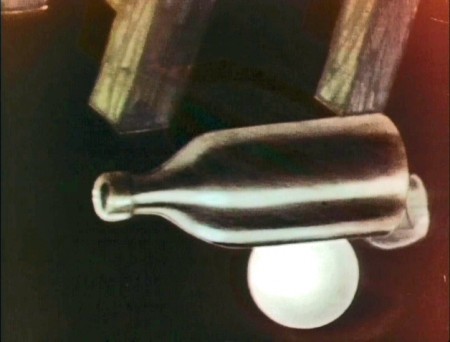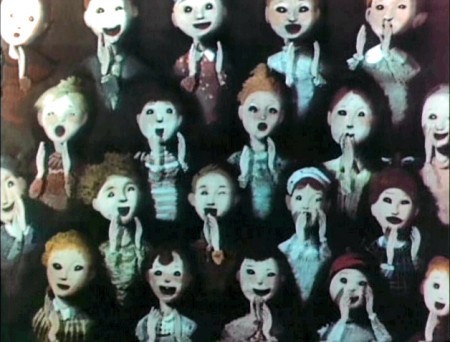 2 Responses to "Trnka's Merry Circus – repost"
on 21 Nov 2011 at 1:39 pm 1.Ray Kosarin said …

Trnka is about as good as they come (only Yuri Norstein belongs to the same class). He's as much poet as animator, and the fact that he uses very unsophisticated tools – puppets, cutouts – makes the humanity of his characters that much more powerful. We know every moment we are looking at cardboard or wood, and yet the characters are as real to us as people we have loved our whole lives. To make magic of this kind from such crude means shows how essential a deep knowledge of human nature and soul is to an animator's work. It's pure and rare genius.

on 21 Nov 2011 at 2:21 pm 2.BennyZ said …

I misplaced my copy of this DVD. I need to track down a new copy! The highlight for me (in addition to "The Hand", of course) was the 60 minute "Emperor's Nightingale", with the great Karloff narration. The two moments that stand out are the appearance of the singing frog and the vision of death. The frog is as simple a puppet as can be- from what I recall, there was a rotating wooden ball with a slice cut out of it that formed his mouth, and i seem to remember he had a cocktail parasol, too. It was one of those things that made me laugh because it was such a simple, elegant puppet, one that like all of Trnka's puppets did not pretend to be anything other than a crafted doll, but which came to life through marvelously human invention. But it was the vision of death watering his garden that most affected me. It's a quiet, haunting, very moving moment. I can think of nothing else quite like it in ambition and effect.
Leave a Reply