Bill Peckmann &Comic Art 24 Nov 2011 07:45 am
- A note from Bill Peckmann on Tuesday, and we have a pleasant way to say "Happy Thanksgiving" today. Here are a couple of Donald Duck stories from Carl Barks. A nice way to get into the day's adventures, by seeing what another fowl is up to.
Here's Bill:
Happy Thanksgiving!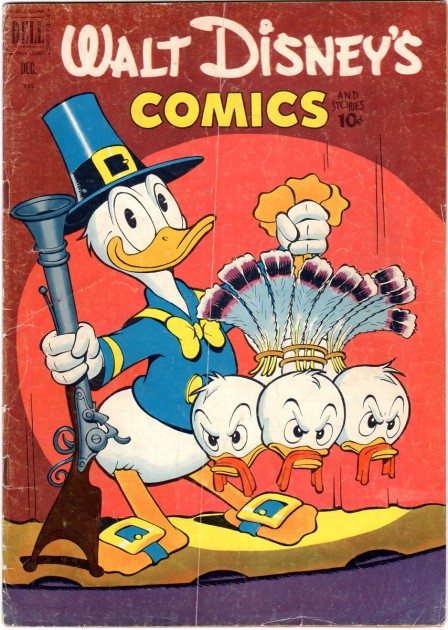 The cover is the Dec. 1951 issue of
Dell's "Walt Disney's Comics and Stories".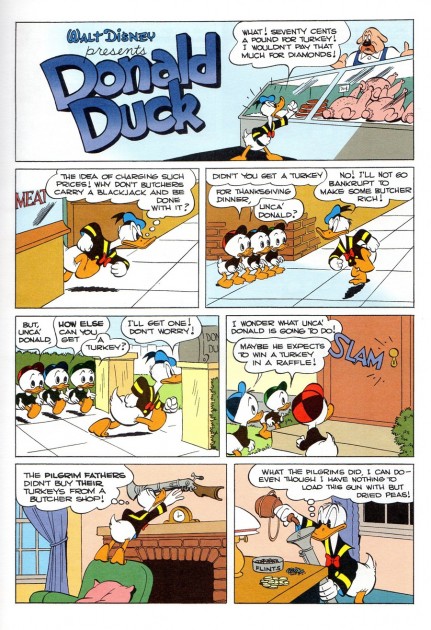 1
The 10 page story "The Terrible Turkey" is a Gladstone Pub. reprint.
It was originally printed in Dec. 1947.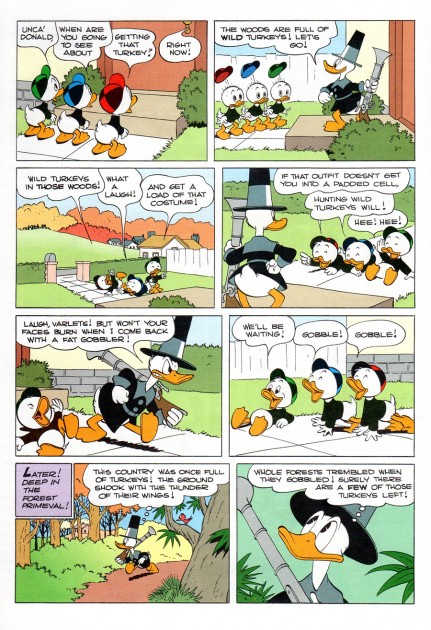 2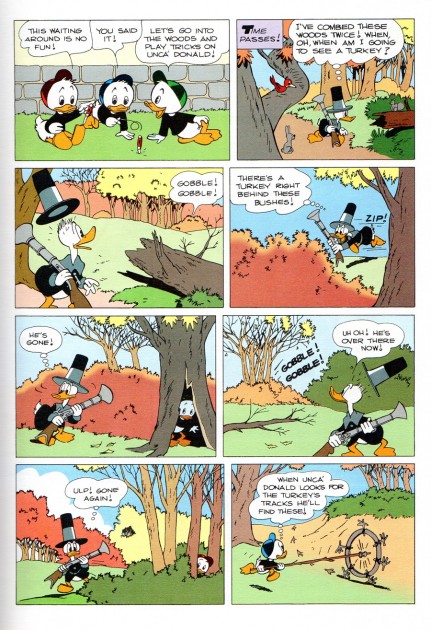 3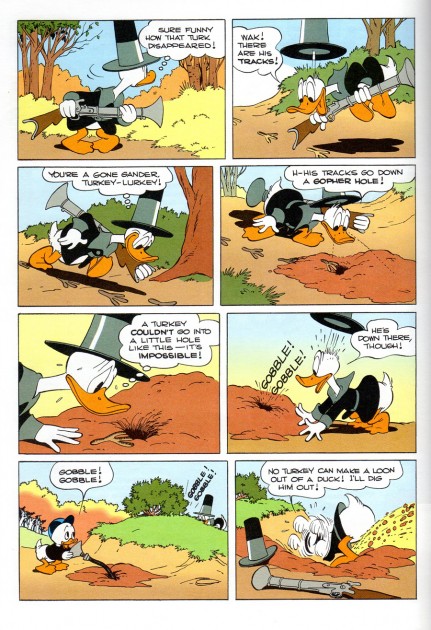 4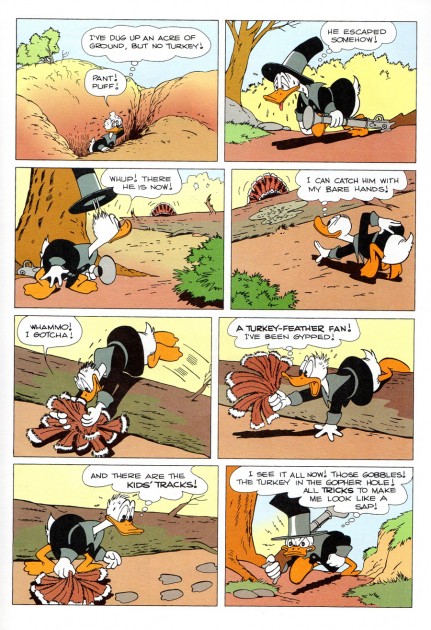 5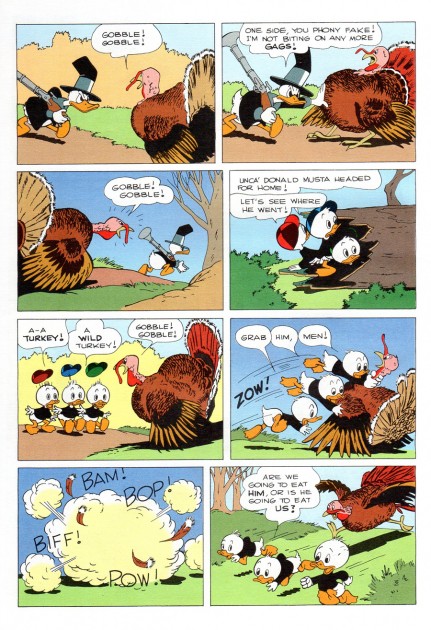 6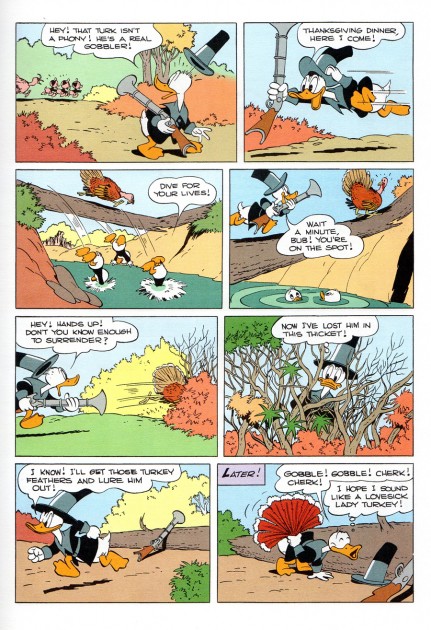 7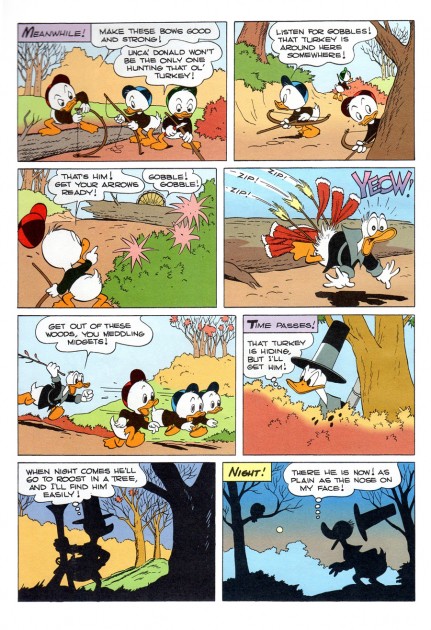 8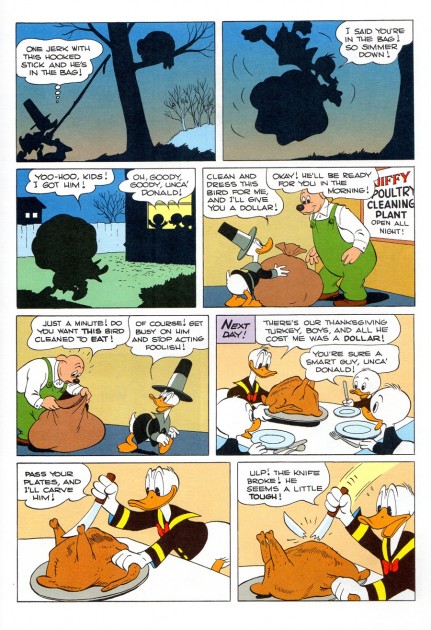 9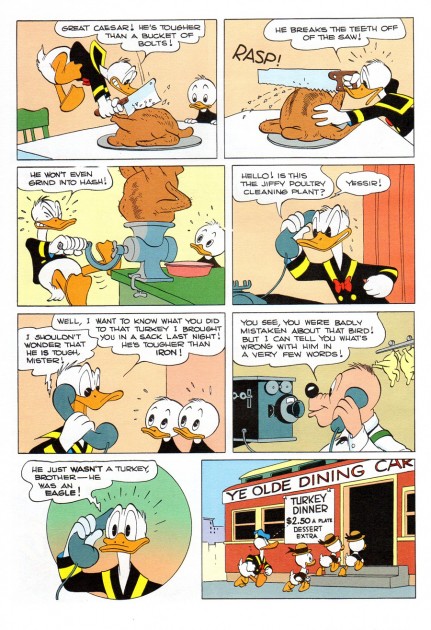 10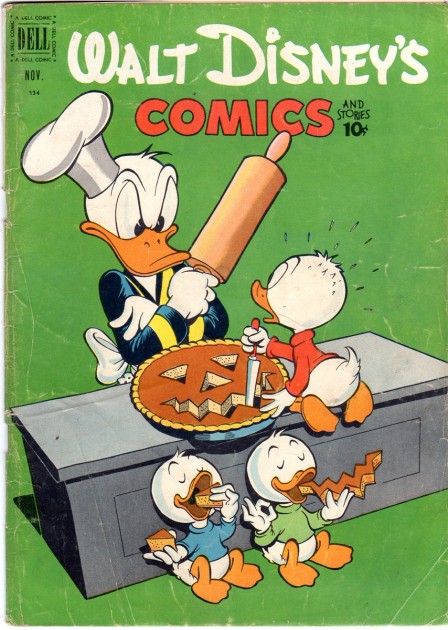 This Nov. 1952 cover is more Halloween than Thanksgiving
but there is that pumpkin pie!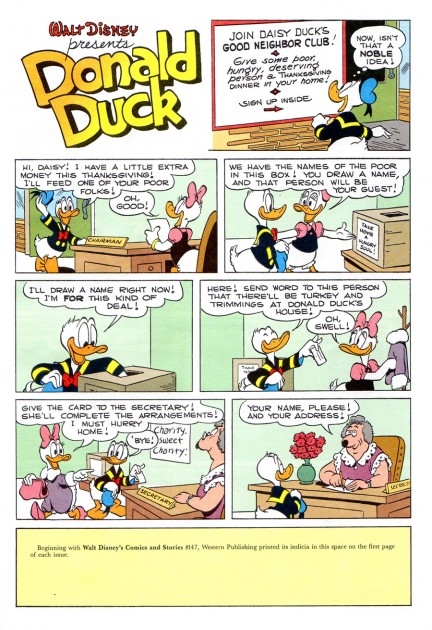 21
This Gladstone reprint "The Charitable Chore" is originally Dec. 1952.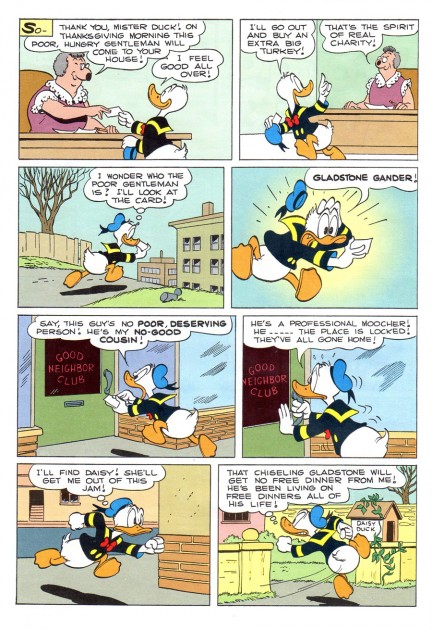 22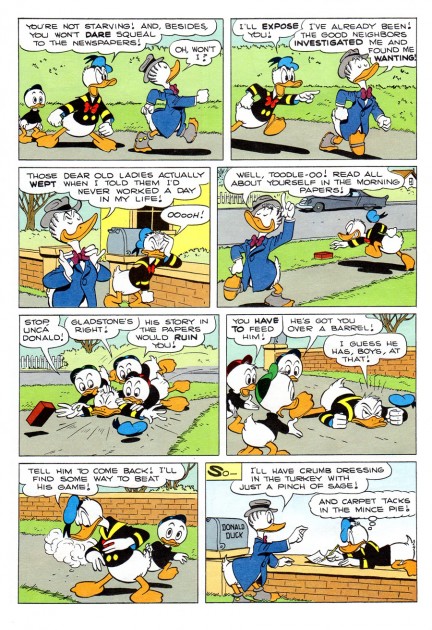 23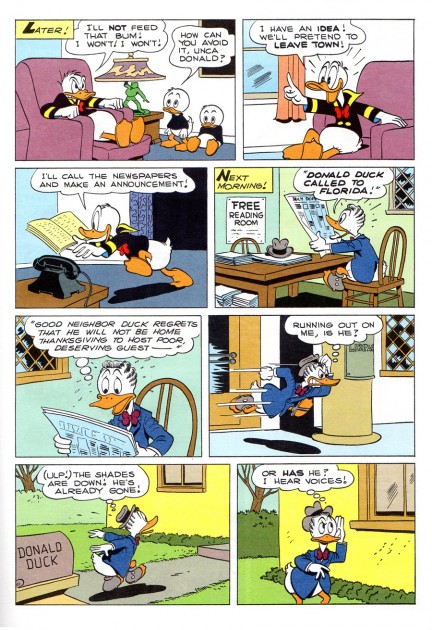 24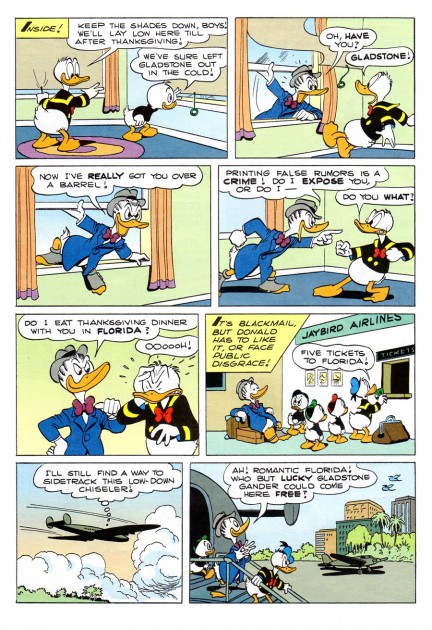 25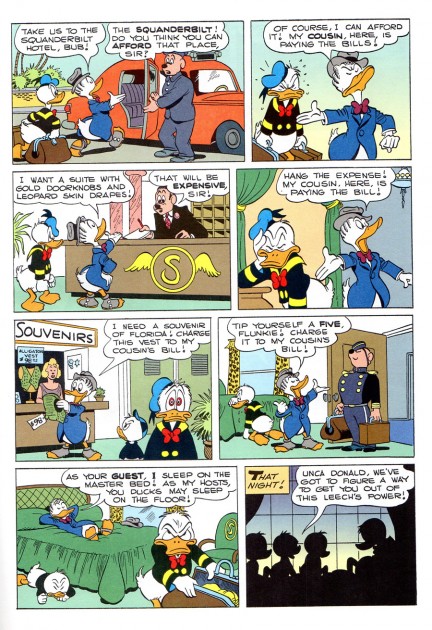 26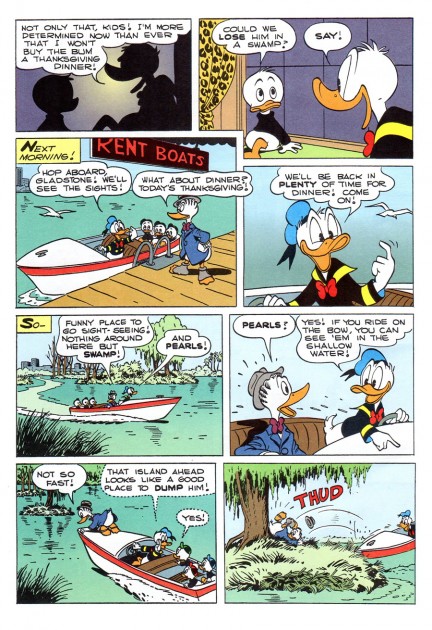 27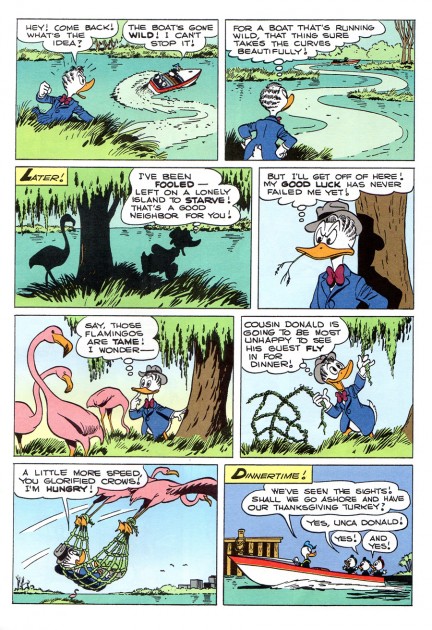 28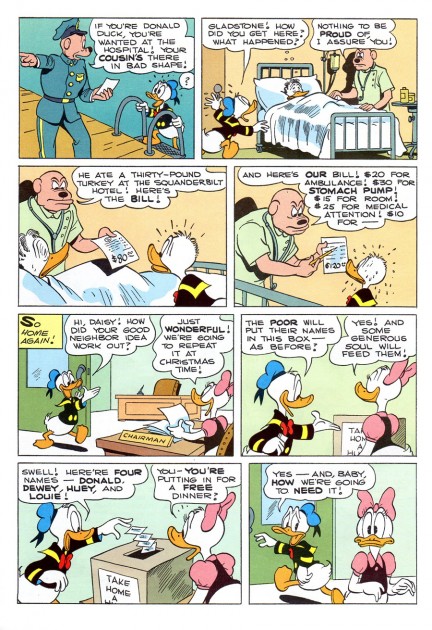 29

Many thanks to Bill Peckmann.
Happy Thanksgiving
3 Responses to "Thanksgiving Duck à la Barks"
on 24 Nov 2011 at 1:46 pm 1.Suzanne Wilson said …

What I'm grateful for is–

this wonderful posting!

Happy Thanksgiving!

on 26 Nov 2011 at 12:25 am 2.Thad said …

Fortunately, Bill provided a copy of the Dec. 1947 with its original ending. A Disney Comics reprint of the same story changed it so Donald has a "giant quail" stuffed accidentally. The editor supposedly thought it would be "unpatriotic" to have the national bird slaughtered for a laugh.

on 03 Dec 2013 at 11:43 am 3.Jeffrey L. Sheasley said …

The Disney reprint was the only version I'd ever seen — and the ending made zero sense to me. At last, I think I get the point. The eagle — symbol of the USA — WOULD be too tough to destroy, especially just a couple of years after WWII. (Though, apparently, it could be killed…)I can also see why an editor with 80s or 90s sensibilities changed the ending. IMO, though, a much better ending would have been for Donald to open the sack at the processor's and have the eagle escape & kick the living snot out of him.
Leave a Reply