Animation Artifacts &Disney &John Canemaker &Peet &repeated posts &Story & Storyboards 28 Nov 2011 07:45 am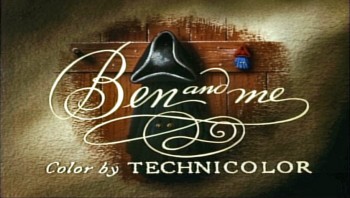 - Bill Peet was one of the prime artists who shaped many of the Disney features. He has been an enormous influence on me and thanks to John Canemaker, who has loaned me the following storyboard, I'm pleased to post some of Mr. Peet's excellent artwork.
Ben and Me was a 20 min short produced in 1953. It's an oddity in the Disney canon. The story of a mouse who influences Benjamin Franklin through many of his most famous moments was originally a book by Robert Lawson and was adapted by Bill Peet for the studio.
The photostats of the storyboard, like others I've posted, is extremely long. Hence, I'm posting them as large as I possibly can so that you'll be able to read them once you've enlarged the images.
These three panels are followed by a couple more revisions. The revisions I only have as xeroxes – lesser quality.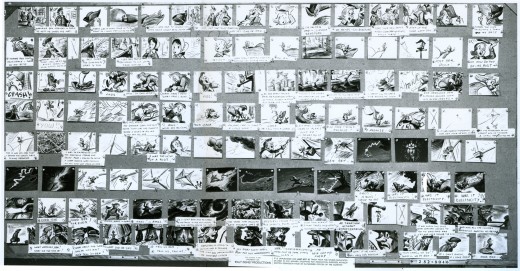 This image is a recreation of the extraordinary pan as seen in the first row of the storyboard posted above. It'll enlarge to a size where you can properly see it. A couple of the objects were on secondary overlays creating a minimal multiplane effect.
Bill Peet offered great drawings in his storyboards, and I'm sure he brought a lot of inspiration to the animators.


This is an excedingly long pan (30 inches), and is almost invisible in this minimal thumbnail. Rather than break it up into shorter bits, I'm posting it as is and hope it won't be too much of a problem for you to follow in its enlarged state. You have to click on it to see it.
The image below is a recreation of this pan from the final film done using multiple frame grabs.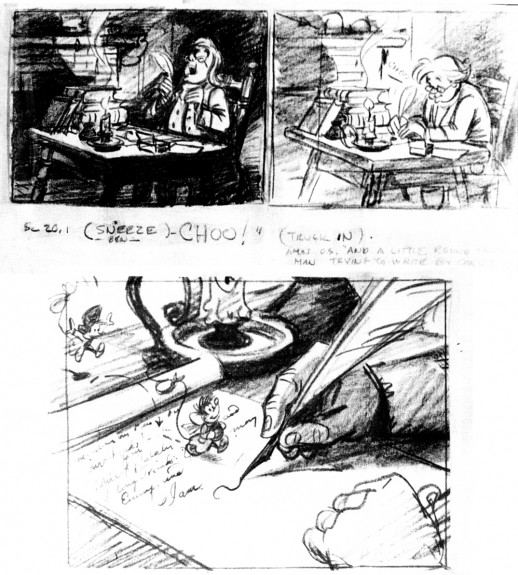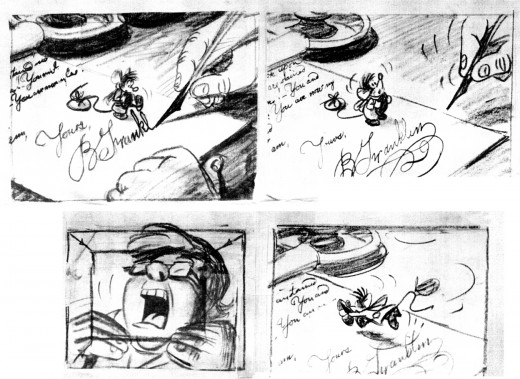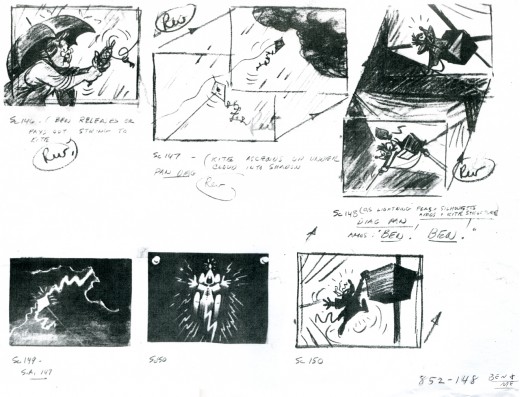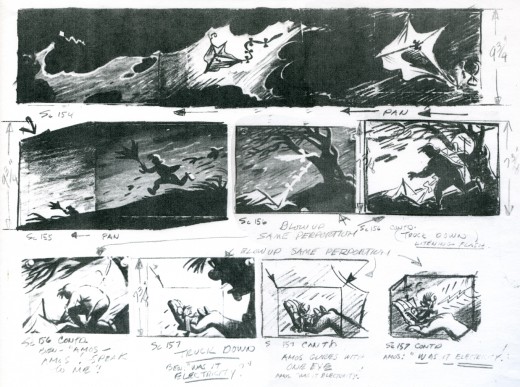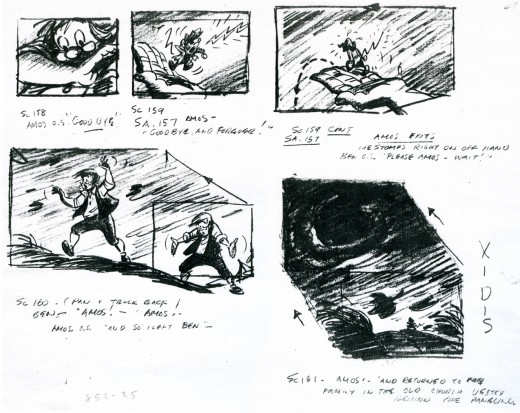 ________________________
There's an excellent article about the making of Ben and Me by Wade Sampson at Jim Hill Media. It gives quite a bit of information about this odd short and is well worth reading as a companion to these boards.
3 Responses to "Ben and Me Board – repost"
on 29 Nov 2011 at 9:18 am 1.Ignacio Ochoa said …

Any stuff from Bill Peet that you can to share, will be welcome by me. Thank you so much.

on 29 Nov 2011 at 11:57 am 2.Eddie Fitzgerald said …

Thanks a million for the great story sketches from "Ben and Me." I don't really like the story in that film but so many talented people worked on it that it's still worth seeing and studying.

The story flaw is that once you understand the premise, the rest of the story becomes completely predictable. There are no surprises.

I'm glad Walt did some patriotic themes, and Ben Franklin is one of my personal heroes, but I wish he'd held out for a more satisfying story.

on 30 Nov 2011 at 4:11 pm 3.Tom Minton said …

"Ben and Me" contains a few fleeting multiplane setups where heat wafting up from the lights distorts the side extremities of the image, most noticeable when the film is projected on a large screen. It may be the sole multiplane effect not digitally recreated in the Disney/Pixar CAPS system of the late 1980s/early 1990s.
Leave a Reply