Commentary &commercial animation 04 Dec 2011 07:51 am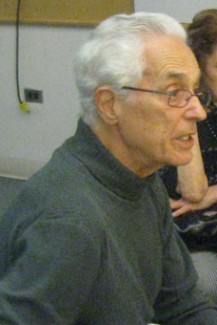 - I'm sorry to report the sad news that Vincent Joseph Cafarelli died in his sleep yesterday.
He was 81 years old.
"Vinnie" was a principal mainstay in the New York animation industry. He worked at Famous Studios on classic characters Popeye, Little Audrey and Baby Huey.
Later he worked at Gifford Animation on such advertising campaigns as the Piels Brothers and TipTop Bread. Margaret Hamilton provided the voice for Emily Tipp! You can go here to see 3 examples of the TipTop Bread commercials produced in the 1950′s.
Vince joined Stars and Stripes Forever, Inc, as their first employee upon his return from London, England where he worked with Pablo Ferro. Stars and Stripes was owned by producer Bob Staats and designer Len Glasser. They became the hottest boutique shop in the psychedelic 60's creating such classics as: Chicken of the Sea "Mermaid", Speakeasy, Sparklettes, and Ortho.
While at Stars and Stripes Vince worked with designer, Hal Silvermintz and film editor, Buzz Potamkin. Those two left to form Perpetual Motion Pictures, Inc. and after Stars and Stripes folded, Vince went to join them. There he was responsible for many ad campaigns and co-directed Strawberry Shortcake in Big Apple City and animated on all 5 Berenstain Bears holiday specials. He co-directed Deck the Halls With Wacky Walls.
Ultimately, Vinnie joined with Candy Kugel to form Buzzco Associates where he remained to the end. The two of them worked together for many years. You can check out a gallery of his art at AWN.
I've known Vinnie for 35-40 years, and can't think of a sweeter gentler soul in animation. Most recently we've met on a number of occasions at the Academy. We spent a lot of the ten hours watching the long list of shorts and had a good time talking about them. I'll miss his presence. My heart goes out to his family as well as Candy Kugel and Marilyn Kraemer who've spent every day with him for the past forty-odd years together. The three were partners in business and friendship and were completely dependent on each other.
More details of his life as well as information on memorial services will be forthcoming later. Buzzco is intending a memorial to take place on the Epiphany, January 6th, 2012; I will make sure to post further information on this site.
19 Responses to "Vince Cafarellii (1930-2011)"
Leave a Reply