Commentary &SpornFilms 18 Dec 2011 06:30 am
- We couldn't get by another week without more sad news. I was hard hit yesterday when I learned that Russell Hoban had died on Dec. 13th. He's been one of my favorite authors for years. I produced and directed an animated version of one of his books, The Marzipan Pig back in 1983. It was not easy getting funding for it. I gave my backer a choice of two of his books, and they were into transubstantiation so it was The Marzipan Pig.
There is a great quote in the Washington Post obituary: "If I am kept away from writing I become physically unwell," he told the Guardian in 2002." It is art and the creation of art that . . . make me feel it is a good thing to be part of the human race."
Here's the NYTimes obituary.
Here's the obit from the Washington Post.
Here's a great piece from The Scotsman.
When we completed The Marzipan Pig, Hoban came to NY from his home in London. We arranged a screening for him after which Tissa David, he and I went to lunch. In his very dry way, he told me that he was pleased with the film. As I do with all authors, I asked for criticism not compliments, and he told me there was only one complaint. We didn't get the bridge quite right at the end of the film. Of course he was right, and it's hard for me to watch those final scenes, now, without thinking about that damned bridge.
I've read every book of his I could including at least 60 of the children's books and all of his adult novels. In film, I know only of the work we've done and The Mouse and His Child. Unfortunately, the feature film stopped midway through the book's story. It's a brilliant book and what they did of the story carries whatever is happening on the screen. Tomorrow I'll post some material about that feature.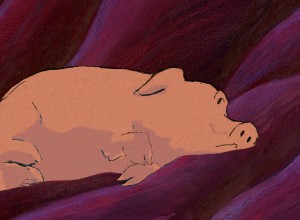 For The Marzipan Pig DVD we included a copy of a section of the animatic. This includes the actual film superimposed over the stills so you can make a comparison as the film runs. Film in film. I like this format; you can really take in the animation and layout of the piece when both are on the split screen.
I thought I'd post here some of the storyboards and the animatic for that section. Of course, this is in a low res version; more can be discovered in the dvd version.
Tissa David did the storyboard and animated the entire film by herself. This film is a beauty, if I do say so myself. It's a truly adult film, though it was sold as a family film. It deals with love in all its forms, albeit, obviously, through metaphor. It was adapted from a brilliant children's book; one of Russell Hoban's finest.
Quentin Blake illustrated the original book, and we didn't purchase the illustrations. Hoban told us that it wasn't how he'd imagined the pig to look, so he drew it for us. He was once an art director in an ad agency, so he was able to draw. This is the pig we used.
Hoban had hated what was done with his book, The Mouse and His Child, so demanded that all the spoken dialogue in the film be found among his words. We wrote a script; Maxine Fisher went to London to work with him in revising it. Finally, when it came to recording the actor Tim Curry, I threw out the script and had him read the book – with the exception of one line. It was a good decision, and it made for a great performance from a great actor.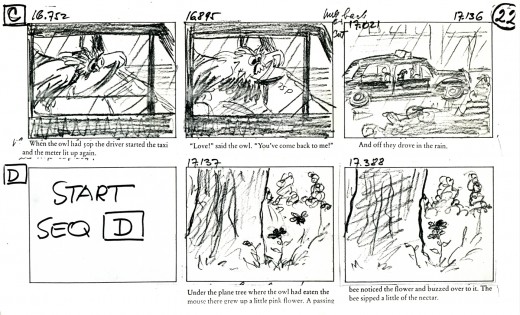 _____________(Click any image to enlarge.)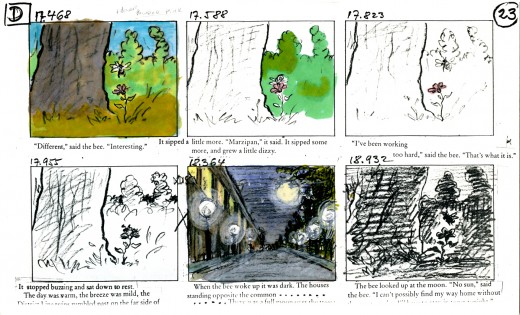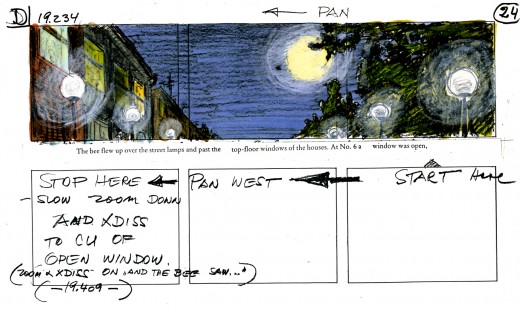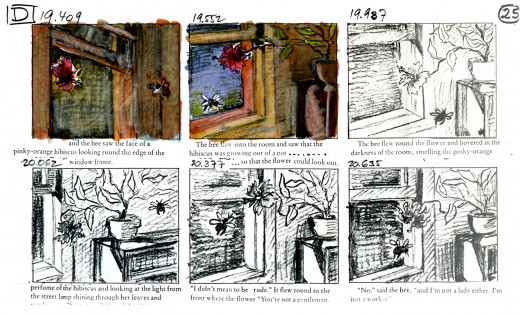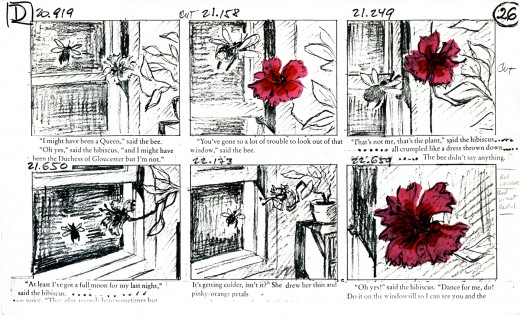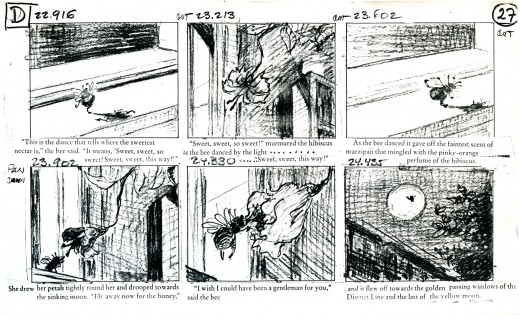 The animatic for Seq. D with the final film superimposed.
You'll notice that some changes were made
in scenes and scene cuts as the animation progressed.
This is typical.
The Marzipan Pig will air on HBO Family Tuesday December 27th
7:30 AM HBO FAMILY – EAST
10:00 AM HBO FAMILY – EAST
10:30 AM HBO FAMILY – WEST
1:00 PM HBO FAMILY – WEST
After that check each month at Michael Sporn Animation.com for future screenings.
________________________
Here's are two films we did for a home video of children's poems. The first is a poem by Russell Hoban. The animation is by Mark Mayerson, and the design is by Jason McDonald. The music is by Caleb Sampson. I think all of these artists did brilliant work, but then Hoban's thoughts and words always pull out the best.


Russell Hoban's The Tin Frog

This second poem of Hoban's also brought out the best in the artists, Jason McDonald who designed and storyboarded the whole piece. The excellent animation was by Sue Perrotto..


Russell Hoban's Jigsaw Puzzle
Click left side of the black bar to play.
Right side to watch single frame.
4 Responses to "Russell Hoban 1925-2011"
Leave a Reply