Commentary 24 Dec 2011 06:32 am
Tintin
A number of movies premiered this past week and I got to see a lot of them. So let me give you brief comments about what I did see. But first a film I saw a few weeks back opened on Tuesday this week and didn't get the rave reviews that were expected. Tintin shows up at the Rotten Tomatoes tomatometer with a 76% from critic notices. The papers in NY weren't kind. However, Manohla Dargis in the NYTimes saw the exact film I did, and I'd like to share the last three paragraphs from her review, summing it up:
Drawn in a simple, elegant style known as clear line, Hergé's Tintin has a spherical head, a stub nose and black ovals for eyes. His half-circle brows sit on his face like accent marks and, with his red-smudged cheeks and beads of sweat that invariably pop off his head, give Tintin surprising expressivity.
The simplicity is as crucial to the comic's power as is Hergé's ability to turn a recognizable world into bold lines and blots of color. It's a face that looks like a mask, one readers can slip on as they rush through the story or leisurely turn the page. And it's a face that, along with Tintin's asexuality and lack of a family, makes him into a marvelous blank, an avatar for armchair adventurers.
Like the screen Tintin, the movie proves less than inviting because it's been so wildly overworked: there is hardly a moment of downtime, a chance to catch your breath or contemplate the tension between the animated Expressionism and the photo-realist flourishes. Relax, you think, as Tintin and the story rush off again, as if Mr. Spielberg were afraid of losing us with European-style longueurs. Bore us? He's Steven Spielberg! This lack of modulation grows tedious, which is too bad because, as always with him, there are interludes of cinematic delight, when his visual imagination (like the transition in which Tintin and Haddock seem to appear in a puddle someone steps in) and his Spielbergian playfulness get the better of his insistence on bludgeoning us with technique.
Graphically, it isn't the MoCap that bothers me so much as the unattractive half-drawn, half-photorealist style. Are they not able to flatten out the art, using the MoCap, to simulate the actual look of the comic strip? I don't know, but I'd be curious to know. The problem in this film is the story: rush, rush, rush, scream, make a lot of noise and end it. That's not a movie. It's the Mummy formula – or for that matter Sherlock Holmes. Cheap and uninventive.
Movies
Now to the films I saw this week:
Two more of the animated features list passed on by.
1. A Cat in Paris. This film was great. Beautiful to see such excellent graphic design done so well. The story was exceptional and the film, in French, was one of the better animated features I've seen this year. The animation wasn't always the best character animation, but no film these days offers that. It was always fluid and well drawn.
2. Hoodwinked Too. Trash. I couldn't get out of it fast enough. The non-stop violence was supposed to be funny, and it was just pathetic. I stayed to the exact half-point and left, disgusted. The worst animated feature seen thus far.
3. The Girl with the Dragon Tattoo. This was a nasty crime film based on the novel of the same name. David Fincher (Zodiac, Se7en) is up to his usual smutty stuff. As a director, he's good enough to keep you watching, but cheap enough to make you want to leave. The film plays like a film defending the rights of women, but it felt awfully misogynist to me. The acting by Rooney Mara is worth the ride.
4. We Bought a Zoo. A sweet, light entertainment with the heart of a RomCom and completely dependent on Matt Damon to bring most of the personality to the film with his performance. He does. The other performers, including Scarlett Johansson, help. The film would have been better with a bit more darkness in it. The music was good, and the film would have worked as well on DVD.
5. A Separation. This was the best movie this week. An Iranian film about a failing marriage involving an Alzheimer father, a really poor caretaker whose daughter and husband don't help the situation, a daughter caught up in the middle of the parents' squabble, and the morality behind a situation that arises involving the civil courts. Ultimately, it all boils down to a father/husband whose arrogant stubborn way stops him from telling his wife that he loves her and would like her not to abandon him and their daughter. It's a real story, told matter-of-factly with a lot of heart but no melodrama.
6. Extremely Loud and Incredibly Close. This was a heart-breaking film about a teenager whose father dies in the 9/11 World Trade Center disaster. The very smart boy finds a key with the word "Black" on its envelope, and he decides to search all the families in NY with the surname "Black". He feels this will unlock the key to understanding why his father died and will, at the least, extend the father's life for however long the search will take. The boy has Asperger's syndrome, so he has a method. The film is a bit too manipulative for my taste, but the actors are all brilliant (particularly Max Von Sydow who doesn't talk in the film). It should definitely be seen, but prepare for a few tears along the way.
No more movies until after Christmas.
______________________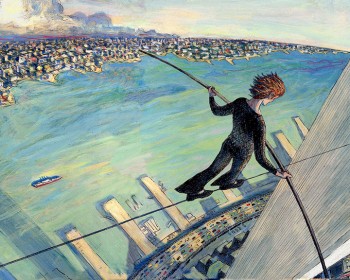 The Films of Michael Sporn
- Network Awesome is an amazing site that offers more and more films (including very many animated films) for viewing. Most are from the archives of YouTube, but Network Awesome has collected them and intelligently written about them. (Included in the site is a magazine.) The Films of Michael Sporn has just turned up on the site, and you may want to check it out for a collected number of shorts that have been present on YouTube but not very public.
______________________
A Wedding
- Congratulations to Bill Plympton and Sandrine Flament. They were married yesterday. It's big news because Bill has a reputation for being NY animation's inveterate bachelor. I hope they have a long, happy marriage.
______________________
Linkage
There were a lot of links that didn't make it to my blog last week. I do intend to continue that, probably next Saturday. I have more I want to pass on detailing my weekly travels around the internet. Sorry I couldn't get them all into the one post.

______________________
A Funeral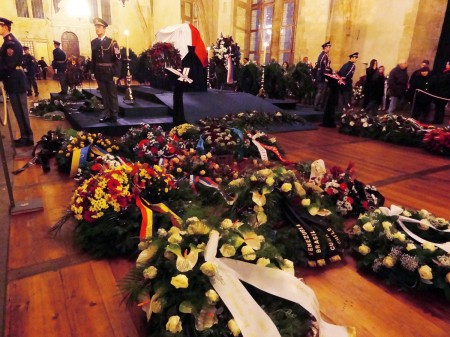 - Yesterday, Václav Havel was buried. Gene Deitch sent an email about the funeral. It hasn't yet gone up on his site, so let me post the email:
Today was the state funeral for Václav Havel. During these days of mourning, six black horses drew the same coffin-bearing carriage through the streets of Prague, that 74 years ago carried the body of Czechoslovakia's first president, Tomáš Garrigue Masaryk.
Václav Havel was surely the only person in history who, within just a couple of years, was the president of three separate nations, each with its separate constitution, currency and postage stamps!
Havel was the last president of the Czechoslovak Socialist Republic, the only president of the short-lived Czech & Slovak Federative Republic, and the first president of the present Czech Republic!
Watching it all, Zdenka and I were transported back 22 years when we stood in the throngs, jingling our keys as he spoke to us all, proclaiming the end of the long dark night of Soviet imposed dictatorship.
Today, most of the world's leaders are here to pay homage to the man who was the symbol of the end of the long dark night of the totalitarian régime in this country, when the "Velvet Revolution" concept of 1989 was spreading throughout the countries of central and eastern Europe.
Now we can expect that soon the Prague Airport at Ruzyně will be renamed "The Vacláv Havel International Airport," and that almost every town in the Czech Republic, and perhaps many throughout the world, will have streets, squares, libraries, cultural centers, universities, named for him, and surely statues and postage stamps of him will proliferate! He will be long be remembered as writer, dramatist, dreamer, activist, and ultimately three times president, who restored the good name and worldwide prestige of this little country.
I'm attaching here one of our treasures, a signed note of thanks to Zdenka, for the original piece of Japanese calligraphy which we brought from San Francisco and which Zdenka and I sent to him. Havel typically signed his name with a green pen, adding a little red heart, that became his symbol.

______________________
A Christmas Card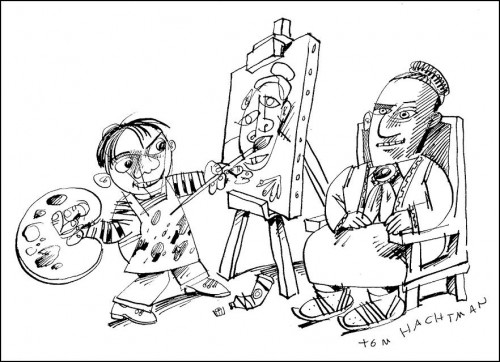 - Tom Hachtman sent me a bunch of tries at his Christmas Card featuring Gertrude, Alice and Pabs. I was going to select one and feature itl then I was going to aim for a couple of them. I've decided, finally, to post them all. Here they are: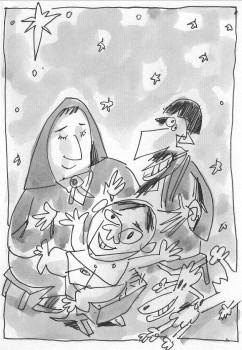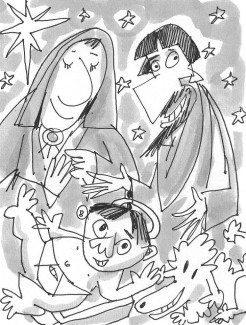 Nativity Eight | Nativity Eleven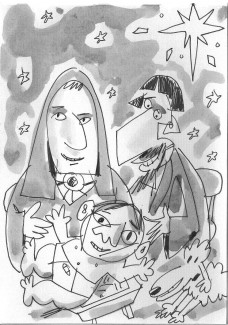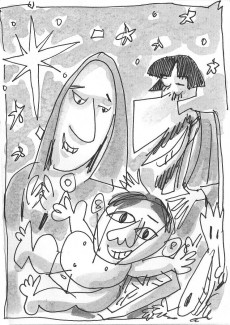 Nativity Fifteen Nativity Five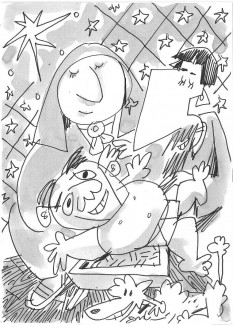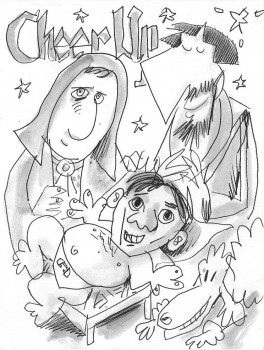 Nativity Four | Nativity Fourteen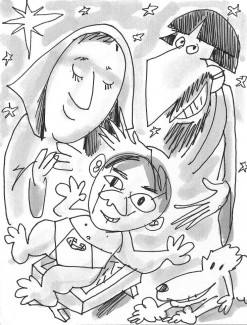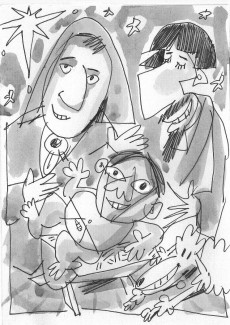 Nativity Nine | Nativity Seven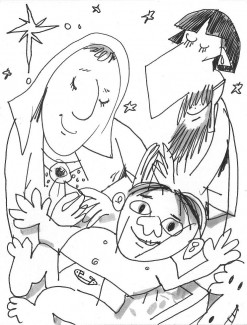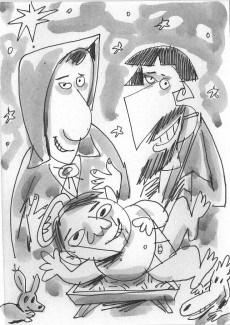 Nativity Thirteen | Nativity Three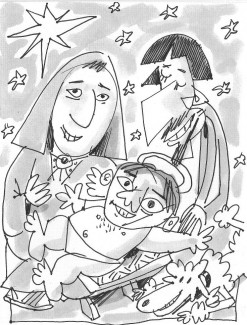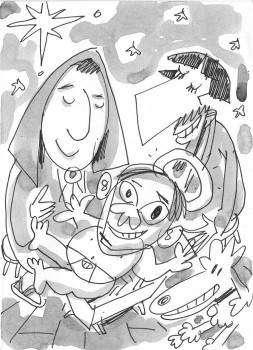 Nativity Twelve | Nativity Two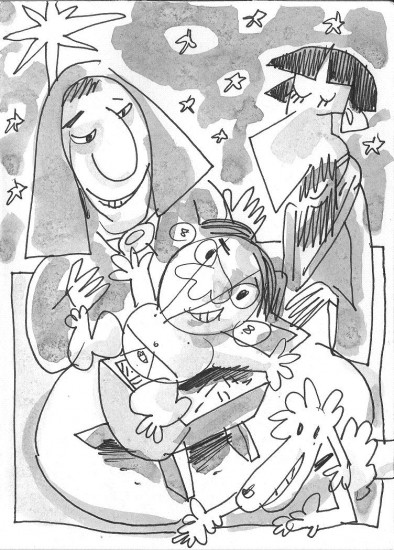 ______________________
Another Christmas Card
- This is the first year I've done an animated card. I admit to not liking the medium. There's something about a mailed hard copy of a Christmas Card that's nice, but seeing Richard O'Connor's Ace and Son animated card convinced me to try my hand at it. The art and animation took me a couple of days to do it (by myself), and it's more a compromise than a great piece. But I'm not embarrassed by it. At least it's different. I sent it out to a lot of friends but have decided to embed it here in case you haven't seen it (or among the few who were unable to get the link to work).
Merry Christmas
2 Responses to "This past week"
on 25 Dec 2011 at 1:17 pm 2.Henry Lowengard said …

Your are right about TINTIN – the lack of letup and slow paced humor was a real drawback. And yet, the titles showed that they also has 2d animated chops. That said, the 3D CGI / mocap work was clearly at the top of its form, the architecture and lighting design were beautiful, and Spielberg used the virtual camera to make perfectly impossible shots and transitions. Would that this power were used for a more appropriate property! It really was thinly disguised Indiana Jones – which in itself is not a bad thing, but it was not Tintin. If only they could release it in 3D, 2D and "drawn 2D" versions.
Yet – I fear it is not as offensive and far off the mark as the upcoming LORAX (from a cursory viewing of the trailer).
Leave a Reply