Daily post &Frame Grabs &repeated posts 26 Dec 2011 06:37 am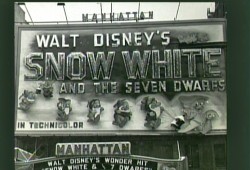 - On the Snow White dvd, there's a documentary about the history and making of the film. Some of the images on the disc are just too precious for me to allow them to slip by without my singling them out and writing about them.
.
Here are frame grabs from this documentary.
.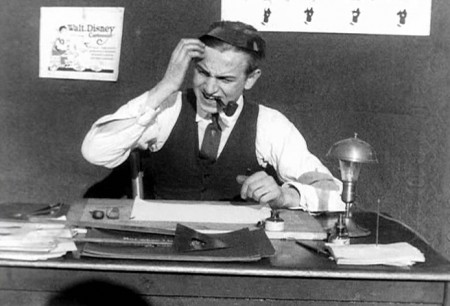 Walt is presented as a bumpkin in the early days.
I suppose he was directing if not filming this material,
so that's the image he sought to create as well.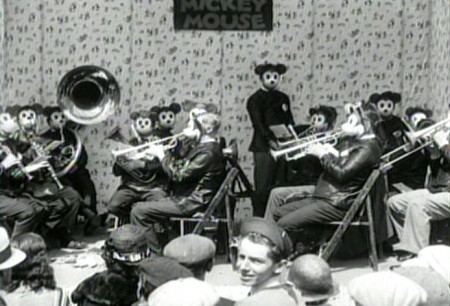 This has got to be one of the wackiest pictures in their archives.
The popularity of Mickey Mouse in the early 30′s.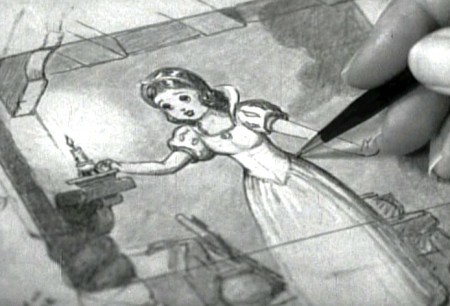 Snow White brings a change to the studio,
which you can well understand.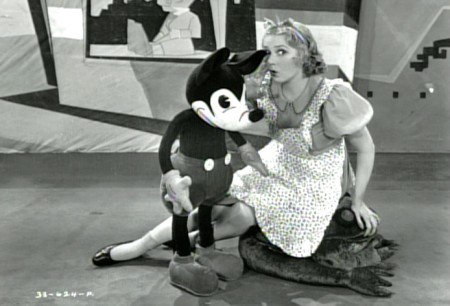 Though there's still the problem about what to do with Mickey.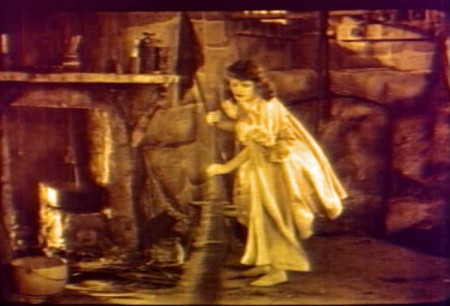 Disney was supposedly inspired by a silent filmed version
of Snow White he saw in his younger days.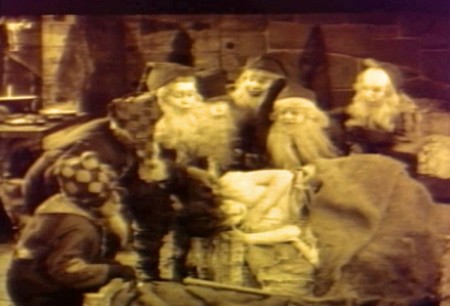 One wonders if there was also an eerie creepiness to the performance
that Walt gave to all of his animators one night as he acted out the film.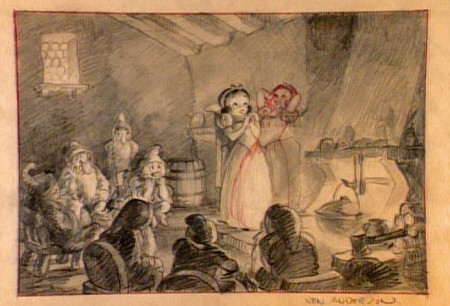 I'm curious about the pose of Snow White with her head back
and her hands behind the head.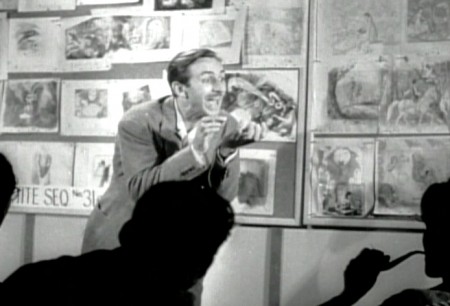 Here, Walt tries to get his animators to bite into an invisible apple -
the future of animation – as they thoughtfully smoke their pipes.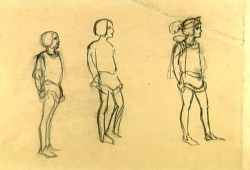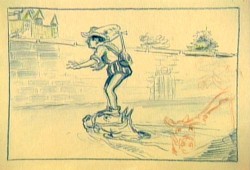 The bed building and the soup eating scenes weren't the only ones that were
excised from the finished film. It seems the prince, initially had a larger role.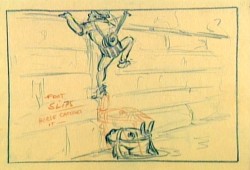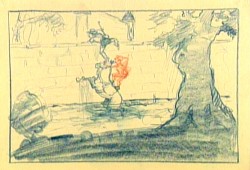 The path into the castle was a bit more difficult. First you had to
get past the moat with the help of your horse. Here the prince looks
a bit like Robert Benchley.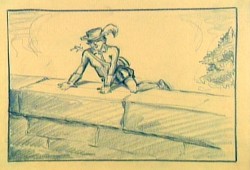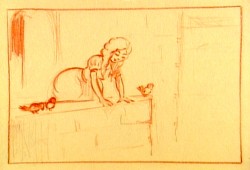 "Romeo, Romeo, Wherefore art thou, Romeo?"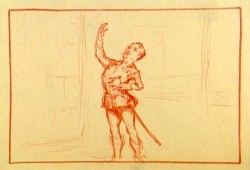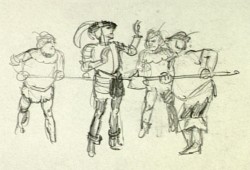 Getting caught. Obviously, the Queen and Snow White didn't live in that
castle by themselves. There were henchmen we didn't know about.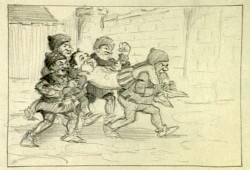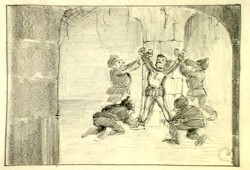 This almost looks like an early version of the seven dwarfs
carried the prince to prison.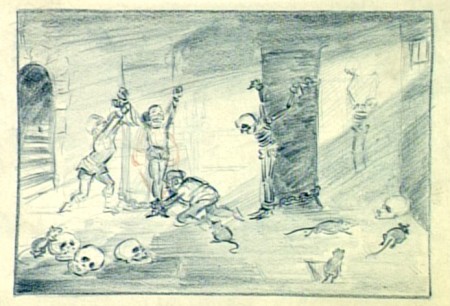 They had big rats in that prison. Scary.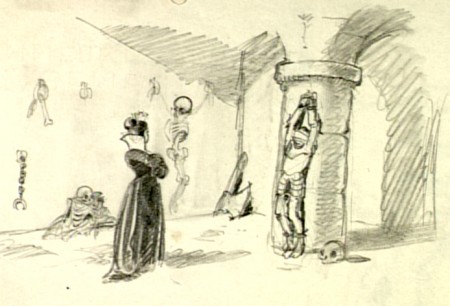 This is an obvious precursor of Malificent going to visit Prince Phillip some
20 years later in Sleeping Beauty. Both wicked Queens got more attractive.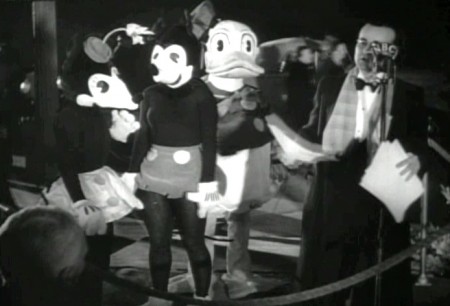 Lots of stars showed up to the grand premiere.
These actors in costume were there, too.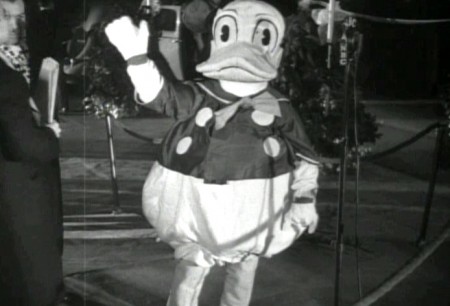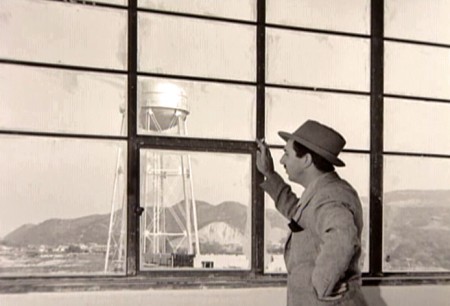 In all seriousness, the film was a masterpiece. I'm still studying it some
74 years later. Walt had reason to be proud and happy. He also had enough
money to move onto other challenging films, and he took the challenge as
opposed to making Snow White 2 or 3 (as they probably would do today.)

2 Responses to "Making Snow White"
on 26 Dec 2011 at 10:52 pm 1.Snow White Sanctum said …

Thank god they didn't do a sequel. The original was such a masterpiece, a Snow White 2 or 3 would not have lived up.

Excellent post!

on 01 Mar 2013 at 6:31 pm 2.Vanwall said …

Interesting that Snow White is posing with a big Mickey doll, almost, dare I say it, lifesize. I read that Walt didn't like anyone knowing how he visualized Mickey, even going so far as to go back and cut a scene where he holds his hand out to the side, at about the height of the doll in the Snow White pic, in a training film he put together for new animation artists at Disney Studios. The statue at Disneyland with Walt and Mickey surprised me whan I saw it the first time, Walt might not have approved that if he was alive. Great pics all around on this post, too.
Leave a Reply