Commentary 31 Dec 2011 05:49 am
More Linkage
Two weeks ago I listed some links I visit weekly, if not daily. There are more that I'd like to add to that list. I don't think less of any of these links, it's just that I didn't want that last post to be too long. The following are not personal art blogs; they update their material frequently, and it's usually informative on some level.
Andreas Deja's site, Deja View, has one of the most valuable animation links on the internet. He posts only impeccably beautiful Disney art from his collection. The images are always iconic and beautiful, and I find myself coming back to revisit the same posts over and over again. If you don't know this site, go now and make up for lost time.
Hans Bacher's site, One1more2time3′s Weblog, is just about the most attractive site out there. Hans was an art director for Disney having great influence on a number of important animated features including Mulan and Beauty and the Beast. Not only does Hans share artwork from those films, but he offers images from many other influential studios and artists such as Richard Williams, Heinz Edelmann, and Zagreb Film. There are reconstructed backgrounds culled from frame grabs as well as Hans' own beautiful art. I love this site.
Gene Deitch tells stories. He's a master who has walked through some of the most important history of animation. His site, Gene Deitch Credits, gives a personal view of many key people not usually discussed in animation history books. Jim Tyer, Phil Scheib, Duane Crowther, Jam Handy, Bob Kurtz and Eli Bauer share space with John Hubley, Jules Feiffer and Ralph Bakshi. It's a principal stop for any animation addict.
If you're a fan of Hanna-Barbera's early work, Yowp! is the site for you. The shared material, here, is endlessly revealing: layouts, animation, music cues, newspaper clippings. It goes on and features something new just about every day. I love this site since finding only a few months ago. After all, I was really coming into my own at about the time H&B broke through with Huckleberry Hound and the Flintstones. Their work had a major influence on me. This site helps fill a missing need within me – all that great Ed Benedict design, all that beautiful brushwork inking.
Animondays is David Levy's blog originally built for ASIFA East when David was their President. He continues on the site with fine interviews of people like Linda Simensky, PES and Rob Renzetti. He also writes fine essays which usually offer a levelheaded view of the business of animation. As its title suggests, the blog changes every Monday morning, so it's worth the visit once a week.
Mark Sonntag always has great and rare material on his blog, Tagtoonz. The material usually pertains to early Disney, and, as a result, it's usually a lot of fun. Comic strips, posters and photos are always originals and just about impossible to see elsewhere.
What About Thad? from Thad Komorowski changes infrequently, but the material presented is usually top notch. Posts of hard-to-see movies or comic strips are certainly well worth the visit, but he also gives strong analysis of some of the less noticed animators (such as Alex Lovy). I can't tell you how often I've returned back just to revisit his posting of Lovy's drawings from Ace In the Hole. The material is often esoteric, but the information is important.
There are also a few sites I enjoy visiting for their frame grabs or mosaics (many built on Hans Perk's drafts found at A Film LA.) Among these my favorites are:
Finally, the last site usually has little to do with animation even though it's written by one of our key animation people. And it's as eccentric as you might expect.
Tom Sito's site, Tom's Blog, is a daily history lesson in the making. Tom gives an account of things that have happened in history on the day you're checking in. What happened at Wounded Knee? The Howdy Doody Show premiered. When was Emperor Quang Tung of Vietnam crowned? I love such information. I can store it or forget it, but I enjoy reading it. Updates come every day with a quiz to start you off.
________________________
The Week
It's always quiet this week between Christmas and New Year's. I've been waiting for some word from several clients, and I can't even reach them this week. As expected, I might add. Hopefully, the holidays won't extend too far into 2012.
Movies have also been quiet. I did get to a screening of Bridesmaids on Wednesday.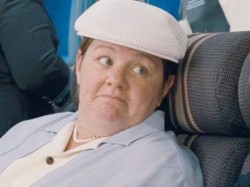 The film was better than I expected. I've never been very hot on Kristen Wiig. I thought her writing was fine, but the performance was a little bit shy and reserved. This is her usual; she never goes that extra beat needed for the type characters she plays. It becomes obvious the second Melissa McCarthy steps on screen. She steals the movie easily acting very natural in overdrive-mode. I laughed aloud with almost every scene she has on screen (except the last with a joke I don't think worked for her character.) I'll be interested to see if McCarthy gets an Oscar nod for Best Supporting Actress. The Actor/voters usually are reserved with nominations to comedians. It was a good movie, not a great one.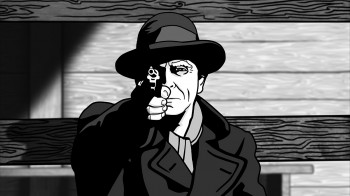 Next week there are four animated features to view:
on Tuesday: ALOIS NEBEL and ALVIN & THE CHIPMUNKS : CHIPWRECKED
on Thursday: CHICO & RITA and CARS 2
ALOIS NEBEL looks to be MoCap with flat 2D-like animation.
ALVIN got good reviews and looks as horrible as I'd expect.
CHICO & RITA looks rotoscoped and interesting.
CARS 2 I've already seen and hated. It's a bad movie.
Also on Wednesday they're screening: W.E. and SHERLOCK HOLMES: A GAME OF SHADOWS.
W.E. is the Madonna-directed film about Edward VIII and Wallis Simpson.
SHERLOCK HOLMES 2 looks even worse than the first one. A violent, loud race to the end credits.
Last night, Heidi and I went to see the play THE ROAD TO MECCA starring Rosemary Harris, Carla Gugino and Jim Dale. The tickets were gratis since Heidi works for the Roundabout Theater Company. I love Carla Gugino and Jim Dale's work, so was pleased to see them in the show. Rosemary Harris was also impeccable. It was a great show, and the actors have only been doing it for two weeks. Wait till it opens! Beautiful set, great lighting and fabulous acting in a classic play. What more could you want.
________________________
A Cartoon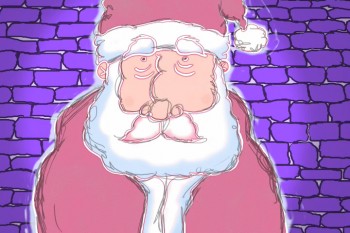 Having rushed out the animated Christmas Card over the course of a weekend, I couldn't help but wonder why I wasn't doing more of that same thing. Making short animated bits – that could maybe be tied together – over the rest of the year. It was a lot of fun doing it, and couldn't possibly be a waste of time doing more. The only problem is, naturally, writing them so that they wouldn't be a total waste of time. Who wants to see more bad animation out there? It's something I have to think about, really. It was a lot of fun doing the one short; it cost me nothing more than my time and energy.
I think of this often when I visit Yoni Goodman's site. He does a lot of short animation exercises and posts them frequently. His work is exceptional, too. Take a look at the recent anti-cholera film he did; it's a really fine piece of work, but those tests are what really get my blood roiling.
6 Responses to "More Linkage, a Quiet Week & Animating"
Leave a Reply