Animation Artifacts &commercial animation &Independent Animation 09 Jan 2012 06:18 am
- For the next three weeks, I'm going to focus on director/designer/animator, John Wilson.
Amid Amidi presented me with some art that he thought might be a good match for this blog, and it is. So I'll take advantage of the material and share it with you. With each week's post I'll hone in on one specific film and go from there. We'll start with Wilson's first solo film, Tara the Stone Cutter completed in 1955.
But first, let me share some bio information about John Wilson and his company Fine Arts Films.
- John Wilson was born in Wimbledon in 1920. He attended the Royal College of Art and was working by age 18 as a commercial artist with Willings Press Service. In WWII he served with the London Rifle Brigade in African where he was seriously wounded. Recuperating in hospital, he drew many cartoons of which several were printed. Eventually he would recover and get work at Pinewood Studios in the art department where he worked on GREAT EXPECTATIONS and THE THIEF OF BAGHDAD, among other films.
By the time he was 25, he was working in animation at Gaumont-British Animation, a newly formed division of J. Arthur Rank's studio, working under the direction of David Hand on the "Animaland" series starring "Ginger Nut."
In 1950 he moved to the United States working in layout and animation at UPA. He found himself working with Bobe Cannon, Pete Burness, Jules Engel, and Paul Julian. Eventually he left for the Disney studio working in Les Clark's 'Tinkerbell' unit on PETER PAN and with Ward Kimball on TOOT WHISTLE PLUNK & BOOM.
He tried to sell Disney on the film Tara, the Stonecutter, but they weren't interested. He completed it himself in 1955 using a Japanese style to tell the story. Wilson was impressed with the UPA style of modern art in animation, and that's the route he took for his personal film. Thus his studio was born, called Fine Arts Films, in 1955. Tara had some success playing theatrically with the successful Japanese feature film, GATE OF HELL by Kinugasa (which had won the Oscar for Best Foreign Film.)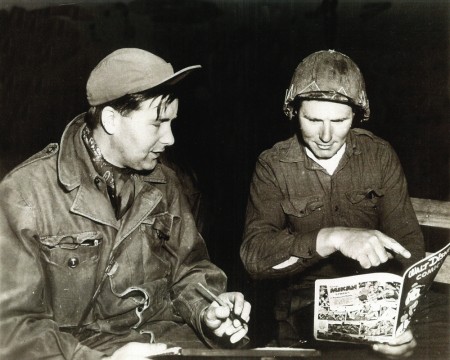 Wilson in Korea with the Bob Hope Tour to entertain the troops.
This film led to his producing a verion of Stravinsky's Petroushka for NBC which aired in 1956 as part of The Sol Hurok Music Hour. Notably, Stravinsky, himself, arranged and conducted the shortened version of the score suing the LA Philharmonic Orchestra. The film was designed by John Wilson and Dean Spille with anmation by Bill Littlejohn, Art Davis, and Phil Monroe. Chris Jenkyns, Dean Spille and Ed DeMattia designed the 16 minute show from Wilson's storyboard.
Fine Arts Films had produced 'Journey to the Stars', a project for the 1961 World's Fair, an animated voyage through space for NASA, which was seen in 70 mm Cinerama by ten million visitors to Seattle.
Billy Wilder employed Wilson to do the titles for Irma La Douce after which they did a six-minute trailer for this Jack Lemmon, Shirley McLaine feature. It was all about Parisian prostitutes romping about in Montmartre, and animation could apparently make it acceptable. Artists Ron Maidenberg, Sam Weiss, Sam Cornell and Bob Curtis caught the vivid nightlife of Paris in a sexually charged animated short. It was a huge success in promoting the feature.
In 1970 Wilson flew to Chicago to see Carol Channing and Eddie Bracken appearing in "archy and mehitabel in Shinbone Alley". On the basis of this theatrical musical, Wilson bought the screen rights to the book "archy and mehitabel" by George Herriman and began work on an animated feature which was released by Allied Artists in 1971.
Fine Arts Films was also responsible for many animated commercials as well as weekly music video segments for the weekly CBS-TV series "The Sonny and Cher Show." The songs included Joni Mitchell's "Big Yellow Taxi" and Jim Croce's "Leroy Brown."
Here are some storyboard sketches by John Wilson for his initial short film, Tara, the Stonecutter. This film started it all for Wilson.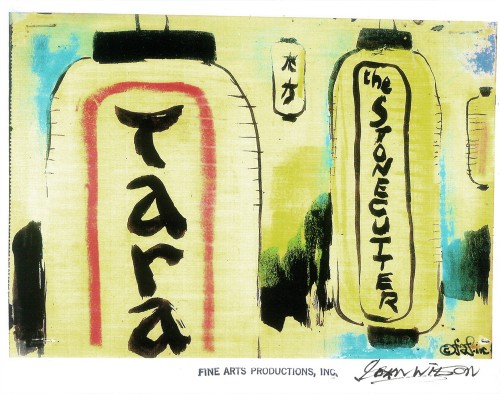 1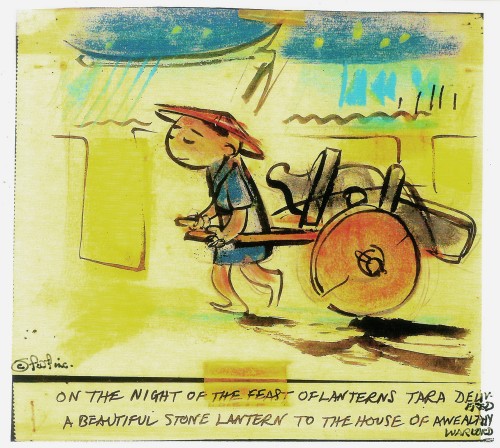 2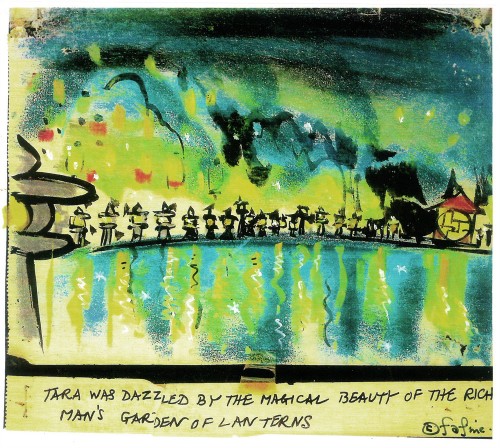 3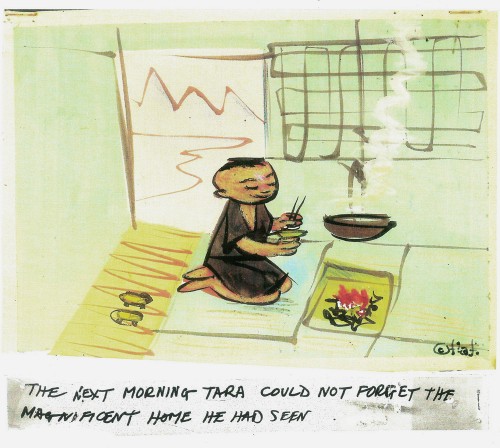 4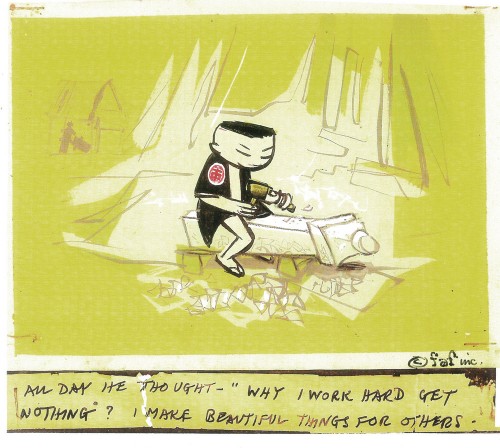 5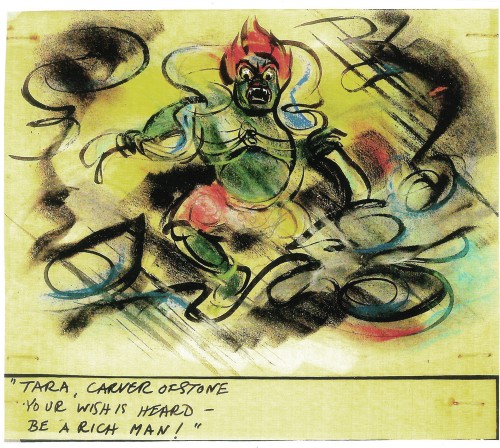 6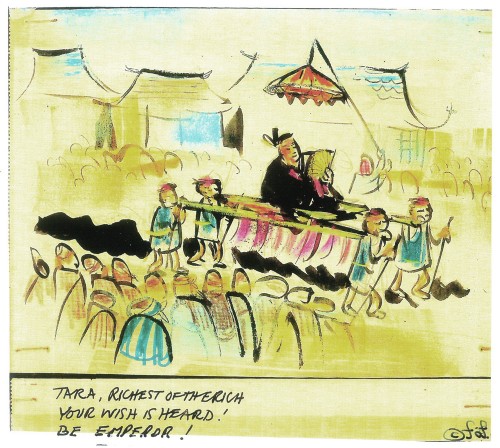 7

I haven't seen the finished film, but I understand that Japanese decorative papers were used in the backgrounds and costumes of the characters.
Here are two press clippings for this film from California papers.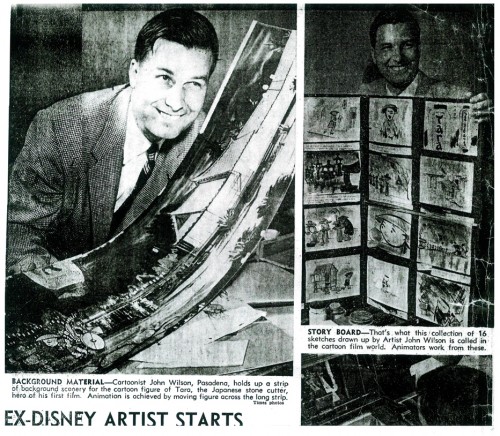 (Click any image to enlarge.)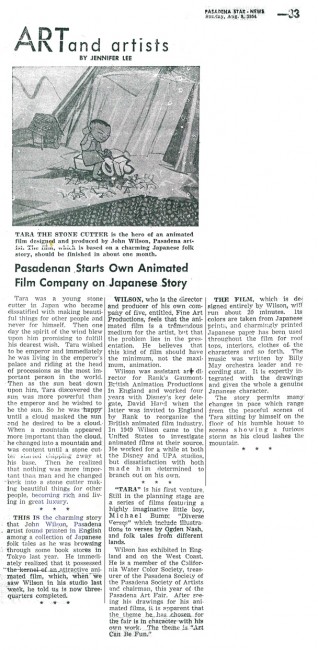 10 Responses to "John Wilson/Fine Art Films – part 1"
Leave a Reply