Commentary 28 Jan 2012 06:45 am
- This was a pretty quiet week, except for Tuesday. That was the day the Oscar nominations were revealed. I don't think I've been as happy with the overall nominations since the year Doctor DeSoto got nominated. Since I've been a member in New York, I've always felt that our voice was barely heard in the Hollywood awarding of the prizes. My vote always felt like a little guppy in the salmon swim upstream. This year I feel well represented.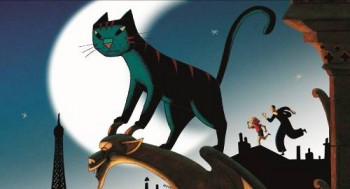 I had hoped that one of the French and Spanish 2D features would be nominated against the blockbuster boys club of Spielberg, Dreamworks & Disney. I was adamantly against TINTIN (first) because it was a MoCap film and (second) because it was a bad movie with a poorly realized script. This was the last thing I'd have expected from Spielberg. I'd have preferred the bad, limited animation of the TV series with a good script. And whatta you know! TINTIN and Pixar didn't get nominated. And, even better, not one of the two foreign features but both of them got into the competition. How happy could I be?!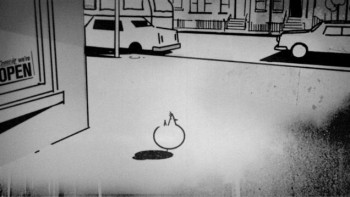 The same was true of the short films. The best of the Short list was nominated. I really believe that. If I had to pick five shorts from the mixed bag of films we saw, I'd have chosen four of these five. And the fifth is technically superb however trite the script. I couldn't be more pleased.
As I said, this extends to all of the films. I'd have chosen eight of the nominated nine films for Best Picture. I know my favorite doesn't have a shot at it, but I'm happy it got recognized.
Now to see all the docs and foreign films to vote on them. If any compare to THE SEPARATION, I'll really be very satisfied with this year's crop of films.
________________________
Nominations for the Cesars, the French version of the Oscars, came out this week. For Best Animated Film (they combine shorts with features for this category) the five nominees are:
- LE CHAT DU RABBIN (THE RABBI'S CAT) by Joann Sfar, Antoine Delesvaux, a 2D animated feature.
- LE CIRQUE (THE CIRCUS) by Nicolas Brault, a painterly animated short from the NFB.
- LA QUEUE DE LA SOURIS (THE MOUSE'S TALE) by Benjamin Renner
- LE TABLEAU, a 2D short. (THE PAINTING) by Jean-François Laguionie, a 2D feature from the award winning animator.
- UN MONSTRE À PARIS (A MONSTER IN PARIS) by Bibo Bergeron, a cgi feature.
________________________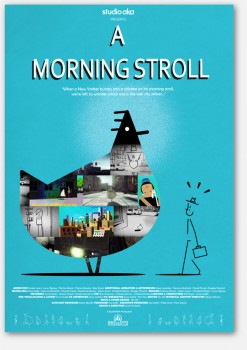 By the way, the one film that seems to be swooping it up in this Awards season is the animated short, A Morning Stroll by Grant Orchard and . This film is the only one that was nominated by the BAFTAs but also the Oscars. It won prizes at Annecy, Bradford, and Brooklyn. Congratulations to Studio AKA, director Grant Orchard and producer, Sue Goffe. I've seen it half a dozen times so far and could probably sit through as many again.

________________________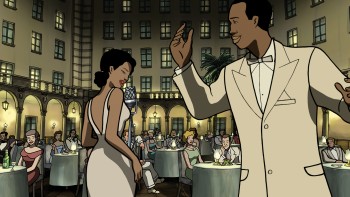 For those of you in NY who'd like to get a look at the Oscar nominated feature, Chico and Rita, it will be screened on Tuesday, February 21st, at the Jacob Burns Film Center.
Designed by Javier Mariscal and directed by Fernando Trueba (Belle Epoque) the story tells a love story about a Cuban piano player and his love of a beautiful singer with an extraordinary voice. The film features a luscious track of Cuban jazz as well as classics from Woody Herman, Dizzy Gillespie, and Charlie Parker.
The Jacob Burns Film Center
364 Manville Road map
Pleasantville, NY
www.burnsfilmcenter.org
________________________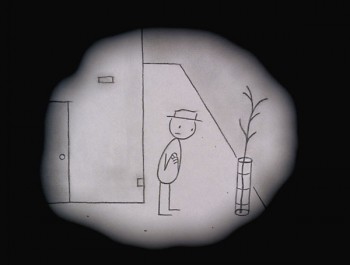 Coming March 26th & 27th the IFC Center will present An Evening with Don Hertzfeldt
Acclaimed animator Don Hertzfeldt will appear in person to present his most recent film together with a selection of his award-winning earlier shorts Monday.
March 26, 2012 at 7:00pm! It's Such a Beautiful Day, makes its exclusive regional premiere at IFC Center. This is the third and final chapter in a trilogy about a mysterious man named Bill. The entire trilogy will be screened together for the first time on new 35mm prints, followed by a live Q&A with Hertzfeldt
Mon, Mar 26 at: 7:00 PM and 9:30 PM
Tue, Mar 27 at: 7:00 PM
Tickets for this special event are $17.50 general admission, $15.50 seniors, $13.50 IFC Center members
The IFC Center
323 Sixth Avenue, NYC
www.ifccenter.com
________________________
- A favored blog read this week came on Cartoon Brew. Amid Amidi posted Steven Colbert's interview with Maurice Sendak. The second part is the better one, when Sendak starts singing. It's a real laugh out loud. Go here to watch them.

________________________
- The post that stirred me most was on Mike Barrier's site. Actually, something in the comments on that post got me thinking, particularly Jim Korkis' note and Don Benson's followup. I haven't quite yet formed my thoughts, so I won't respond until another time, but you should go and read the post and the comments. There's some real conversation happening there.
4 Responses to "A Penny's Worth"
Leave a Reply