Animation &Commentary &Independent Animation &Richard Williams 18 Feb 2012 08:56 am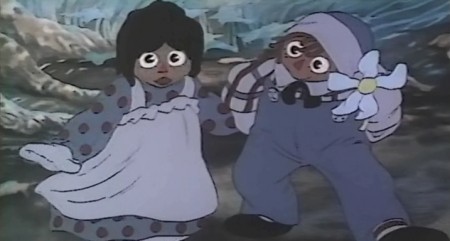 Tissa David's enormous seminal Raggedy Ann scene.
The rest of the film was built on the back of this one.
- Back in 1976, I was lucky enough to get hired onto Raggedy Ann and Andy, a feature film Bobbs Merrill was financing with Richard Williams as the newly employed director. I was the first non-animator hired (three animators were hired before me: Tissa David, Art Babbitt, and Emery Hawkins. Corny Cole was designing and doing the storyboard; Gerry Potterton was the assistant director.
When the studio was set up, with its headquarter in New York, they chose a space in a building that had entrances on 45th and 44th Streets just off 5th Ave. The space was enormous and dark. Many of the lights were usually left off. Sometimes the office manager, Bruce , would be there. but for the most part, while the voices were being recorded, I was alone in the space.
I decided to start buying animation desks and discs and other equipment. I did this and worked with someone to get holes cut and lighting set up in the desks. We started prepping partitions and just setting up everything. Once bits of animation started coming in Assistant Animators were hired. Jim Logan was the first, and he and I worked together for several months with little to do but laugh and do bits of inbetweening for animation tests.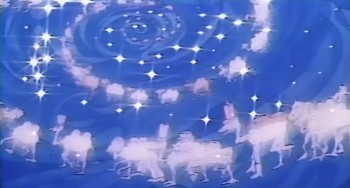 Dick Williams gave me a scene of a mirage the Camel with the Wrinkled Knees would have. 97 dancing camels spiraling into the distance would be superimposed over the Camel's head. I worked for about six weeks on this one scene, and until I had to be taken off it. The scene near completion went to the newly hired John Kimball who was going to do a number of other similar scenes, and he'd build them all into the film. I moved to head of Assistants and Inbetweeners and definitely had a lot of work to do.
Hiring lots of people in New York and training many of the new faces was foremost. We ended up with seven rooms with about 15 Assistants and Inbetweeners in each room. Finding new people wasn't always easy, and they didn't all work out.
In 1976, the Ottawa Animation Festival had its inauguration year. (That was when Caroline Leaf took over the animation world, becoming a star with her film, The Street.) It was here that I went to look for talent, and I found it in several people. John Gaug came down from Atkinson Film Arts in Ottawa. He was a gifted talent and a very tight style. Sheldon Cohen was closer to my heart. His sensitive drawings and warm approach to the artwork made him a definite person to hire. After getting back to New York I let the powers-to-be know that I was hiring the two and made the calls. Both moved dpwn to the City.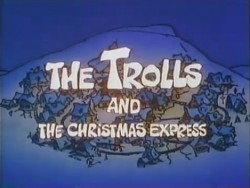 Both continued on after Raggedy Ann ended.
John Gaug moved on to the Williams studio in London where he became an animator, moved back to Ottawa to direct Trolls and the Christmas Express (where I animated freelance for him). Then he moved back to New York working in the commercial studios (I got to hire him again at R. O. Blechman's studio) until he died in 1984.
.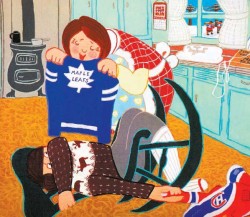 Sheldon Cohen moved back to Montreal where he became a unique artist for the National Film Board. He directed and animated a number of strong films. His most famous, The Sweater, showed an artist in full bloom seemingly right out of the box. He continues doing a number of children's books and recently has written a oersonal memoir called This Sweater Is For You! published by ECW Press in Toronto. The book will soon be on the market, I'll get a copy and will definitely review it. I'd also like to interview Sheldon about his 40 year career of making art.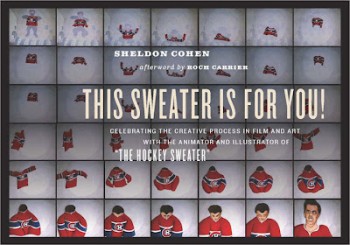 In the meantime, you can see a number of Sheldon's films on the NFB site. I've linked those films below.

The Sweater is an adaptation of a Mordecai Richler short story.

I Want a Dog is based on the book by Dayal Kaur Khalsa.
Snow Cat starts out with the feel of the book Goodnight Moon
but soon turns to a very graphic and textured look.
It's a 23 minute film with wonderful narration by Maureen Stapleton.
Pies, a film about blind prejudice, is based
on a short story by Canadian author Wilma Riley.

_______________________________________________________
_______________________________________________________
Ghibli's The Secret World of Arrietty opened yesterday to generally positive reviews.
- Manohla Dargis in the NYTimes praised the Ghibli approach to female characters, who often are the leads, but was bothered by some of the elements lost in adapting the original novel, however
". . . it's initially a letdown that Arrietty and Shawn aren't just friends, as in the book, but also something like impossible romantic foils. Yet this disappointment proves mostly premature because Studio Ghibli and Arrietty have a way of taking you where you may not expect, whether you're scrambling through rooms as large as canyons or clambering into the safety of an outstretched hand, a simple gesture that says it all."
- Lou Leminick in his 3 star review in the NYPost writes:
Studio Ghibli is at the forefront of keeping traditional hand-drawn animation alive — and it works well even for a story that's less fantastical than Miyazaki's signature works.
Many animated and live-action films have dealt with miniature humans, but few have depicted a sheer sense of scale as effectively as this one.

"The Secret World of Arrietty'' is a feast for the eyes that will engage the entire family.
- Phillip French in The Observer writes a very positive review:
At the heart of the film, is the tender, trusting friendship between Shawn, the boy of the house, and Arrietty. Theirs is a beautiful, perfect love, but ultimately doomed like so many relationships in myths and fairytales. This moving, amusing and resonant tale also touches on environmental and ecological concerns, on xenophobia and the fear of the threatening other. And it has taken on new meanings about the respect and preservation of disappearing species and the need to treasure and recycle valuable resources.
_______________________________________________________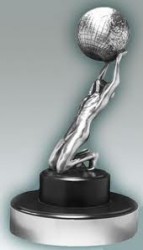 .
- Finally, the good news, last night, I won the NAACP IMAGE Award for Outstanding Children's Program. I'm proud of this one, thankyou very much.
Outstanding Children's Program
"A.N.T. Farm"
"Dora the Explorer"
"Go, Diego! Go! "
WINNER: "I Can Be President: A Kid's-Eye View"
"My Family Tree"
.
19 Responses to "Sheldon Cohen & John Gaug and Arrietty and NAACP Image Award"
Leave a Reply