Animation &Disney &Frame Grabs 27 Feb 2012 08:22 am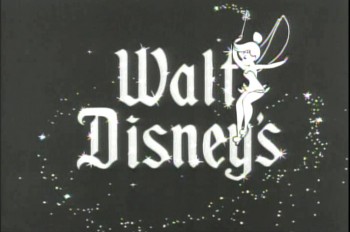 - When Disney released 20,000 Leagues Under the Sea, there was a curious and opportune time for some cross promotion with Disney doing a "Tomorrowland" show for his Disneyland program. Our Friend the Atom talks about atomic energy driving the Nautilus submarine in the Jules Verne film that Disney was pushing. (Of course, Verne wrote of an "electric ship," but Disney in the mid-fifties had to be thinking nuclear.)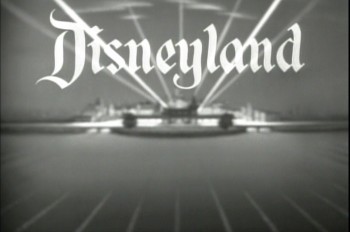 Ham Luske directed the
show, and I have to say some of the animation is spectacular. I really love the look of this stuff. I feel like the representation of the Genie is magnificent. There's a feeling that they capture which really invokes the Arabian Nights figure that I read. (I was a bit turned off by the WB feel of the Robin Williams Genie in Aladdin, though I am in awe with what Eric Goldberg did with it. I guess I'm too much of a purist with some of these folk/fairy tales.)
I had always given Ward Kimball credit for the show until looking at it again. Whereas all the shows Kimball did had a light approach toward the science, trying to make it as much fun as possible, Our Friend the Atom is dead serious with very little humor underneath it. Somehow, I loved this show more and was very impressed with the strength of that Genie.
I've taken some frame grabs of the first segment to give an idea of it. The show is available in one of those Walt Disney Treasures – Tomorrow Land: Disney in Space and Beyond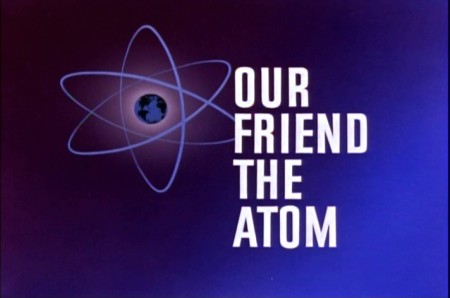 1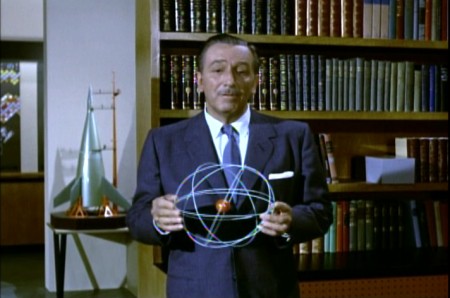 2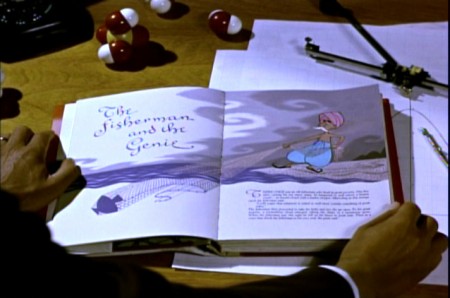 3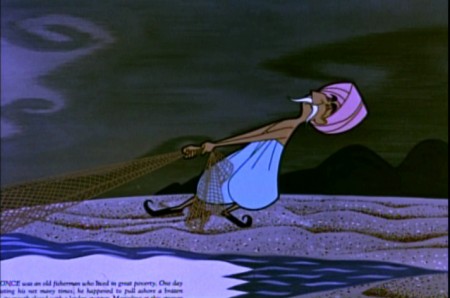 4
Note how they keep the type in the book illustration as they did
in the Winnie the Pooh adaptations which were done years later.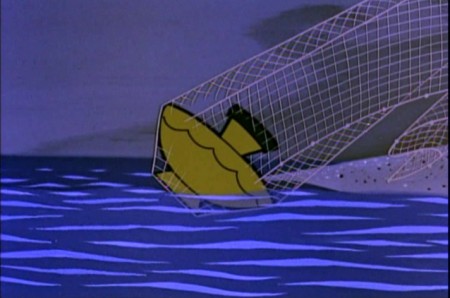 5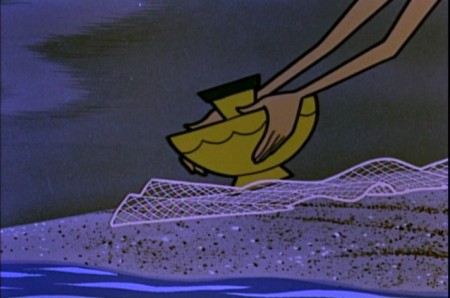 6
Just pure fine visual storytelling in this section.
It really is very well done in its conservative editing.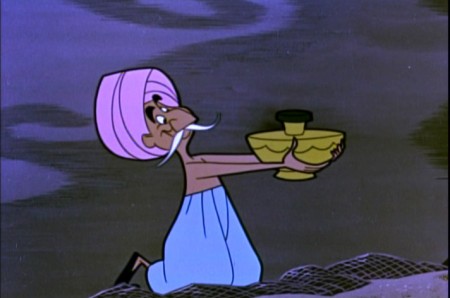 7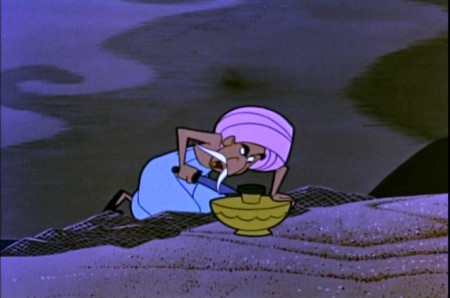 8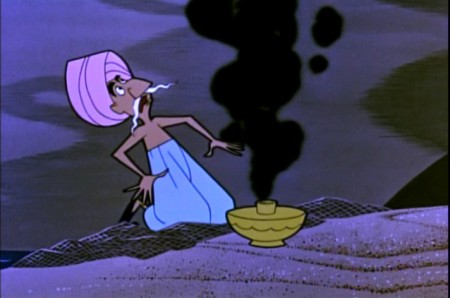 9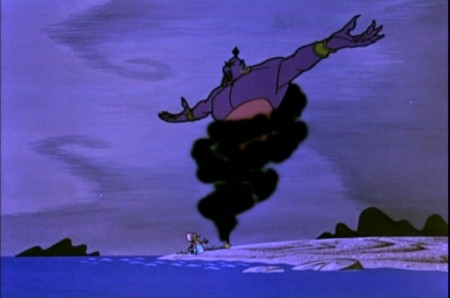 10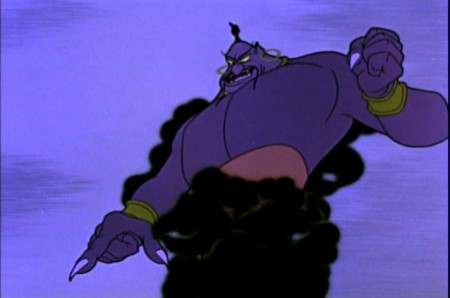 11
The Genie is going to take advantage of the fisherman
who has released the demon into the world.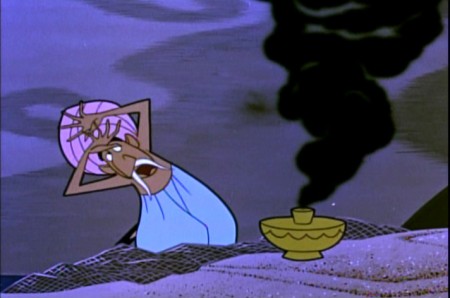 12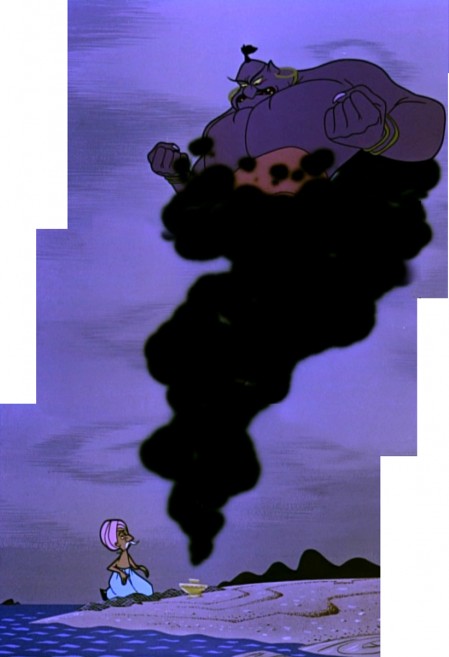 13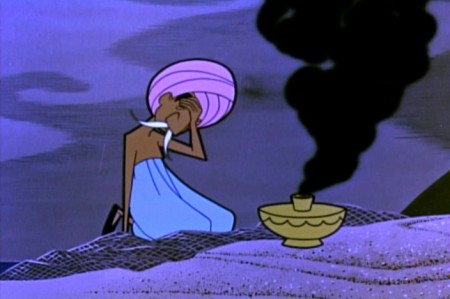 14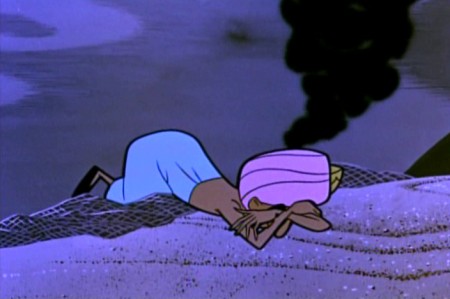 15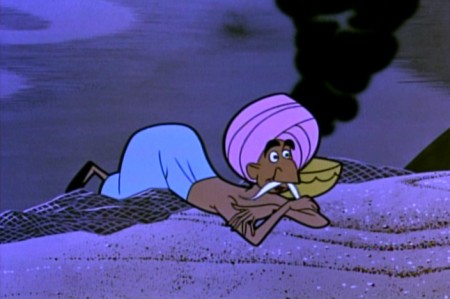 16
But the fisherman gets an idea.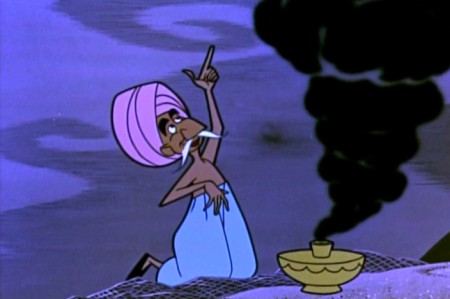 17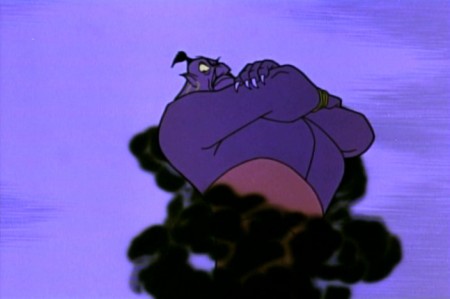 18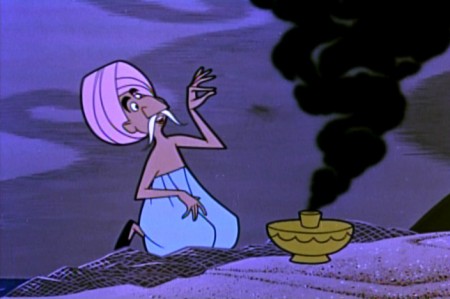 19
He says he doesn't believe that the Genie
could not have fit into so tiny a lamp.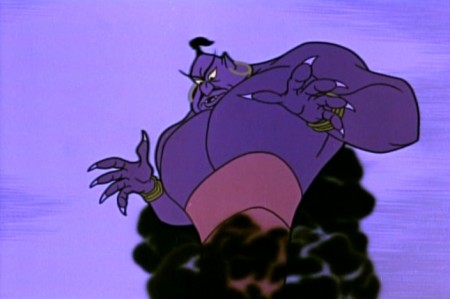 20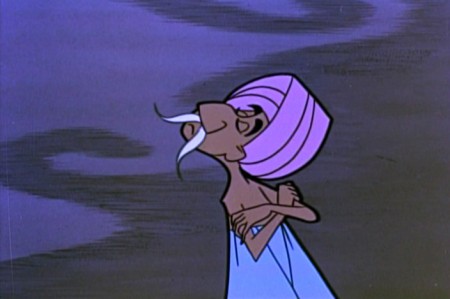 21
He challenges the Genie to prove that he can fit into the lamp.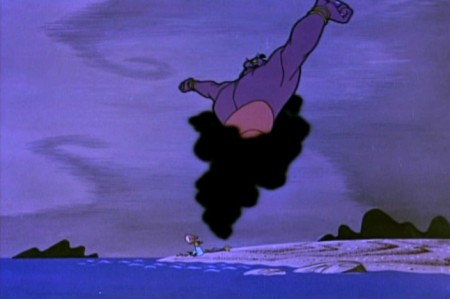 22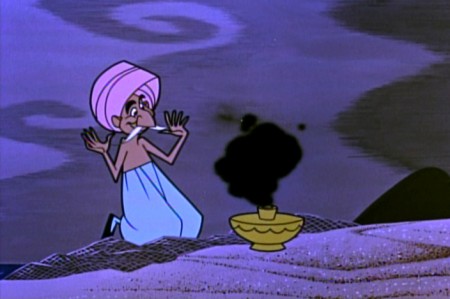 23
The Genie goes back in . . .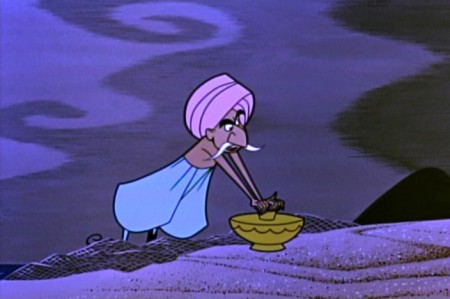 24
. . . the fisherman stops him in there.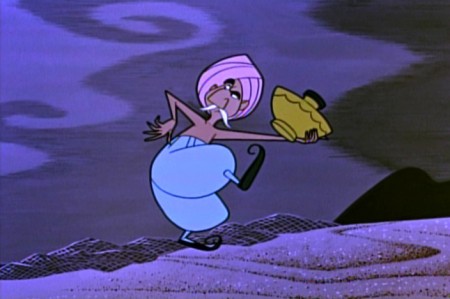 25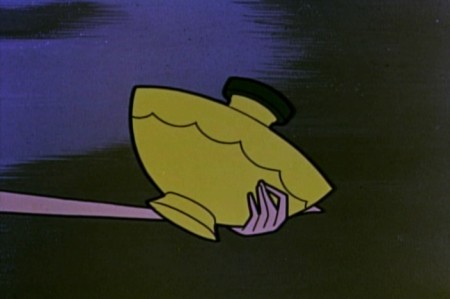 26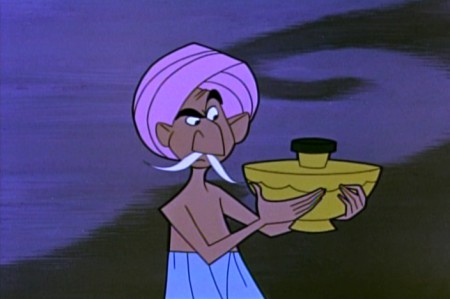 27
The Genie makes a magnificent deal
if the fisherman will let him out again.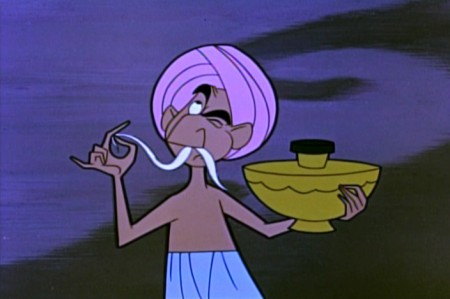 28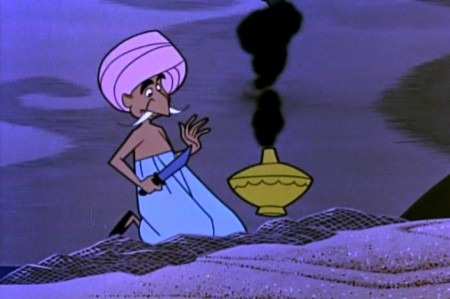 29
The fisherman lets him out . . .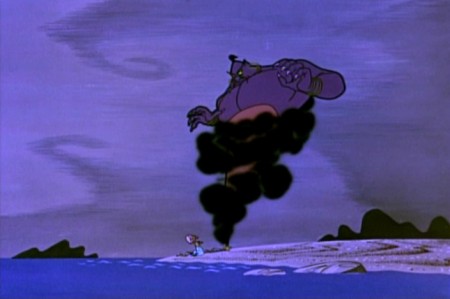 30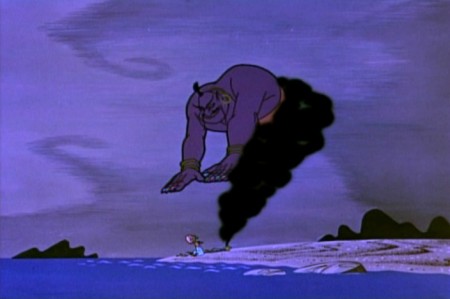 31
. . . and the Genie is now at the beck and call of Man.
.
The program then goes into the history of the discovery of radiation and the atom and control of atomic energy.
.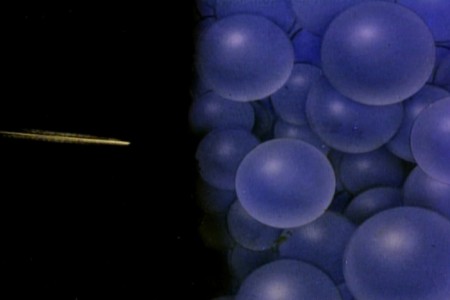 32
We pick things up with the splitting of the atom.
33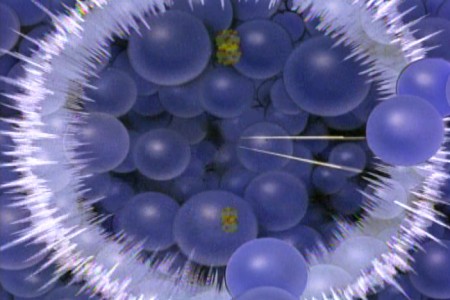 34
A chain reaction gets things going.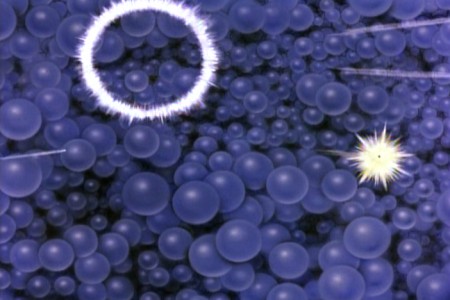 35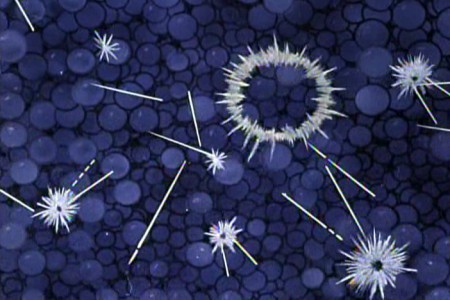 36
37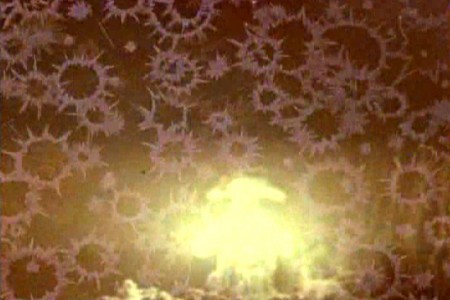 38
Until it explodes . . .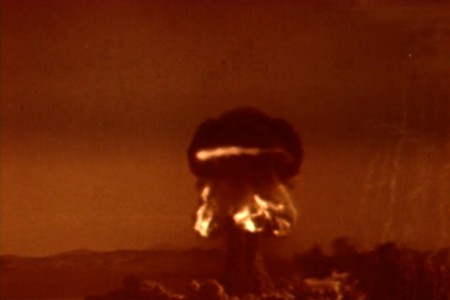 39
. . . into an atomic bomb.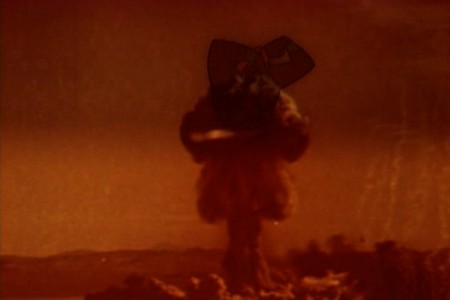 40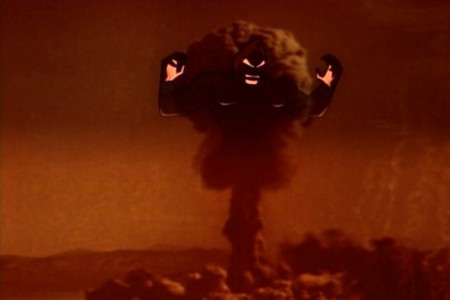 41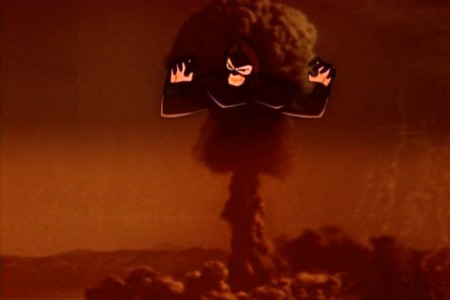 42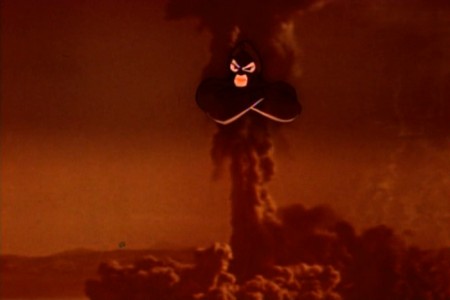 43
The Genie is out of the bottle.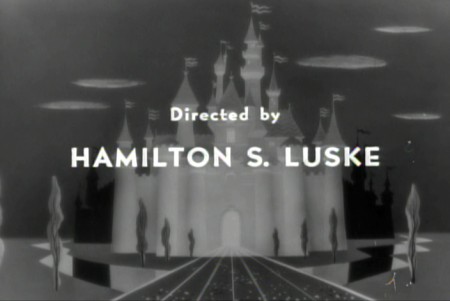 Credits 1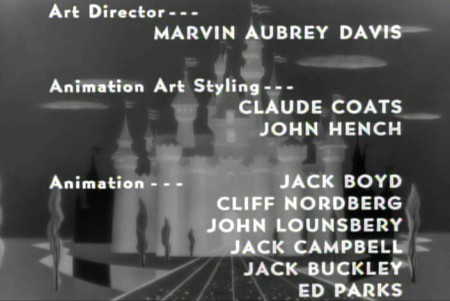 Credits 2
8 Responses to "Our Friend the Atom"
Leave a Reply