Animation &Commentary 24 Feb 2012 07:51 am
- In reviewing The Secret World of Arrietty, the brilliant new Ghibli film, I wrote about the fluidity of their animation and its basis in a real rather, than a cartoon world. Unfortunately, most of the animation done in features coming from the Western world (specifically the US world) is done in a cartoon way using pops and smears. This affect creates cartoon characters and clichéd ones at that. It's not a type of animation I love for feature films.
Of course, if you're designing an Aladdin, where the Robins Williams/Eric Goldberg Genie is a hyper cartoon character, that's the only way to go – stylized cartoon. That was its natural design. But for 101 Dalmatians/Peter Pan/Beauty and the Beast – no. That's not what you should be doing. However, it seems to be the only way to go in the films coming out of Hollywood.
I thought, over the course of a couple of posts, I'd give a couple of good examples of these pops and smears I've been bothered with in the recent past. Let's start with "smears"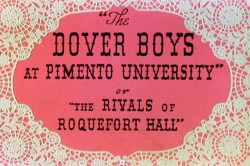 something I find particularly egregious in animation pretending to create a "real" world.
To show what I'm talking about, here's an example from the first real – and I might say brilliant – use of this technique.
Animator, Bobe Cannon, together with director, Chuck Jones, came up with the technique for the outstanding Dover Boys film.
Here's our villain, the main target of the smeared frames: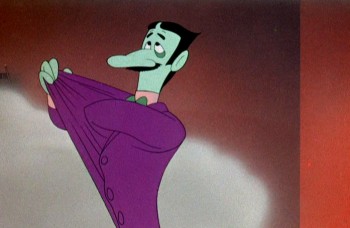 1
It's the villain that moves in exaggerated smears.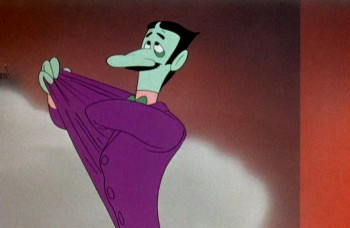 2
He moves slowly at start and stop of moves.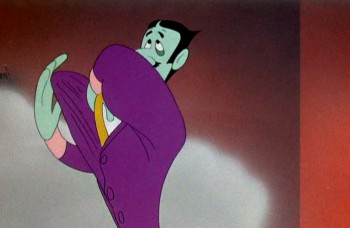 3
But moves wildly in between phrases of dialogue.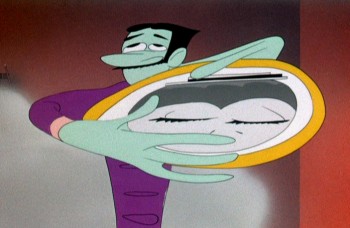 4
The middle poses couldn't be wilder or faster.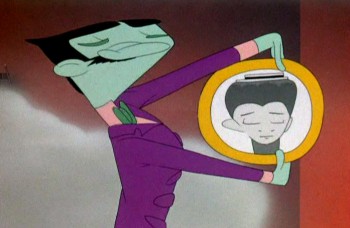 5
And comes to quick halting stops with small patches of dialogue.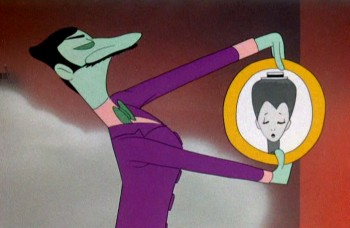 6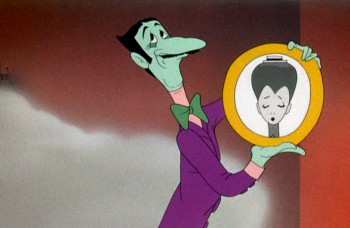 7
Then, if anything, we're going wilder.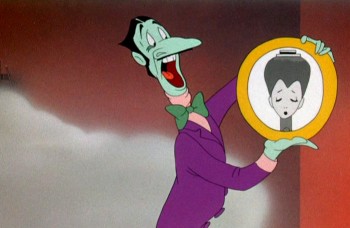 8
Slowly out of quiet hard pose . . .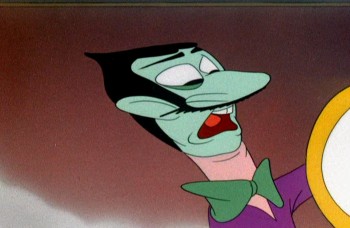 9
WILD as Jones backs the animation move with a tighter cut . . .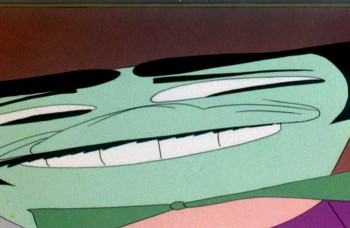 10
. . . and a wild camera move.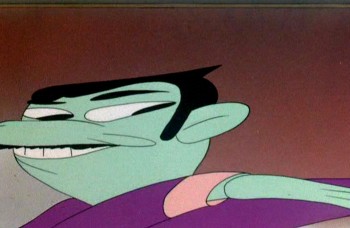 11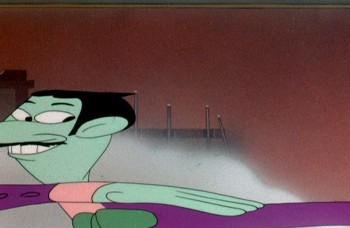 12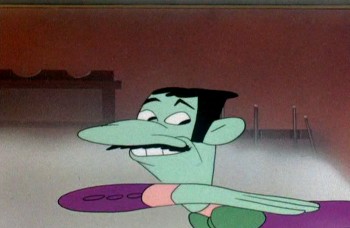 13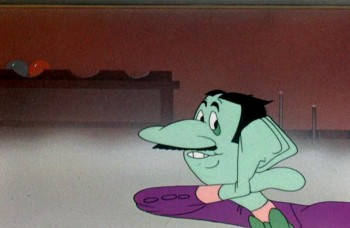 14
Come down to another solid, hard pose and move dialogue.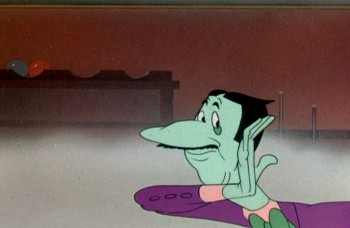 15
Here's a later sequence as the villain kidnaps our heroine.
All cartoon, all comedy, all arch, all on purpose.



He moves wildly via smears inbetween phrases of dialogue.



Line of dialogue – move – dialogue – move.




Every action comes off the exaggerated speech by the arch ( and I do mean arch) villain.








When he gets to the car it moves very naturalistically.



No smears here.

Now let's jump some fifty years to where this has led us.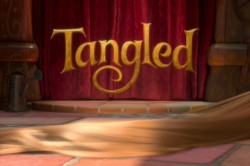 Tangled is a tangled version of the brilliant fairy tale, Rapunzel. The makers have completely distorted the tale to a mish-mash point where it makes no sense, but that's irrelevant to this post. What is relevant is that they continually rob the characters of a reality by pushing, rubbing and smearing them throughout.
The first example of this technique shows up as Rapunzel opens her window. Technically, you start slow, you compress the middle to one or two images, and you slow out over a long beat. The inbetween chart would look something like this:

Here's Rapunzel opening her window: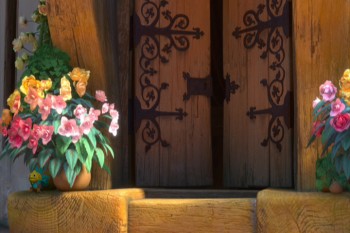 1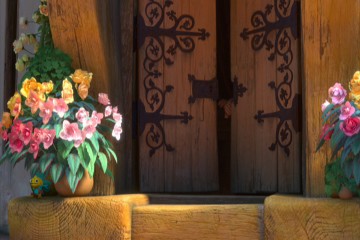 2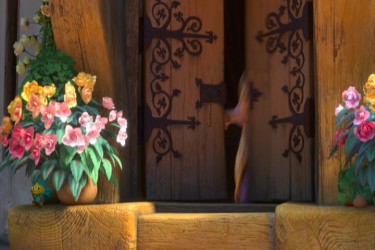 3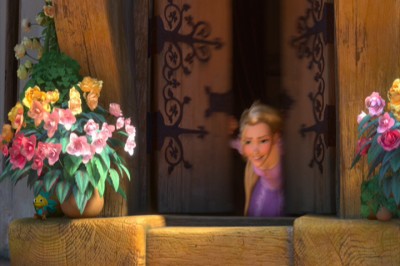 4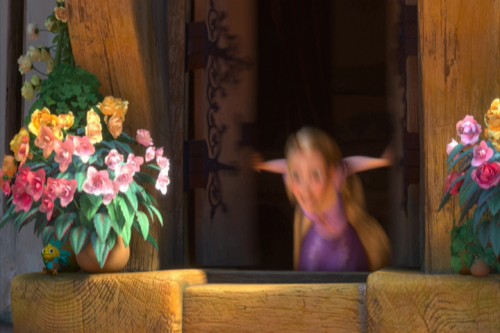 5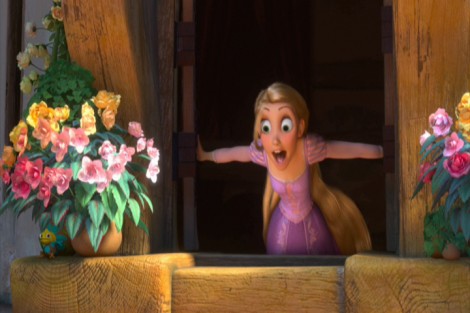 6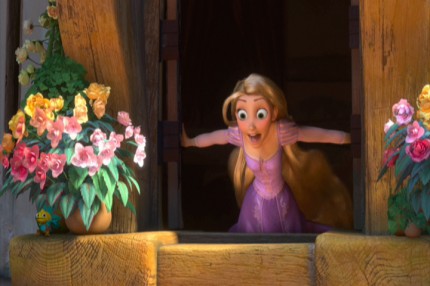 7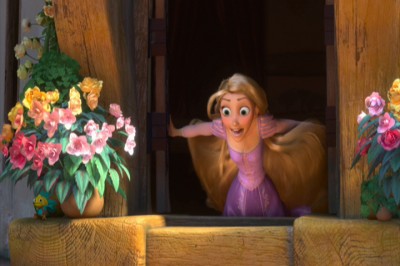 8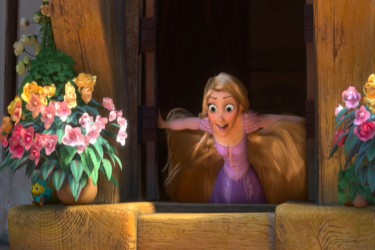 9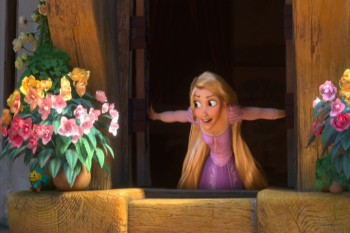 10
It's not really a human motion; it's a cartoon motion. But it's subtle enough this first time, that we can get away with it. Let's just call it fast. However, too often the animation falls into this mode, and by midway through the film, there are no real characters left; just cartoon characters.
I take that back. Mother Goethels is always true to a human animation style. She is a real character, and Donna Murphy's performance grounds it behind the fine animation by Jamaal Bradley, Nik Ranieri and others.
The most egregious in using these smears is the horse character, but if it were only that one, it would work. The horse is a stand-alone. It's personality IS a cartoon. The horse, after all, isn't a horse in this film. It's shaped like another Disney horse, but it moves more like a dog. And it's ALL pops and smears.
Look at these frames of it getting up from the ground, lickety-split: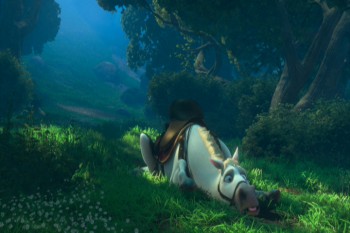 1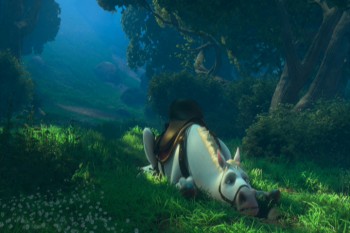 2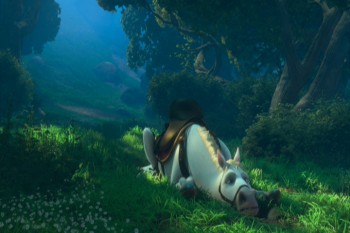 3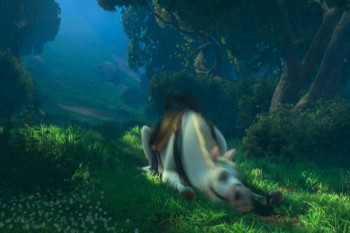 4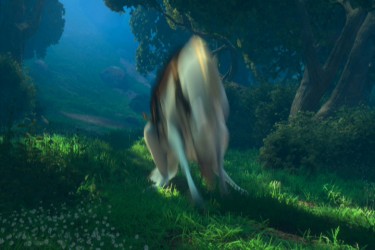 5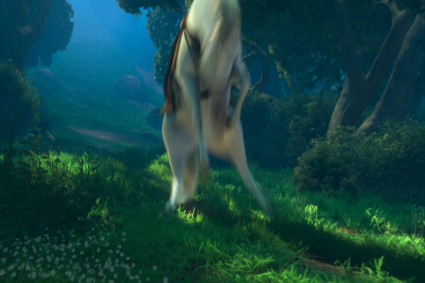 6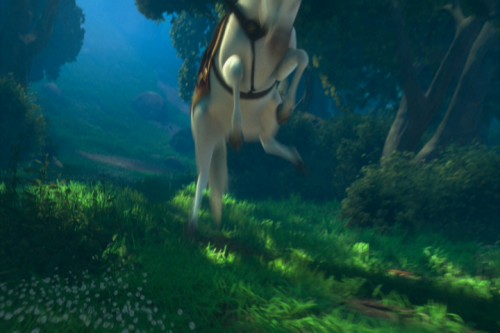 7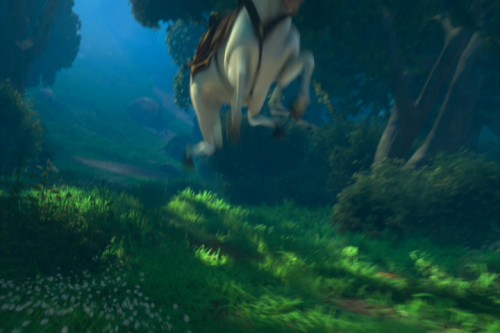 8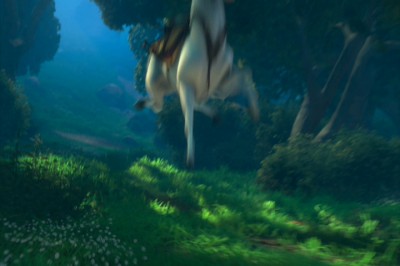 9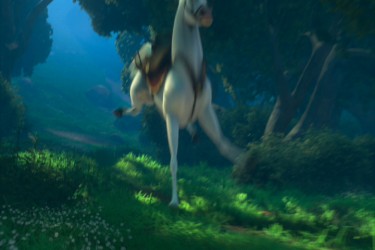 10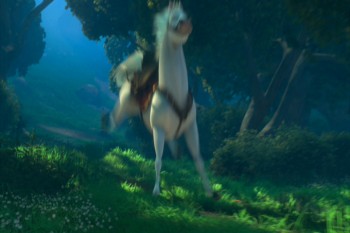 11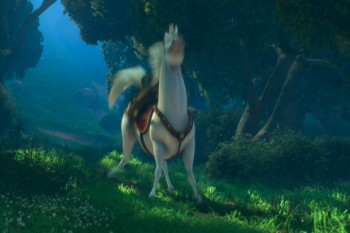 12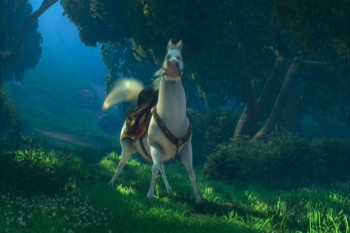 13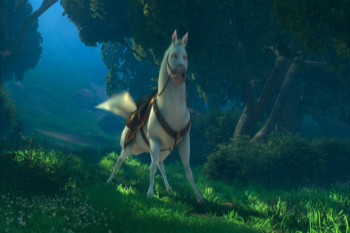 14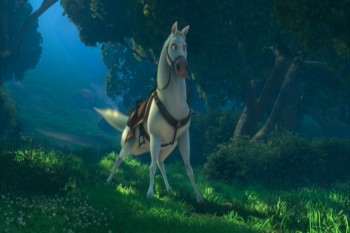 15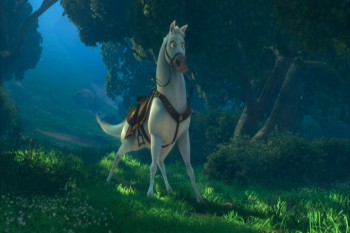 16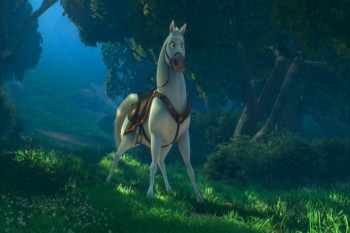 17

The move above is funny, not based in reality. What we have is a cartoon horse. This is not the horse Prince Phillip rides in Sleeping Beauty. It's not even a good caricature of it.
The unfortunate part is that what Bobe Cannon did in the Dover Boys can't easily be done in cgi. The Dover Bioys employed the brilliant cartooning of Cannon; cgi is really just a playing with computerized puppetry. You can stretch and squash somewhat, but distorting as desired isn't always possible. So they stretch and squash and do very fast motions and hide it all under a veneer of out-of-focus. It ends up looking like just fast motion and not a true distortion – as they probably desired. The best you can hope for is image #3 just above. Now compare that to image #10 in the Dover Boys group. Not quite the same are they.
God forbid someone in cgi wants to do what Jim Tyer did. It's impossible.
Here's one last horse. We start rock steady – then zip, blur, stream. Ease in and race back out – zip, blur, stream. To be honest, I'm not sure what's even happening in this scene (the horse is somehow changing into rock and vegetation?), but I let it go past as cartoon.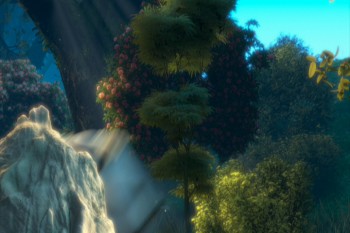 1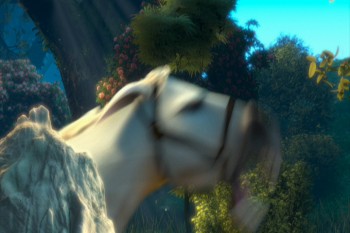 2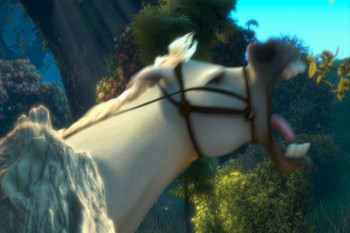 3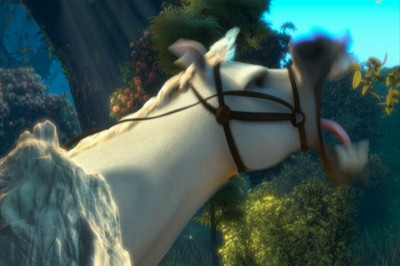 4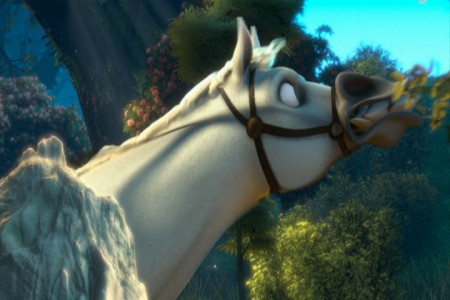 5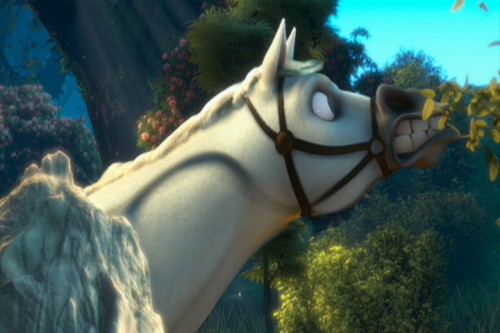 6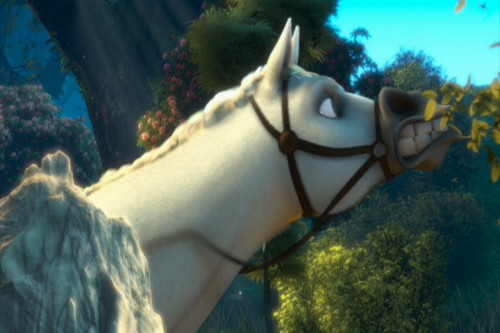 7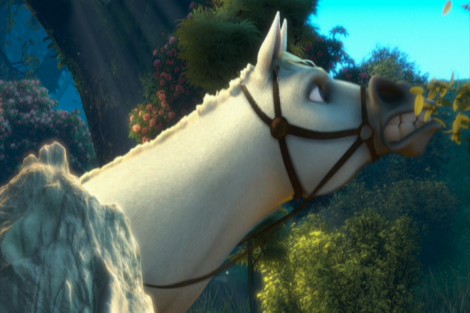 8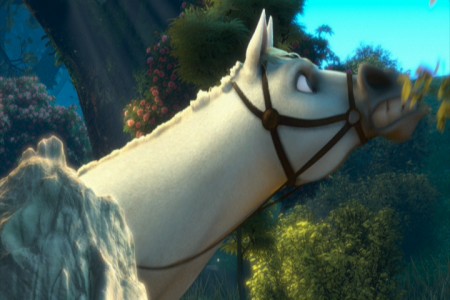 9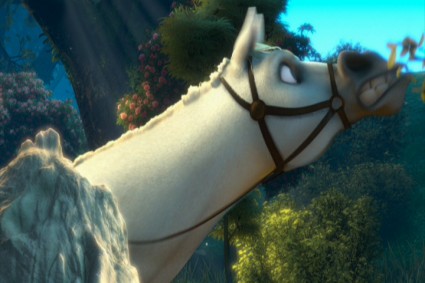 10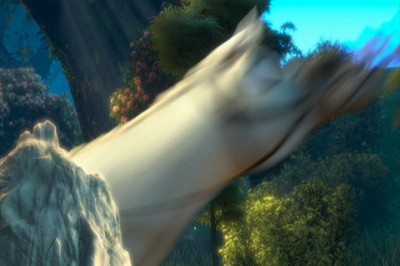 11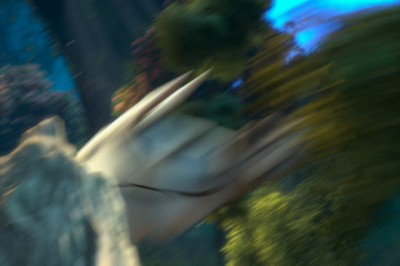 12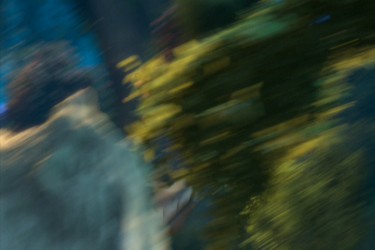 13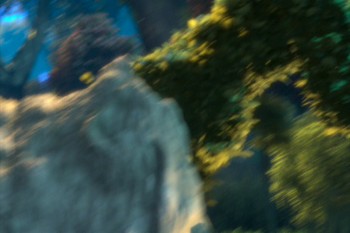 14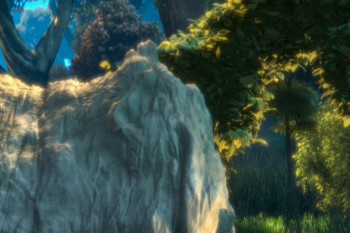 15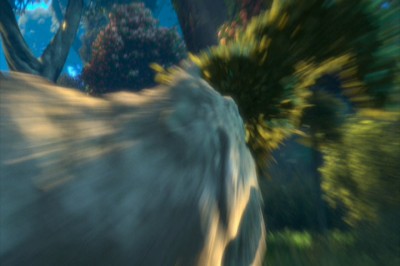 16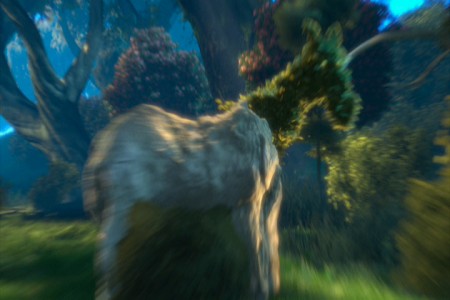 17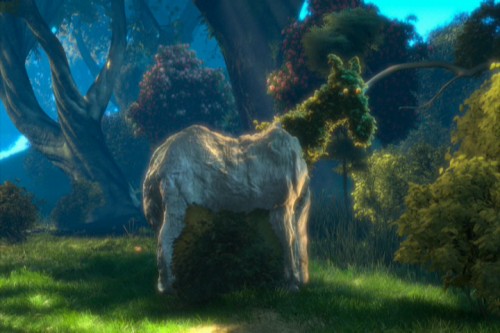 18

To sum up what I'm trying to say. Animated features have sunk their heads into the ground. Everything has become arch and stupid. We're not trying to develop characters but, instead, trying to do some wild movement. Movement that has nothing to do with character development. That's a problem, if you ask me.
If you want to imitate Tex Avery or Bob Clampett, fine. If you want a seriously developed non-cartoon character, then stay away from pops and smears. It works for Aladdin, but it also limits feature films. I think Tangled is a good example of that. Outside of a few characters, I see little believable animation there. It's all just tricks and stunts that pulls away from true, honest animation. It's a comment on a character rather than a development of the character.
Of course, that's my opinion. It's so obvious to me when you see a Ghibli product like The Secret World of Arrietty or anything Mayazaki does. Their animation grows more and more subtle while Hollywood moves in the opposite direction – gags and clichéd actions. I don't understand why Disney product approves of this. Thank god for animators like Andreas Deja who refuses to go this route, and is in absolute control of the characters he animates. There are others like him, and I applaud those artists. I wish they were all of that shape and belief.
27 Responses to "Pops and Smears"
Leave a Reply