Commentary 21 Apr 2012 06:46 am
Indiegogo POE
- Our new Indiegogo campaign for the Poe Project will be up and running this coming week. (Just when you thought you were done with that!) Of course we'll be shouting the news as loud as we can, so you'll know when. I just want to add a video of me talking about the film, and it'll be ready for prime time.
_______________________
The Fleischers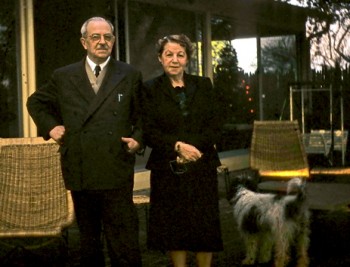 Max and Essie Fleischer at
Dick Fleischer's house in LA, 1956.
on the Fleischer Studios site.
- There is a nice collection of photographs on display at the Fleischer Family website. For the most part, these are photos that haven't been seen, predominantly of Max, that will certainly be of interest to any Fleischer fan.
However if it's artwork you want to see, I suggest you look at Ryan & Stephanie Englade's Fleischer site. He has quite a collect of Fleischer art on display (though there are plenty of rare and precious Disney pieces toward the end of the scroll.)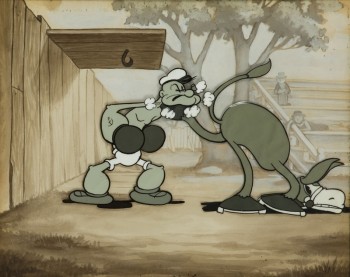 Here's an original Popeye B&W cel from the Englade site.
You can see that the Bg is done in sepias while the
Ink & Pt of the cel is done in cold greys.
It all comes out B&W&grey on film.

_______________________
Funk & Wagnell
- After I'd completed work on Raggedy Ann & Andy, I found myself an "Assistant Director" on R.O. Blechman's hour PBS show, Simple Gifts. This was a compilation of six short pieces about Christmas. Each had a different designer: Maurice Sendak, Seymour Chwast, Charles B. Slackman, James McMullan, Blechman and Fontaine Fox's Toonerville Trolley.
However, before Bob could raise the money for the show, I was pulled into working on a stack of commercials where I acted more as producer and all around artist (inker, painter, assistant animator, animator, movieola operator, etc.) Here's a commercial from that period that I did with think it was 1978(?). I just found it on YouTube. (It's a pretty dark version of the spot.) Ed Smith animated the Van Gogh & Modigliani and Tissa David did Michelangelo & Picasso. Sara Calogero did the painting and I did all the rest of the production art. I also represented the studio on the live action to make sure it would work with the animation.
_______________________
GIRAF Animation Festival
I received the request to post this piece for the Giraf Animation Festival in Calgary, Canada. Why not? Often, it's a festival like this that can find some of the gems that otherwise wouldn't be seen.
GIRAF Animation Festival

CALL FOR SUBMISSIONS

Deadline: August 1, 2012

The 8th annual GIRAF (or the Giant Incandescent Resonating Animation Festival) is looking for Animation submissions, in all styles, genres, lengths, and mediums. Our programs are a strong eclectic mix of animation, representing the best of the medium from Claymation to CG.
We focus on presenting indie, experimental, and underground animations that push boundaries through new techniques, unique visions, and stimulating subject matter. Our 2011 program featured visiting artist David O'Reilly, and 3 of the 5 Academy Award nominees for Best Short Animation!

We DO NOT CHARGE A SUBMISSION FEE, and encourage short and feature length local, national, international, and student submissions.

Animators can submit online at: www.giraffest.ca
_______________________
Maureen Selwood
- On Monday, April 30, 2012 at 8:30 PM, Beyond Enchantment: The Imaginary Voyages of Maureen Selwood be screened at The Roy and Edna Disney/CalArts Theater (Redcat), 631 West 2nd Street, LA.
From the program:
"Selwood grapples with notions of dislocation, grief and loss…The result is indeed akin to poetry, in its piercing sadness that is at once palpable and ephemeral." Holly Willis

Maureen Selwood's animations take us into the strange, beautiful, and sometimes terrifying lands of the mind. For her first solo show at REDCAT, she presents a selection of more recent pieces including the premiere of A Modern Convenience (2012), in which the machine becomes a substitute for intimacy against the backdrop of Niagara Falls. The piece will be accompanied by live performance. In Hail Mary (1998) a centuries old prayer morphs into a humorous black and white memoir. The expressively rendered Drawing Lessons (2006) sublimates a meditation on drawing and nature. I Started Early (2007), based on a poem by Emily Dickinson, explores sexual awakening. As You Desire Me (2009), the single-channel version of an installation inspired by her residence at the American Academy in Rome at the beginning of the Iraq War, confronts sorrow and catastrophe. The program concludes with the hallucinogenic trip of How Much Better if Plymouth Rock Had Landed on the Pilgrims (2009), and Mistaken Identity (2001), Selwood's alluring deconstruction of 1955 noir classic Kiss Me Deadly.
A looped silent version of Rules of the Universe (2009, QT Digital) will be projected on the wall over the exit to the parking lot.
Maureen Selwood will present, in person, a selection of recent films and works with live performance.
The premiere of A Modern Convenience with a live performance by Archie Carey and Odeya Nini.
Mistaken Identity will also be performed with a live performance by Clarissa Romano and The Cathlene Pineda Trio.

_______________________
Consuming Spirits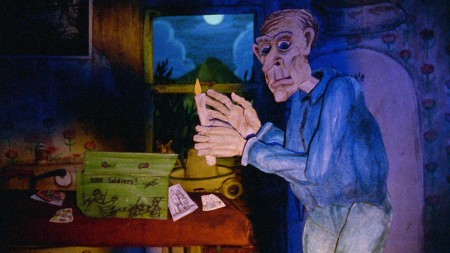 As promised, I'm reminding you that Chris Sullivan's Independenty produced feature Consuming Spirits is premiering at the Tribeca Film Festival this week.
The times for the screenings are:
_____Mon 4/23 6:00PM Clearview Cinemas Chelsea 7
_____Tue 4/24 4:00PM AMC Loews Village 7 – 2
_____Wed 4/25 7:00PM Clearview Cinemas Chelsea 5

_______________________
Gertrude's Follies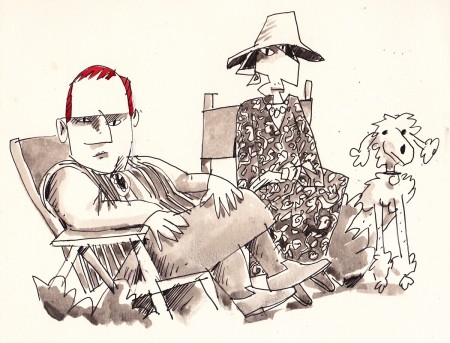 - Finally, Tom Hachtman's great comic strip is back on sale. Gertrude's Follies has been reprinted and is once again on sale at Amazon and Barnes and Noble. Buy it, you won't be disappointed if you love great comic strips.
2 Responses to "Other Things"
on 21 Apr 2012 at 2:47 pm 1.The Gee said …

that's a positive potpourri you prepared for people's perusal.

Poe, Popeye, Picasso…there's something close to perfect about that.

(or I am just picking up on the preponderance of the letter P today.)

Have a Great Spring Weekend!

on 21 Apr 2012 at 7:04 pm 2.Hans Gallas said …

Not to mention the "P" in Pussy, Alice B.'s pet name for her sweetie!
Leave a Reply