Commentary &Photos &Steve Fisher 22 Apr 2012 06:30 am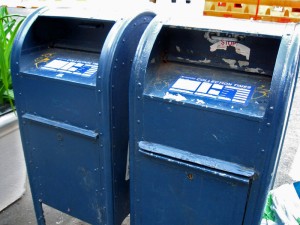 - I handed a "Forward-to-the-new-address-card" to the Post Office and knew it would take weeks to get my mail. Well, surprise! Surprise! It took exactly one day. And it keeps on coming. Who says you can't trust the post office?
In honor of the noble institution, I've decided to repost this 2009 group of pictures of mailboxes. It seems a bit fitting.
Mailboxes, both brown and and blue, they exist in droves holding onto the snailmail still out there. One might wonder how many more postage rate increases it can withstand before we depend allmost exclusively on internet communication.
These days many of the boxes have been decorated with graffiti of different sorts. All of it seems to be some kinda message to the world.
Nice and clean with dozens of coats of paint
Given that it's probably a federal offense, one would expect such graffiti to be limited. But I'd say that that's not the case.
I can remember walking down the street with John Leguizamo and his director David Bar Katz as he was about to open in Freak on Broadway. Al around town his face was stenciled on sidewalks and walls promoting the show.
We passed a mailbox and John saw his image/ad. He got upset. He knew that it was a federal offense to mark up the mailbox and he asked his director to see if he could look into stopping such practices. The show opened and I suspect there was no such inquisition from the feds.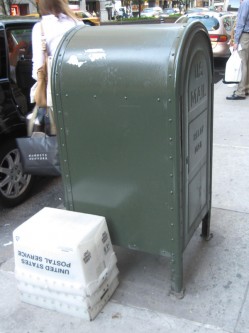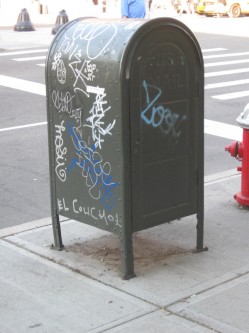 (Click any image you want to enlarge.)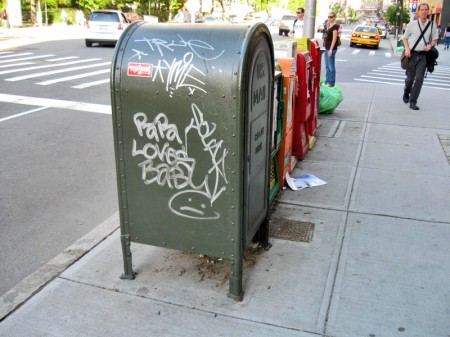 One graffiti writer wanted the world to know that "Papa Loves Baby"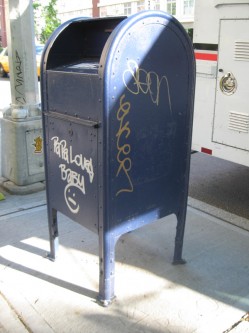 . . . so scrawled it up and down Houston St. in the Village – both sides of the street – on all of the mailboxes.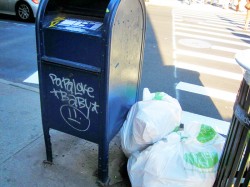 It certainly got the point across to "Baby".

.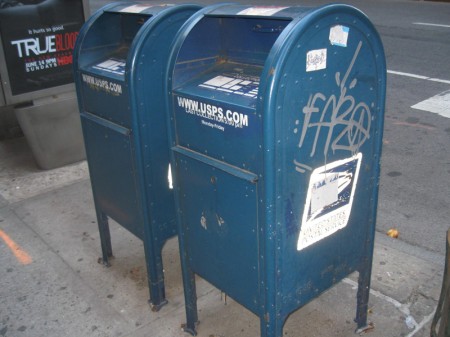 "Faro" is someone who's been out there for quite awhile.
(S)he doesn't just cover mailboxes. Subway walls and posters
are also fair game for this scribbler.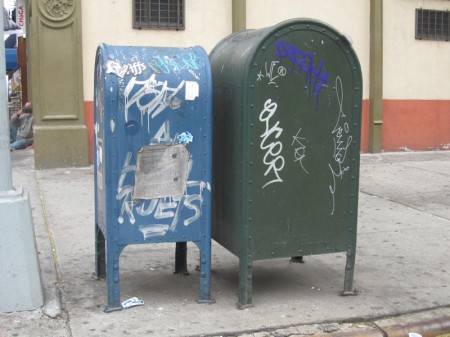 They can get pretty gritty.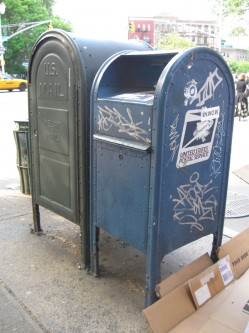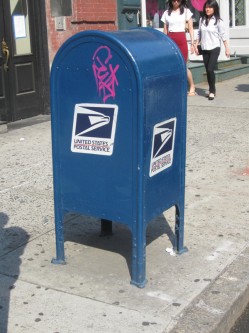 or some get newly painted with just a touch of pink.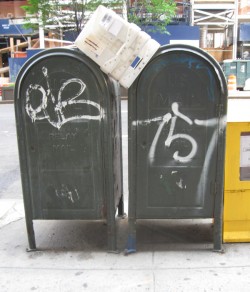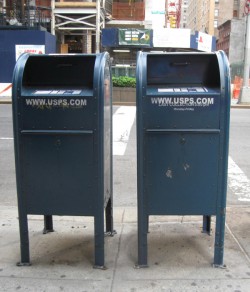 Sometimes they come in pairs – brown or blue.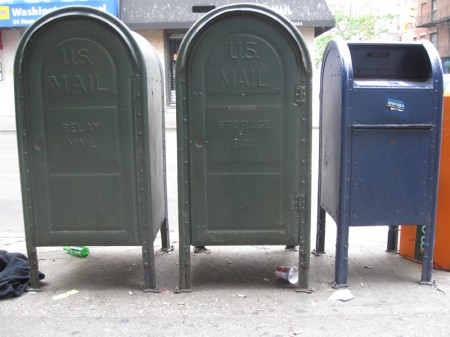 or threes. (newly painted)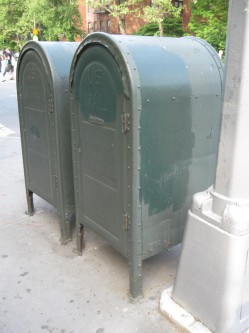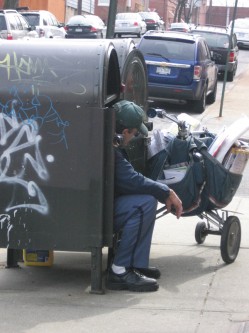 Unfortunately, clean up painting things don't get much better. Splotchy coats
of paint that don't match the undercoat don't always improve things.
It's exhausting when you think about it.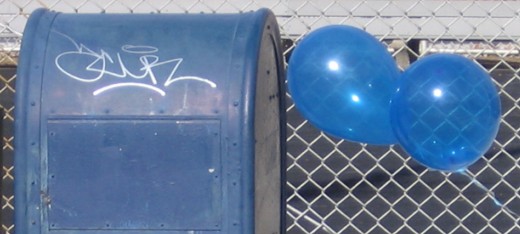 These last two photos are by Steve Fisher,
a better eye for the humorous than I.
3 Responses to "Sundayphoto Mailboxes – recap"
on 22 Apr 2012 at 8:39 am 1.Stephen Macquignon said …

Yesterday at work I was talking to one of my young coworkers about a long distance relationship I was in and how we communicated with snailmail.
I remember always looking forward for the mail to arrive.

on 22 Apr 2012 at 10:11 am 2.steve fisher said …

I, too, had a long-distance correspondence, in my case with a teenage cousin on the west coast that I did not meet until four years of writing to each other, and we maintained our letter-writing for many, many years until we recently adopted the email method of communication. I very much enjoyed the ritual of walking the block to our local mailbox to send off my latest letter and waited anxiously and impatiently to receive a response. As much as I like the immediacy of an email exchange, I do miss the old days. The personal aspect of seeing someone's handwriting also added to the intimacy and personality of the letters. I hope that 'snailmail' will not fade into extinction for future 'pen pals' because I think there is something wonderful about the anticipation that time imposes on the process.

on 22 Apr 2012 at 5:54 pm 3.The Gee said …

http://www.youtube.com/watch?v=7gyZw5tvAhI&ob=av2e
(wilco-Box Full Letters)
Leave a Reply