Commentary 28 Apr 2012 07:57 am
Poe & Indiegogo
- Tomorrow, we will be opening our new Indiegogo page reintroducing the Poe Project to you. We'll start with much the same offering we did for the Kickstarter run. However for the length of time this is up, we'll be writing about the film and Edgar Allan Poe on our site on Sundays. Our goal is about half of what we aimed for last time, but we're encouraged that we'll be able to get there this time and will be working on POE soon.
___________________________

Stark Raven Mad
- The Raven makes its way into theaters this week, and I saw it last Tuesday. This is a film starring John Cusack as Edgar Allan Poe. He's pulled into service consulting with the police on a serial murderer's killing of numerous people using ideas copied from Poe's own stories. If Poe wants to save his young fiancée, he has to work hard at producing several new stories built on ideas he gets from the work of the killer. The flilm is ridiculous and tries to be a variant of the Robert Downey jr. Sherlock Holmes movies. Action, action, action with erroneous snippets about Poe and his life.
The film starts with an inaccuracy and goes wildly from there. The title card reads that Poe was found dying on a park bench. In fact, he was found acting wildly outside of a tavern known as Gunner's Hall or Ryan's Tavern. With this false premise the film is allowed to end with E.A.Poe dying, in the fresh snow, on a park bench, alone. In fact, he died another four days later after being placed in a pauper's hospital where he wasn't allowed visitors.
I noticed the Rotten Tomatoes average of 20% positive reviews for this film. Not good at all, but I'd expect that's accurate.
The death of Poe has become a real mystery thanks to the poor reporting of his biographer, Rufus Wilmot Griswold. He had published a couple of Poe's poems, received a very negative review from Poe, and the two became strong rivals. Griswold later published the first biography of Poe picturing him as a depraved drunkard and a drug-addicted madman. Despite objections from those who knew the truth, this negativ image of Poe remains even to this film in 2012.
Poe spent the evening of his death having dinner with three friends, during which he did not drink alcohol. He then went to the train station where he bought a ticket for a later train to Philadelphia, which he was to catch that evening. From this point to that, when he was found delirious on the streets outside Gunner's Hall, there is nothing known for sure.

___________________________

Pirates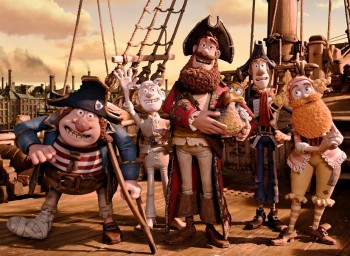 - On the Academy's double bill with The Raven was the new Aardman animated feature, The Pirates: Band of Misfits. The film is well executed; the models are attractive, the detail in the sets is exceptional, and the animation is first rate (although there was something odd going on at times which made me wonder if they'd shot it at the European gauge of 25 fps.). Just the same, it was nice to see 3D puppets as opposed to 3D cgi. The look of this film was so much better than the slick Arthur's Christmas. One can only hope that Aardman sticks to what they do best – stop motion.
The film is funny. In fact, that was a bit of a complaint I had. It was gag, gag, gag, so that you end up laughing fewer and fewer times. Yet, the big story was inconsequential and felt, to me, as though it had no real drive. The film revolves around the "Pirate Captain" (that's his name) who wants to win the "Pirate of the Year" award and has to meet a self-imposed challenge to win the award. (Sort of like wanting to win an "Oscar" and making a film with that goal in mind.) This makes for too small a story to keep me captivated, and I felt outside the film for the entire time watching. I checked my watch often enough for this 90 minute movie. Essentially, I found the film is OK, but not necessary. Not quite as strong as Chicken Run.

___________________________

ASIFA East Fest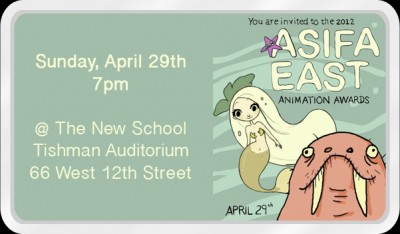 Tomorrow, April 29th, Sunday 7pm, ASIFA-East presents
The 43rd ASIFA-East Animation Awards
The Awards will be presented, followed by a free food & drink reception.
Again, the admission is FREE! And it's open to all!
The New School
Tishman Auditorium
66 W. 12th Street
(bet. 5th/6th Aves)
NYC

___________________________

UPA On Line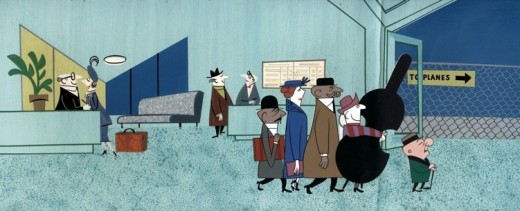 - Adam Abraham is the author of the new and brilliant book, When Magoo Flew, the history of UPA. He wrote me to introduce his new site, also named When Magoo Flew. The site acts as an archive of his UPA research material, and it's a new an attractive addition to the animation net. I've added a link to my blogroll on the right.

___________________________

Honor
RIchard O'Connor of Ace and Son sent me this link to a film they just completed and which debuted this week at the Tribeca Film Festival. Richard wrote this about the animation:
It was an interesting project and we were pretty much given a video edit of the talking head footage and left to our devices to make it work. There was a need to have a "historical" look countered with the need for fluidity/looseness and I think we came up with a good middle ground. Everything is painted on paper with the line on a separate level (I wanted to do it all on one piece of paper but we ran out of Ingram bond and the cheap stuff caused horrible bleeding AND Cartoon Colour took a month to get us another shipment). You can see where sometimes the tracebacks aren't there for the paint level.
The coloring looks more like marker on cel, to me, than color on paper. Quite a difficult look to pull off. I'd be curious to see what it looks like on the big screen.
An ArtsEngine, Inc. Production
EDITED BY – Gabriel Rhodes
MUSIC COMPOSED BY – John Kimbrough
ANIMATION BY – Ace & Son Moving Picture Company
ANIMATION DIRECTOR – Richard O'Connor
DESIGN/LEAD ANIMATOR – Kelsey Stark
ADDITIONAL ANIMATION – Liesje Kraai
PRODUCTION ARTIST – Dee Mackey
CAMERA – William Rexer II
SOUND – John Zecca
RESEARCHER – Danielle Varga
PRODUCTION ASSISTANT – Justine Pierce
SPECIAL THANKS – Kwame Anthony Appiah
8 Responses to "Busyness"
Leave a Reply