Animation Artifacts &UPA 22 Mar 2006 10:34 am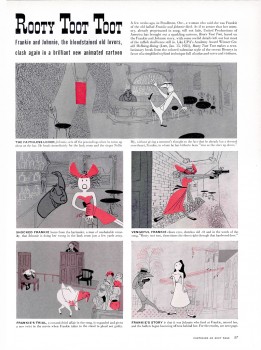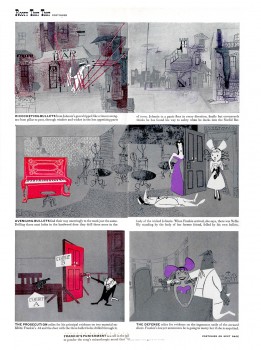 (Click any image to enlarge to a readable size.)

- This is my second attempt at posting this LIFE Magazine story on Rooty Toot Toot from a March, 1952 issue. They obviously enjoyed the UPA films back then, and luckily for us they posted it on something concrete – like paper.
Next Sunday, March 26th there will be a UPA program to be held at the Egyptian Theater in Hollywood. The films scheduled include:
Bobe Cannon's "Gerald McBoing-Boing", John Hubley's "Rooty Toot Toot", Ted Parmelee's "The Tell-Tale Heart" and Pete Burness's "When Magoo Flew", as well as shorts produced for "The Gerald McBoing-Boing Show", "Deerfoot Dan" and "Blues Pattern".
There will also be a preview of a forthcoming documentary THE BOING THAT SHOOK THE WORLD.
In between the films there will be two panels hosted by Jerry Beck. His guests will be: UPA animators and designers including Bill Melendez, Alan Zaslove, Willis Pyle, Fred Crippen, and Sam Clayberger. There will also be contemporary artists: Mark Kausler (BEAUTY AND THE BEAST, THE LION KING), Lou Romano (production designer of Pixar's THE INCREDIBLES) and author/historian Amid Amidi.
It sounds like an amazing show that I only wish I could attend. I'll have to satisfy myself with those amazing studio photos posted by Amid on the Cartoon Modern site.
Sunday, March 26 – 6:00 PM
The Egyptian Theater
6712 Hollywood Boulevard
Hollywood, CA 90028
5 Responses to "Root Toot 2"
Leave a Reply