Commentary 26 May 2012 05:05 am
Away Goes Indiegogo POE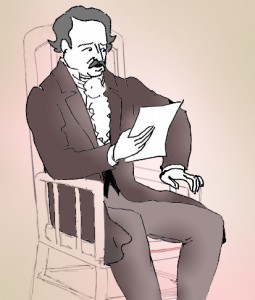 - Finally, the Indiegogo campaign is complete, and it was a total success.
Thank you all. The amount shown on PayPal doesn't reach the $13,000 goal requested, just $12,225. But several people had difficulty with PayPal and asked to just send me the money directly. With that additional $1450, we've definitely reached and passed the goal, and I couldn't be happier. $13,675.
I'd like to thank those people who opened up their blogs to make mention of the campaign. Michael Barrier and Mark Mayerson had a direct effect on the moneys contributed. I can track several thousand dollars directly to their promotions. I'd like to thank them for the unbridled support they both gave. The same is true of several others, most notably Bill Benzon and Steve MacQuignon. There were certainly others I wasn't aware of, and I'd like to thank those people as well. Including all those who listed it on Facebook. Every mention helped. Hillary was right; it does take a village. Thank you enormously for the reinforcement.
I've been working on the storyboard for the sequence I plan to animate and have been moving much-too-slowly. I've been reworking every drawing endlessly, and will have to get to just roughing them out. As we all know, the finish of the storyboard drawings is basically irrelevant to the completed movie. Getting the emotion and the power of the sequence across is much more vital. That'll be happening, and the project will be moving forward immediately.
We have been negotiating with a cable TV company about selling the US rights to the film, and I expect to have a deal in the next couple of weeks. This will give us the traction to raise the rest of the funds for the feature. We have a sales agent in England who will sell the film (with the help of the trailer I'm making, thanks to your support) outside of the U.S. to complete the budget.
I'm at the starting line just waiting for that gun to go off, and I definitely heard a pop!
______________________________

A Cat In Paris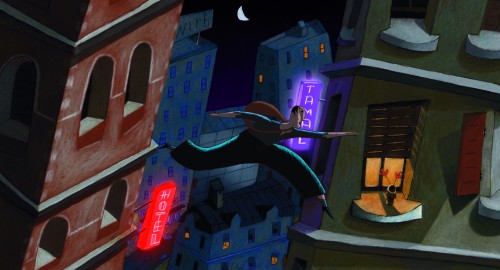 A Cat in Paris
- A Cat in Paris is opening in NYC for all you who missed it in its recent run for the Oscar. It's an exceptionally good animated feature distributed by GKids. Directed by Jean-Loup Felicioli and Alain Gagnol it tells the story of a pet cat that leads a double life. By day he lives with Zoe, whose mother is a detective in the Parisian police force. But at night he sneaks about the rooftops of Paris working with Nico – a cat burglar, whose fluid movements are poetry in motion – as he evades captors and goes from rooftop to rooftop across the Parisian skyline.
It's a delightful film with few words of dialogue and a beautiful sense of style.
Fri Jun 1 ANGELIKA FILM CENTER
10:55 12:25 1:55 3:25 4:55 6:25
Sat Jun 2 ANGELIKA FILM CENTER
10:55 12:25 1:55 3:25 4:55 6:25
Sun Jun 3 ANGELIKA FILM CENTER
10:55 12:25 1:55 3:25 4:55 6:25
Buy tickets in advance here.

______________________________

Fantastic Mr. Anderson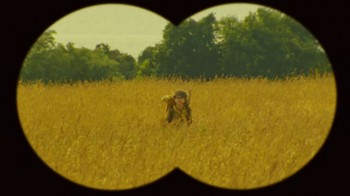 - It wasn't too long ago that I was raving over Wes Anderson's adaptation of The Fantastic Mr. Fox, Raold Dahl's novel, made into film using animated puppets. I saw Anderson's most recent film, Moonrise Kingdom this week. To my taste, it's a wonderful film, despite the fact that it's not animated. Like all of his films, it's so obvious that Mr. Anderson made it. The compositions are offset, the search for a real live father is always part of the story, and the set design is particular; it could only be he who directed the movie. I also find that I tend to smile throughout his films. That's certainly true of this movie. It went on a bit long for me, but that's ok. I'll still go to see it again.
Alexandre Desplat is definitely writing the best scores for films these days, though Tom Newman is no slouch either.
______________________________

Bklyn Film Festival
- While many animators will be in Annecy at the opening of June, there's an alternative for those of us stuck in New York. The Brooklyn International Film Festival will run from Friday June 1st through Sunday June 10th. Their program includes many animated short films. I suggest you go to their site to look for more information about any of these films as well as screening times. These are the titles and list of directors that will be screened:
2012 ANIMATION FILM LINEUP
ALWAYS A FAMILY Dir: The Rauch Brothers, United States, 4 min, 2011
ANIMEDITATION Dir: Jonathan Rosen, United States, 3 min, 2011
BOOBATARY Dir: Leah Shore, United States, 2 min, 2010
BOX, THE Dir: Dadomani Studio, Italy, 3 min, 2012
CITY OF GOOD PEOPLE Dir: Hur Bum-wook, Korea, 16 min, 2011
COUNTDOWN Dir: Celine Desrumaux, England, 4 min, 2011
EDMOND WAS A DONKEY Dir: Franck Dion, France, 15 min, 2012
GALLERY Dir: Robert Proch, Poland, 5 min, 2010

GOLDEN EARS Dir: Jonathan Rosen, United States, 5 min, 2011
HUNTER, THE Dir: Marieka Walsh, Australia, 7 min, 2011
INNER CITY Dir: Alain Fournier, Canada, 9 min, 2011
KING CREOSOTE & JON HOPKINS – BUBBLE Dir: Elliot Dear, England, 5 min, 2011
LADDER, THE Dir: Emily Wormley, United States, 4 min, 2011
LAST BELLE, THE Dir: Neil Boyle, England, 19 min, 2011
LIGHT THAT DIED IN MY ARMS, THE Dir: Alan Foreman, United States, 2 min, 2012

MAKING OF LONGBIRD, THE Dir: Will Anderson, Scotland, 15 min, 2011
OLD MAN Dir: Leah Shore, United States, 6 min, 2012
OLD MAN AND THE OLD WOMAN, THE Dir: Basia Goszczynska, United States, 8 min, 2011
SID THE KILLER Dir: Harry Teitelman, United States, 5 min, 2011
STOPOVER Dir: Neil Stubbings, Switzerland, 4 min, 2011
TULIPOMANIA: RUMBLE THUD Dir: Cheryl Gelover & Tom Murray, United States, 3 min, 2011
WE, THE MASSES Dir: Eoghan Kidney, Ireland, 14 min, 2011
WHO LASTS LONGER Dir: Gregorio Muro, Spain, 12 min, 2011
WOLF DOG TALES Dir: Bernadine Santistevan, United States, 6 min, 2012
______________________________

Arjun – The Warrior Prince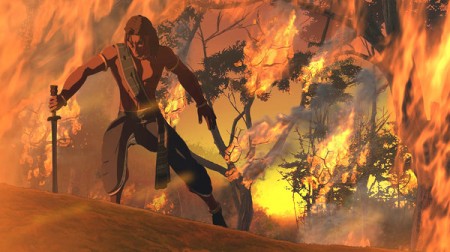 - Yesterday an Indian animated feature opened in NYC. It was reviewed in the NYTimes by Rachel Saltz in a relatively short review.
An Animated Mahabharata, it opened in New York, Los Angeles, San Francisco, Chicago, Dallas and Houston. Who knows how long it will play. The stills for the film are certainly provocative.
For now it's at: AMC Loews Village 7
(I found it a bit difficult to actually find out where it's playing.)
10:45am, 1:00pm, 3:30pm, 5:45pm, 8:05pm, 10:30pm
This film is from the studio, UTV, an Indian communications conglomerate, that was taken over by Disney; they are billed as a "Co-presenter."
According to the NYPost, ". . . the title character vaguely resembles Disney's Tarzan, but nobody is going to mistake the less-than-state-of-the-art, computer-game-style 2-D animation for the work of" . . . Disney, much less its Pixar subsidiary.

______________________________

Traditional Animation
- James Nethery posted a longish interview with me on his site, Traditional Animation. You might want to take some time floating around the site while you're there; you'll find a lot of very entertaining material there (despite the interview. I can get chatty at times!)
I've added this site to my blogroll.
7 Responses to "Stuff"
Leave a Reply