Animation Artifacts &Frame Grabs &Hubley &UPA 28 May 2012 06:21 am
- One of the real neglects in animation history is the availability of The Four Poster in VHS, DVD or any other format. For some reason, this title has eluded marketers who'd want to cash in on the name of Rex Harrison or his wife, Lilli Palmer. Where's TCM when you need them.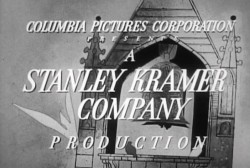 This film was a Stanley Kramer production directed by Irving Reis in 1952 of a play by Jan de Hartog. It tells the life story of a marriage between the husband and his wife. In fact, the film is so insular that it never leaves the bedroom, and it revolves around the "four poster" bed in that room. For the film, they chose to open it up by leaving the bedroom via animated inserts done by John Hubley at UPA. There are some 20 minutes of the film done by Hubley/UPA, and it's extraordinarily progressive animation for the time.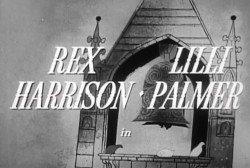 I own a good 16mm copy of the whole film, and cut the animation segments separate from the feature, I allowed a friend to make a video copy but was very disappointed with the results – out of focus and almost unwatchable. In the past couple of weeks, another friend led me to a second DVD copy which is also out of focus but not as bad as the first.
I've wanted to focus on this film for some time, hence I decided not to wait any longer and am sharing frame grabs with you of this muddy, soft focus version. You can still get the idea. If another, better copy turns up in the future, I'll rework these images and repost it.
Here are bits from the opening credits. Lots of traveling right and then left and then right again.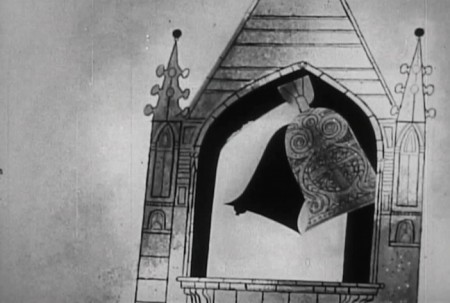 3
The film does get very claustrophobic staying in the one bedroom set
for the entire film, with just the two characters, husband & wife, to talk
us through most of the movie. It's exhausting.

This makes the animation more welcome than it would ordinarily be.
You're dying for any excuse to change scenery and move the story forward.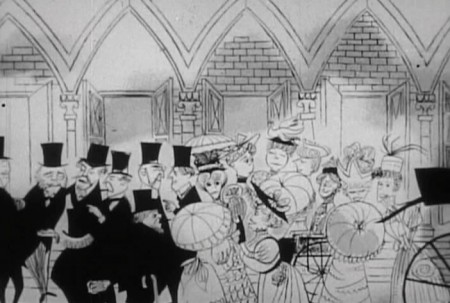 4
On top of this, the live action is very theatrical
whereas the animation is full of life and quite lyrical.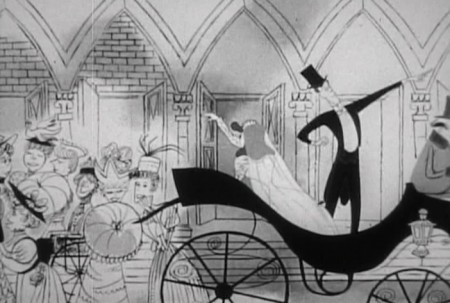 5
The animation does reveal a good part of the story from the
birth of their boy to his death in WWI on the front lines.
(Hubley designs one of his greatest sequences for this one.)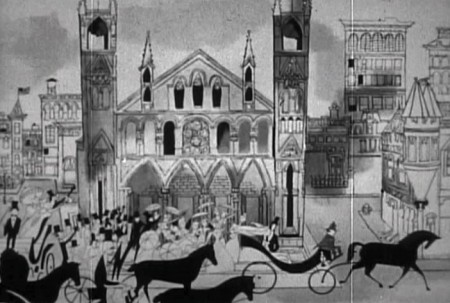 6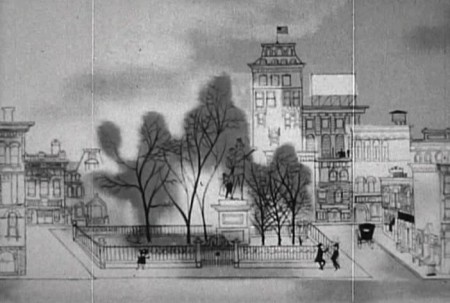 7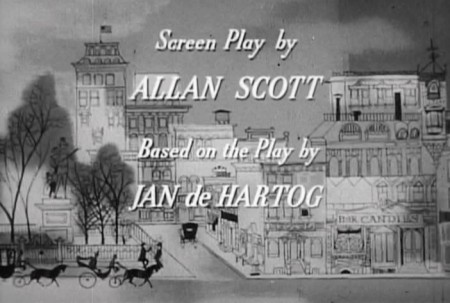 8
Supposedly, the film was sent to Yugoslavia for a run.
Some of the people in Zagreb were able to kidnap the film
and hold onto it for a number of additional weeks. They
studied it closely and copied it.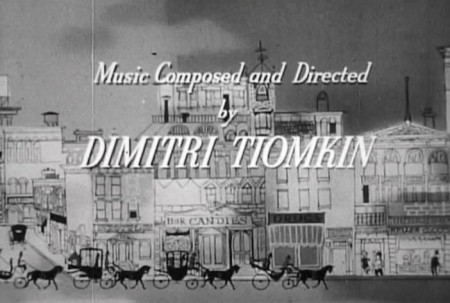 9
When they were finished the print was returned to
the States, and they started up Zagreb animation with their
new-found knowledge and inspiration. A bit more than inspired,
shall we say. How very 21st Century of them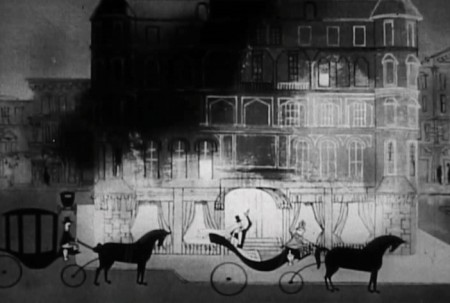 10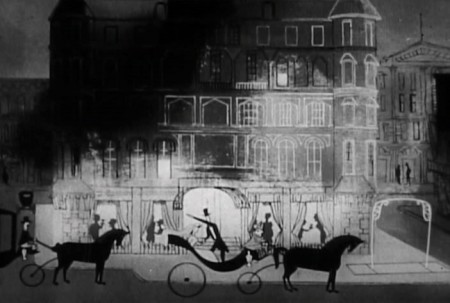 11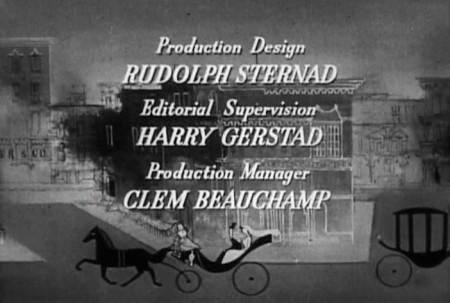 12
In his book, When Magoo Flew, Adam Abraham doesn't give a lot of
space to the work on this feature. However, every small comment
seems valuable since so little has been written about this film.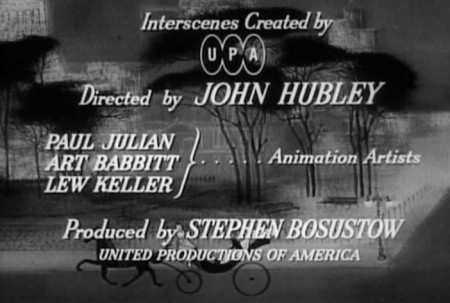 13
Abraham says that Hubley and crew went onto this directly after
finishing Rooty Toot Toot. They were broken into small groups
with each group doing one of the interecenes in the feature.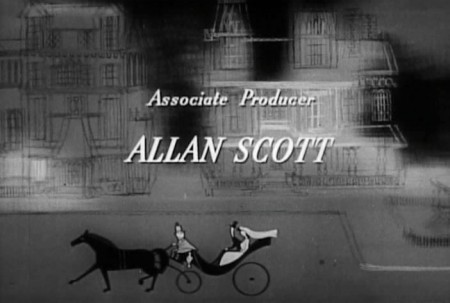 14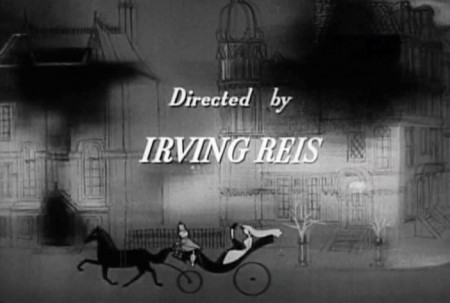 15
Paul Julian oversaw the stylistic representation of the War
and Art Babbitt animated the sequence showing the effect
of the war on the soldiers coming home.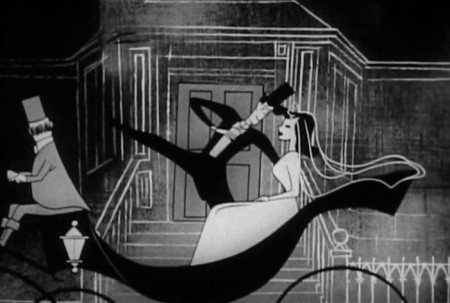 16
In total, it's an enormous accomplishment.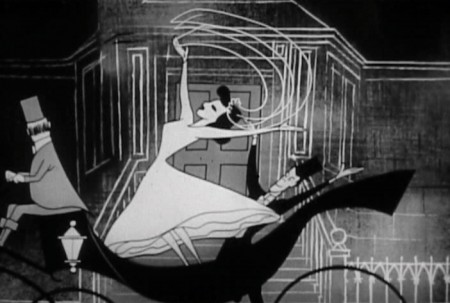 17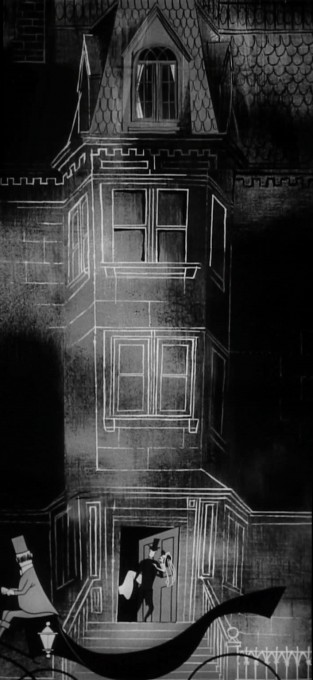 18
19


____________________
.
The first animated intersection shows the Rex Harrison character going off to work as a teacher in a boys' school.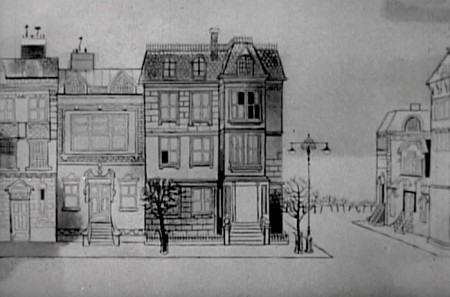 1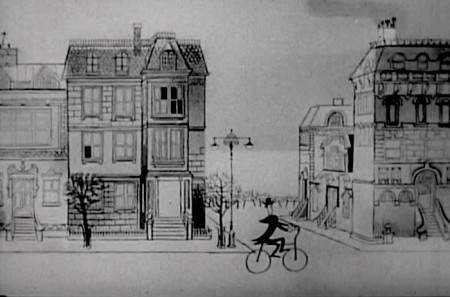 2
Out of the home, Rex Harrison's character
comes cycling on his way . . .


. . . to school. Like many other sequences in this animation,
he rides a long pan to the school where he enters on bike.


Inside the school, we echo the first scene with another pan.
This time we pan from class to class ending with . . .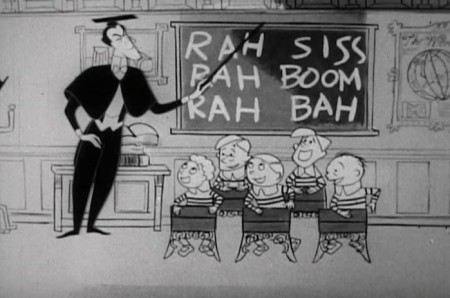 5
. . . Rex Harrison's very unethical class, where the kids are having fun.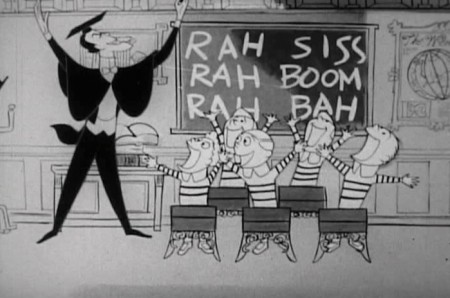 6
They're cheerleading.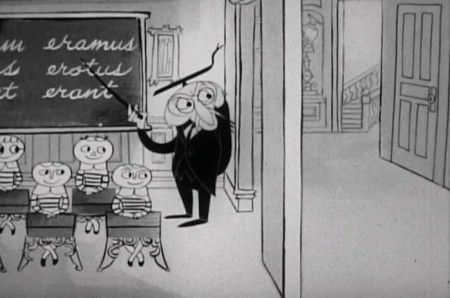 7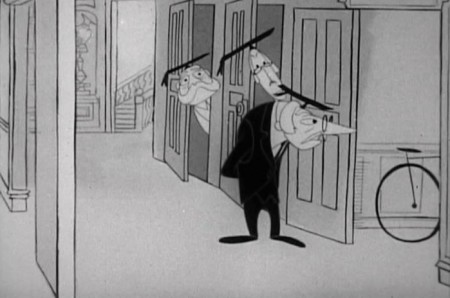 8
The raucus noise of his class is disturbing other teachers.
They don't like the students having fun.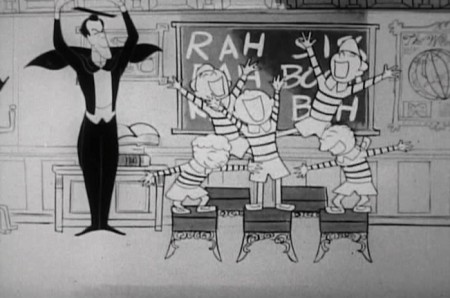 9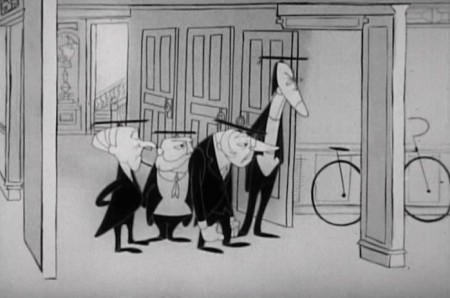 10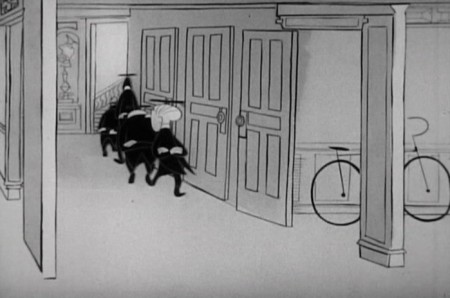 11
Off to the Dean's office to complain.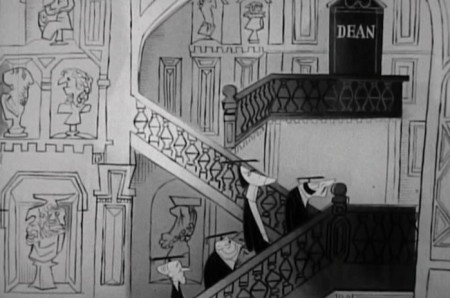 12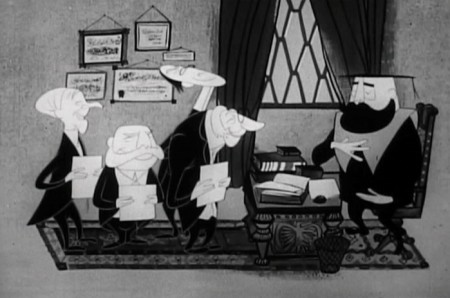 13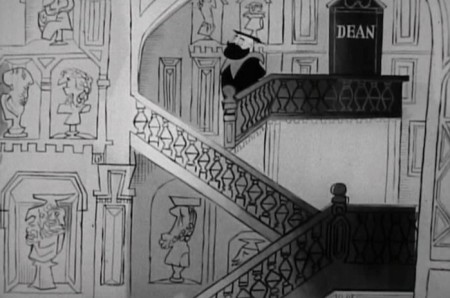 14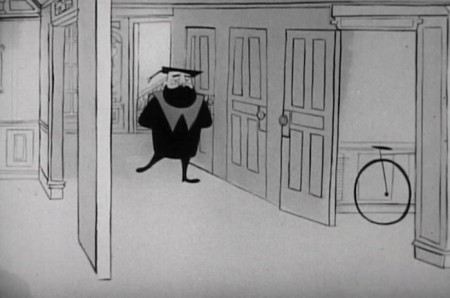 15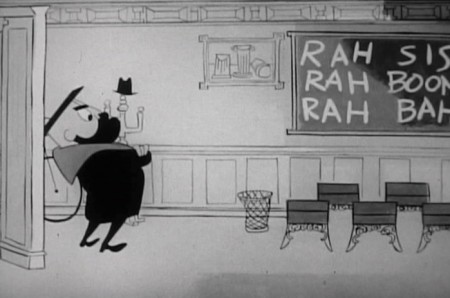 16
The Dean breaks in to something too much fun.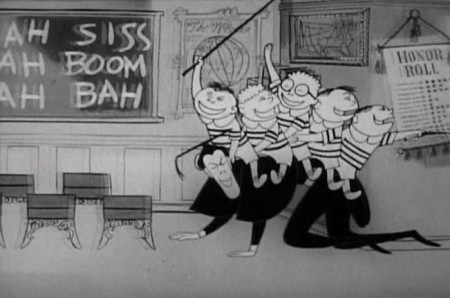 17
Even with the soft focus, you can see
that the character design is great.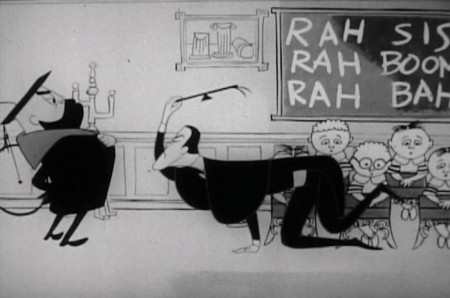 18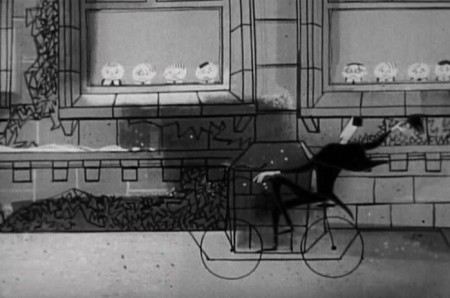 19
He's been fired.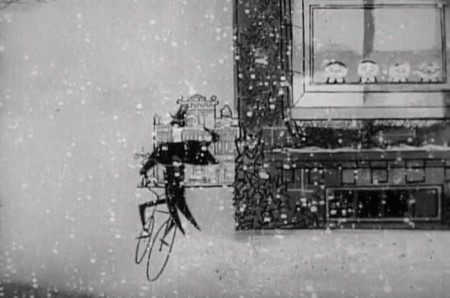 20
He goes off into the sunset of a
snow fall.
Back to live action
3 Responses to "The Four Poster"
on 28 May 2012 at 7:31 pm 1.The Gee said …

"When they were finished the print was returned to
the States, and they started up Zagreb animation with their
new-found knowledge and inspiration. A bit more than inspired,
shall we say. How very 21st Century of them."

Wow. There must have some magic in that old silk hat they found…

By the way, on that bike design: that's the way to go. It must allow and be better for just focusing on the figure and the action.

on 29 May 2012 at 5:57 am 2.hans bacher said …

STUNNING, michael! thank you so much for this incredible 'job'. I was forever looking for a print of that film because there are so many rumors around it. especially interesting the little ZAGREB-film side note. amazing!

on 09 Jun 2012 at 5:36 pm 3.Layla said …

Youre so cool! I dont suppose Ive read anything like this before. So nice to find somebody with some original thoughts on this subject. realy thank you for starting this up. this website is something that is needed on the web, someone with a little originality. useful job for bringing something new to the internet!
Leave a Reply