Animation Artifacts &Fleischer &Models 06 Jun 2012 06:06 am
- Continuing with artifacts from the late Vince Cafarelli's collection, here are a bunch of model sheets from a number of different Fleischer Studio productions. I've mixed some from the Raggedy Ann shorts, the Stone Age films, the Superman films and one ersatz model from a solo cartoon.
We begin with The Stone Age films. Long before the Fllintstones, there were these inventive shorts about the very same subject, a caveman family living
as though it were the modern day world though they're still in caveman attire. (Not too different from the Jack Benny caveman in Chuck Jones' Daffy Duck and the Dinosaur.)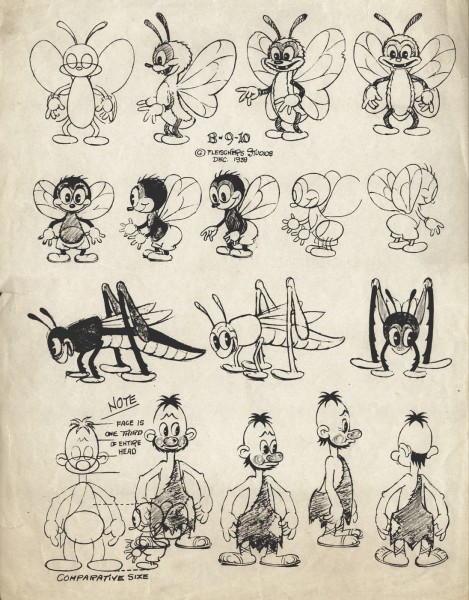 1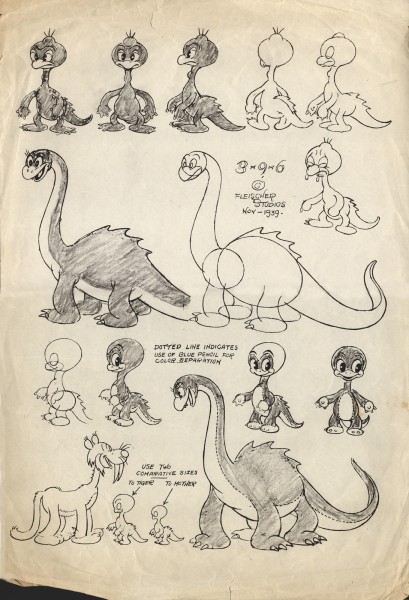 2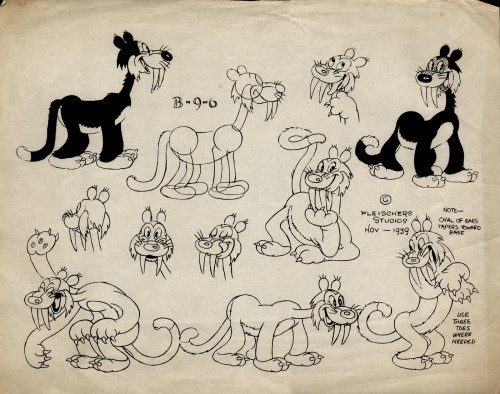 3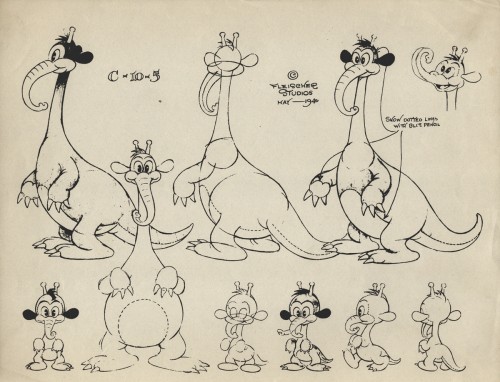 4
(Actually, with this model I'm guessing it's from a Stone Age cartoon.
For all I know, the Fleischers may have tried their hand at Dr. Suess.

There are a couple of models from the Raggedy Ann films. Quite different from the Dick Williams version.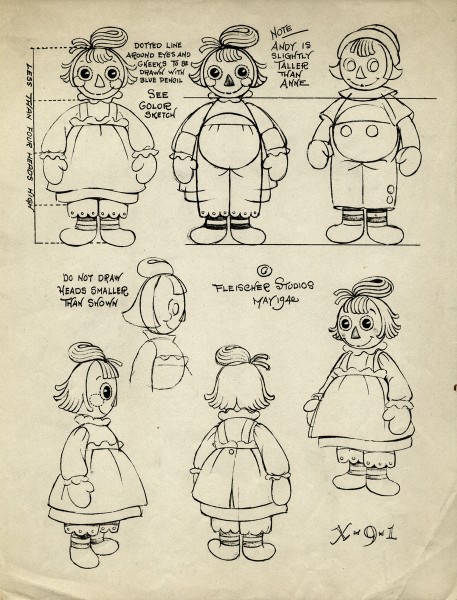 1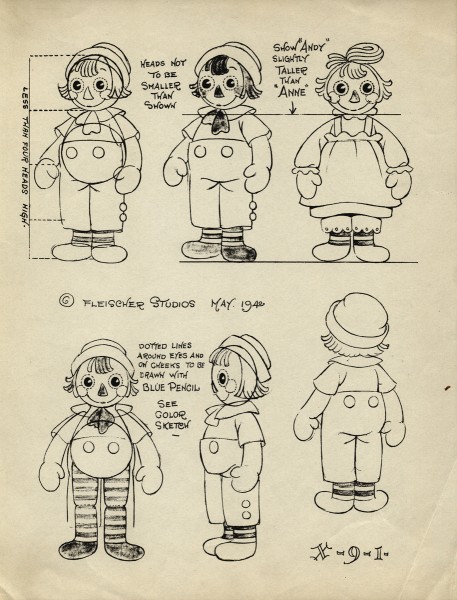 2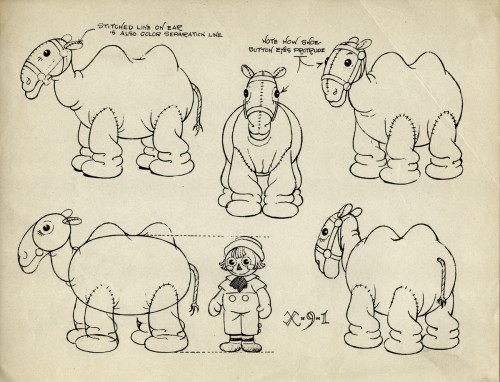 3

The Superman cartoons are key to the world of the Fleischer studio and their ultimate attempt at a high quality.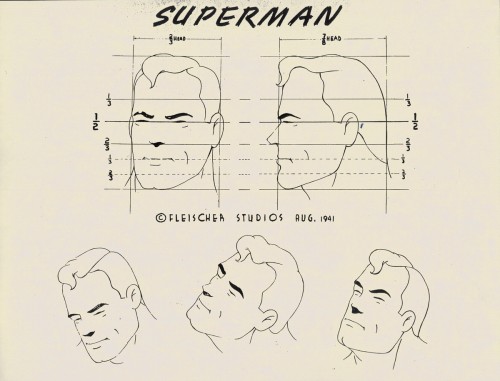 1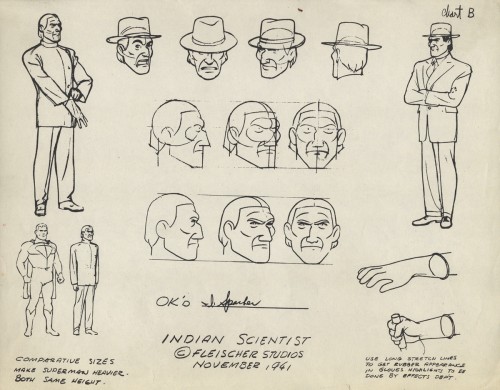 2
But of course, it wouldn't be Fleischer without a hint of racism . . .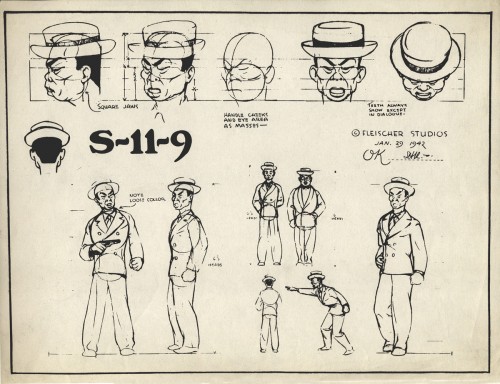 . . . or more than a hint. They should have tried Dick Tracy.

Finally, for today, there's this left over baby. It isn't labelled, but it looks to be the baby from the "Gabby" cartoon, All's Well. If anyone out there knows otherwise, please don't hesitate to leave a note in the comments section. This model sheet is dated 1942, and the cartoon has a 1941 copyright date on it.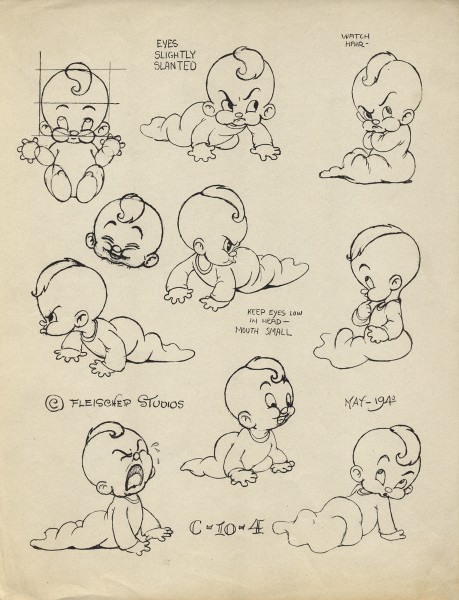 There's an excellent article in AWN about Charles Thorson who designed the characters for the Raggedy Ann cartoon as well as the Stone Age films. He most probably did the model charts. He'd worked at every known studio in the late thirties, early forties and had settled in to Fleischer's Florida location whn=enthe brothers were let go, and Paramount took over. It was at this point that Thorson decided to move on to comic book illustration.
The article is by Gene Walz who also wrote a biography of Thorson which was publlished as: Cartoon Charlie: The Life and Art of Animation Pioneer Charles Thorson.
5 Responses to "Miscellaneous Models from Fleischer"
Leave a Reply