UPA 23 Mar 2006 09:59 pm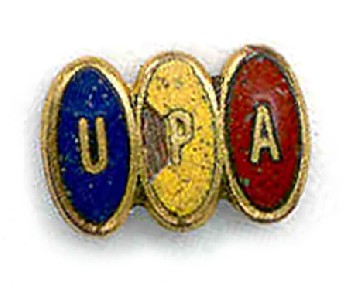 – One of the favorite artifacts I own is this employee pin given out to those at UPA back in the fifties. It was given to me by Lu Guarnier, and I have it framed alongside a studio ballpoint pen which also has the UPA logo on it. A bit of the yellow is chipping away, but I'm trying to preserve it.
These bits and pieces of another time and place are the real treasures in my collection. If you enlarge the image, you'll get an indication of just how tiny this pin is.
(Click on the image to enlarge it.)
- Go from here to Cartoon Modern to check out the wonderful character design of John Hubley's for Rooty Toot Toot. This show coming up on Sunday in Hollywood has prompted some fantastic UPA artwork.
- Jenny Lerew has a wonderful series on Fred Moore on her blog. The photos are wonderful, and her research is enlightening. I was never the biggest fan of Moore's work, but I'm getting a new appreciation thanks to Jenny's comments. Perhaps it's worth a good reinvestigation. I always found Lampwick in Pinocchio his best work; I'll have to take another look.

I like seeing some of these old studio photos. The pictures Amid Amidi has posted on his Cartoon Modern site – particularly the earlier of the two – are just out of this world. None of them tops the photo of Walt Disney Jenny posted back on Jan 15.
– Thanks to Tom Sito's blog, I know today is Ub Iwerks' birthday. An aries. Nice piece of information.
2 Responses to "UPA pin"
on 24 Mar 2006 at 5:07 pm 1.Jenny Lerew said …

What a treasure that pin is–thanks for posting it.

I'm going to try and make that screening…I hope someone's going to record the interviews. They'll have that "Man Alive" short in the mix–can't wait to finally see that.

Thanks also for the plug! I too think Lampwick is a huge highlight–probably where he was at his pinnacle. The irony is that when he was at his best period, he was also an Uber-supervisor and as a result we got much less footage that he himself did. I remember I was shocked while looking at the drafts of Fantasia to see that he did zero animation of Mickey, as supervisor of the sequence. I imagine he did in fact do many many drawings for Preston Blair and others that are either incorporated in to the scene or never made it onscreen, being done for sheer inspiration.

on 24 Mar 2006 at 9:54 pm 2.Amid said …

Great pin, Mike. Very nice to see.
Leave a Reply