Commentary 30 Jun 2012 07:11 am
- Back in February, I got a real kick when I found out that I'd won the NAACP Award for Outstanding Children's Programming for my show, I Can Be President. HBO told me that they would get my award and send it to me. Great to have a big-sized advocate.
This past Monday, I suddenly remembered that award and emailed HBO about it. I wondered where it stood. They found it at HBO and said they'd send it to me. Since I live about a dozen blocks from HBO, I planned to pick it up, myself, from HBO. They said it might be better if I let them deliver it.
Turns out that the award weighs a ton, and is pretty big. I've taken a couple of pictures of the prize and am posting them here. I couldn't be prouder. Yet, again I thank the artists that worked with me to get out this film: Matt Clinton and Katrina Gregorius. I also thank Christine O'Neill who did all the behind-the-scenes work to make the production possible.
The Award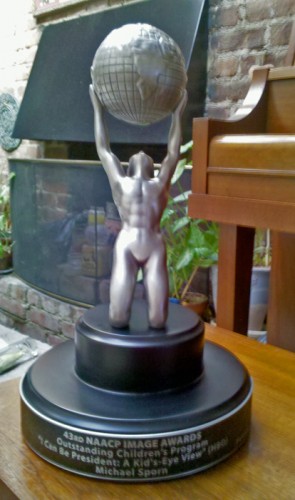 1
It has to weigh somewhere between 25-30 pounds.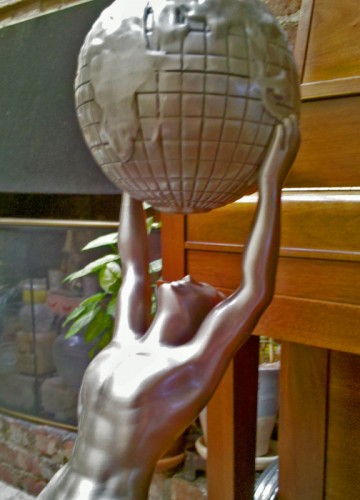 2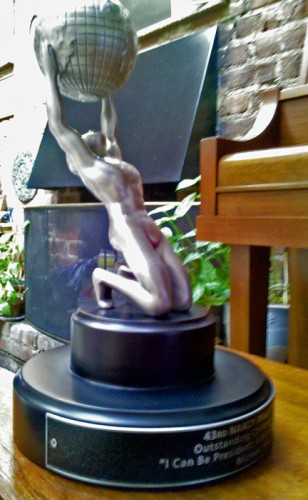 3
____________________
- Congratulations to Emily Hubley who was just voted in as a member of the MP Academy. Another New Yorker in the group! If you ask me, it's been a long time coming. She's been making films longer than many of the other members, and is such a serious and devoted
animation artist. She'll be a credit to the group.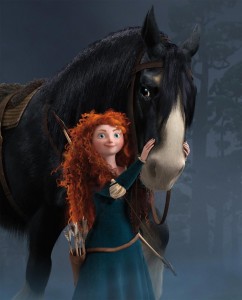 I like the fact that there seems to be a large number of strong animated features coming out this year. Brave is the formidable release this year, and I expect it'll be hard for other films to beat it. Madagascar 3 has gotten such positive attention that I'm almost encouraged to see it, myself. Ice Age 23 will be out mid July. Just in puppet animation we have Frankenweenie, ParaNorman, and Hotel Transylvania; all of which feature monsters. And there are many more a comin' It's a big year for animation.
Epic looks like the most interesting of them all, though shades of Arietty overshadow it for me. (Actually, Arietty has been my favorite release of this year.) Epic will be released by Fox in 2013. Maybe that'll be a big year, too.

____________________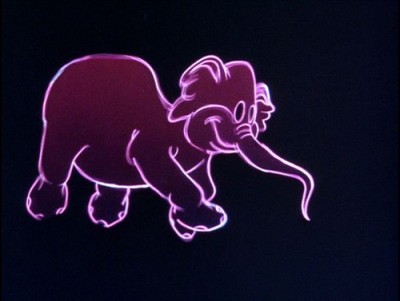 - Bill Benzon has another excellent article on his site, New Savannah. This time he discusses the "metaphysical implications of animation as a medium, specifically, animation as opposed to live action film-making." It's a good read about animated elephants, particularly those in Dumbo.

____________________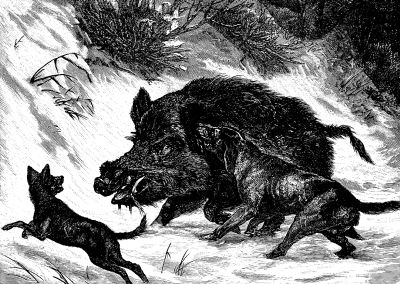 - And speaking of Miyazaki, the new movie, Beasts of the Southern Wild, features a few scenes right out of Princess Monokone. There's a slew of enormous wild boar with tusks and temperament that torment the lead character, Hush Puppy. The confrontation scenes at the end of the film have almost as strong emotional weight and power as Miyazaki has brought to them, even though this seems to be live action (with cgi help). A.O.Scott of the Times said that "Beasts of the Southern Wild is a work of magic realism and, to some extent, an exercise in wishful thinking." It's a raw version of Terrence Malick, but that could just be the immaturity of the filmmaker. This is his first movie, and he's only 29. But then his brilliant star is just six years old, and she gives the year's best performance so far.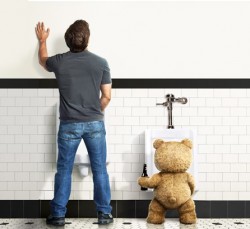 This was certainly the movie of the week, far better than To Rome With Love (even though I'm a Woody Allen junkie.) This film seemed miscast, poorly acted (Penelope Cruz just is wrong for the part and not trying to act in it) and sloppily written. I haven't seen Ted, but I've enjoyed the trailers I've seen. I'd expect the worst from Seth MacFarlane, though I usually laugh at some of his stupid jokes. He's, at least, sweeter than Adam Sandler.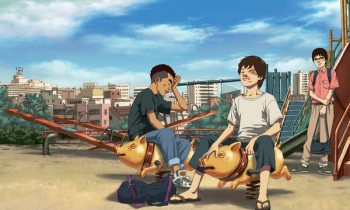 There is another animated feature currently playing in New York. The Korean film, King of Pigs, will play at the Korean Film Festival at the Walter Reade theater in Lincoln Center Saturday & Sunday July 7th & 8th. The film has been compared to Lord of the Flies.
The film and the Festival were reviewed well in the NYTimes yesterday. There are also another two animated korean features in the Festival. There are also Asura Thursday, July 12th and Gyo Saturday, July 14th. Go to the schedule to read more about these films or to buy tickets in advance.
____________________

Tomorrow, I have some old photographs of animators from days gone by (the 50s).
I like that post, and I think you will too.
11 Responses to "Awards, Animated Oscars and other movies"
Leave a Reply