Animation Artifacts &Disney &John Canemaker &Story & Storyboards 02 Jul 2012 04:43 am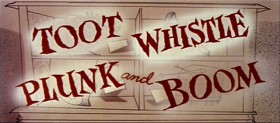 - Our Adventures in Music continue with the preliminary storyboard for what would ultimately become Toot Whistle Plunk & Boom. This is another board on loan from the archives of John Canemaker, and you can see the outgrowth from the prior film, Melody: Adventures in Music.
You can see how little of the magic was in this board, yet it obviously inspired others to keep it alive and make it work. Ward Kimball has to get most of the credit, though designs by Tom Oreb, Ken O'Connor, Eyvind Earle and Victor Haboush sure brought it to life.
The material I'm posting here is on large photostat copies. The problem is that the images are a bit fuzzy, and the text beneath the boards is illegible. In some cases, the appropriate text has been hand written on the copies themselves.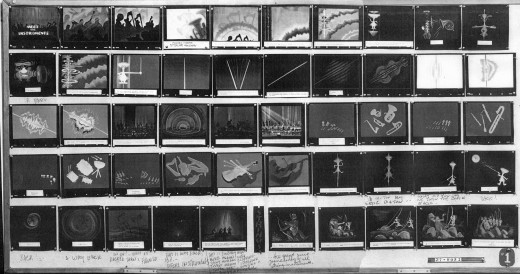 1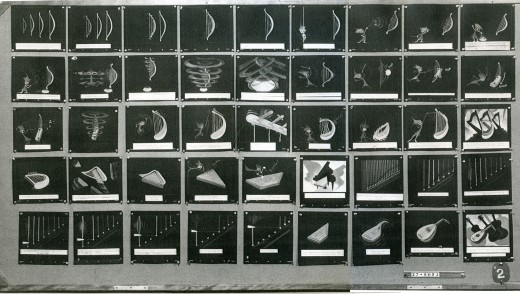 2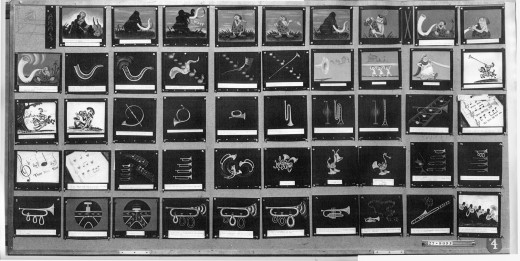 4


5
These are breakdowns of each row of the boards so that the images can be made as large as possible. Each row of images is split in two and labelled accordingly. #31a means Board 3 row 1 part a.

11a

11b

12a

12b

13a

13b

14a

14b

15a

15b

21a

21b

22a

22b

23a

23b

24a

24b

25a

25b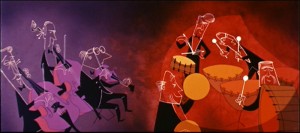 31a

31b

32a

32b

33a

33b

34a

34b

35a
Finally, something familiar.

35b

Ward Jenkins has posted some beautiful frame grabs from the completed film. Go here.
See this short on YouTube here.
John Canemaker deserves all the kudos he gets for lending this material to me as well as plenty more that he's loaned this blog.
3 Responses to "Toot Bd – repost"
on 02 Jul 2012 at 3:26 pm 1.The Gee said …

Was this well received by the audiences back when it was originally released?

It won an Academy Award, yeah. But, did people get into it? I guess, since these weren't character driven, like with a Mickey or a Duck, did people clamor to see these?

I've always liked the musical cartoons and most of the shorts Disney did but it took a while to appreciate them. So, now I like them even more.

on 02 Jul 2012 at 8:30 pm 2.Robert Schaad said …

Whether immediately apparent or not, aside from the UPAness of it, it does also extend certain concepts introduced in Fantasia.

Great post…love seein' this stuff!

on 04 Jul 2012 at 8:05 am 3.slowtiger said …

I saw that film some time in the 70′s before some regular feature (probably one of those japanese monster movies I liked at that time) in all glorious cinemascope, and I still remember the vivid colours, if not much else.
Leave a Reply